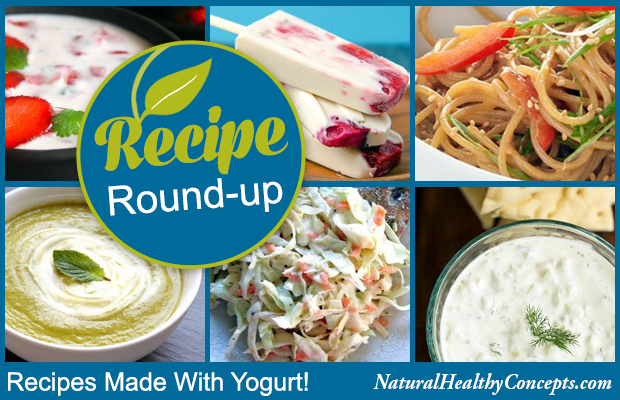 Mankind has been eating yogurt for many centuries in many different cultures.
(Extra points if you caught the pun!)
There was a form of yogurt in both ancient India and ancient Greece. People in India even called yogurt and honey "the food of the gods."
Persians credit it with helping Abraham live a long life and have children in his old age. The Promise Land mentioned in the Old Testament of the Bible was known as the land of milk and honey. It's believed that's actually referring to a kind of fermented yogurt drink.
These days most people eat yogurt in little, single-serving, plastic cups with a foil cover on top. Or maybe your kids suck it out of a tube.
But we'd all be wise to get a little more yogurt in our diets – especially if we can use it in healthy ways.
Here's why…
Health Benefits of Yogurt
As a dairy product, it should come as no surprise that yogurt is a good source of calcium. It also provides B vitamins and protein.
Perhaps the biggest health benefit of yogurt is the potential for giving your gut some probiotics. Those are the friendly bacteria that reside in your GI tract helping you with digestion, supporting your immune system and more.
However, not all yogurts are created equal. If you want to make sure you're actually getting probiotics, always check the label for "live active cultures" before you buy. Some yogurts may display the National Yogurt Association seal – indicating the presence of probiotics.
You should also be able to check the label for the type of micro-organisms. The strains Lactobacillus acidophilus, Lactobacillus casei, and Bifidus are most commonly used to ferment yogurt, but other strains can be added as well.
How to Make Your Own Yogurt
Before we get to the recipes…you might want to learn how to make your own yogurt at home.
Yogurt is pretty sour, and it does need some sweetness added to it. After all, even ancient civilizations used honey to sweeten things up. The problem is, many of the popular brands of yogurt have a lot of sugar in them, sometimes as much as 20 grams or more.
Homemade yogurt lets you control the ingredients and it's also a lot less expensive.
Making your own yogurt takes a little bit of time, but the process is pretty simple. The only ingredients you need are milk and a yogurt starter culture.
Basically, you heat up your milk to kill off other bacteria so the beneficial micro-organisms can thrive. Then you cool the milk to room temperature and add your starter culture. (You could also use some plain yogurt instead.)
Next you need it to ferment – and that's the tricky part. Many yogurt-making experts say it needs to sit at around 100 to 110 degrees Fahrenheit for 24 hours.
PaleoLeap.com suggests putting mason jars in your oven with the light on for an entire day. Heat from the lightbulb should be just enough to keep the right temperature. The Frugal Girl puts her jars in a cooler filled with water warmed to 120-degrees for just a few hours.
Obviously, suggested fermentation times tend to vary a little bit. In general, the longer you ferment your yogurt the less lactose content there is, because that's what the micro-organisms feed on. However, if you ferment for too long, the probiotics could run out of food and starve.
After fermentation, the last step is to stick it in the fridge to let it cool.
You can find yogurt starter at Natural Healthy Concept's online store. We offer a Yogurt Starter Culture from Custom Probiotics, which comes in two formulas.
You'll also find starter cultures for Kefir, as well as starter products for fermenting vegetables and making sour cream.
You'll notice the following recipes are all cold yogurt dishes and sauces. That's because heating up yogurt will kill off the live cultures, negating the health benefits of the bacteria. You can still get calcium and protein when you cook with yogurt – but not live probiotics.
1. Cold Noodles with Sesame-Peanut Yogurt Sauce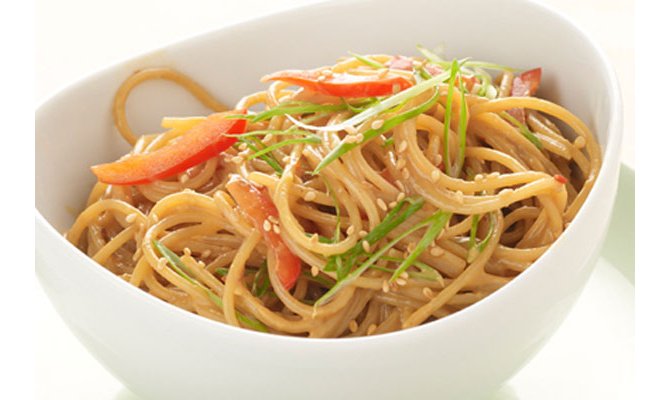 Most people eat yogurt as a creamy, fruit-filled snack. But it can also be a useful ingredient in many meals.
This recipe featured on The Daily Meal explains how to make a delicious Asian sauce to mix with cold noodles. It's a great way to enjoy pasta on steamy summer days.
The sauce calls for Greek yogurt combined with soy sauce and peanut butter as well as sesame oil, vinegar, ginger, and chile sauce. Mix it all up in a blender and then toss it with your noodles. The recipe also calls for topping the pasta with sesame seeds and scallions.
2. Cumin Cilantro Yogurt Sauce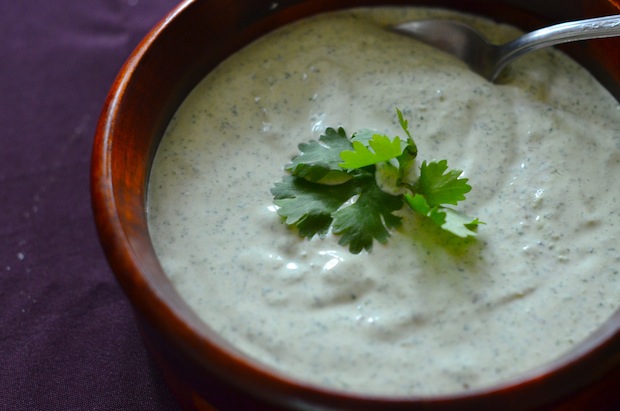 Yogurt makes a perfect base for all types of creamier sauces. Alejandra Ramos from Always Order Dessert suggests using this one on top of fish tacos or to make tuna or chicken salad.
Alejandra's recipe calls for Greek yogurt – but not the plain or low-fat kind – because that ends up being too thin.
She combines the yogurt with fresh cilantro, ground cumin, lime zest and garlic. It all gets mixed in a food processor and then you season to taste with salt and pepper.
3. Traditional Tzatziki Sauce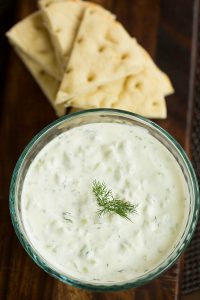 The Greeks have their own yogurt sauce too. I love when I can find a good gyro. And you can't eat a gyro without a generous helping of creamy tzatziki!
Michelle at the Browned Eyed Baker says it's easy to make your own tzatziki – aka cucumber sauce.
You'll just need Greek yogurt, lemon juice, garlic, dill and cucumbers. Her big tip is that you should salt and drain the cucumbers before you finely chop them up and dry them off.
In fact, you'll need to let the cukes drain for about 30 minutes – otherwise you might end up with some watery tzatziki sauce.
Michelle also suggests letting the mixture chill in the fridge for an hour or so, which gives the flavors a chance to meld.
4. Strawberry Raita
Raita was a new sauce for me. It's made in India as well as Pakistan and Bangladesh, and there are many different types.
Traditional Indian Raita is similar to tzatziki in that in usually contains cucumbers, but it will use different seasonings, like cumin and cilantro.
More creative recipes will often call for a variety of different raw fruits and vegetables – from pumpkin to pineapple. We found a sweet and tangy Strawbery Raita recipe on the food blog, Archana's Kitchen. The site also has a huge list of other raita recipes you can try.
Onions, green chiles and coriander help give this raita a lot of interesting flavors. Plus, the strawberries make the yogurt a fun, pink color.
5. Cucumber Mint Gazpacho with Lemon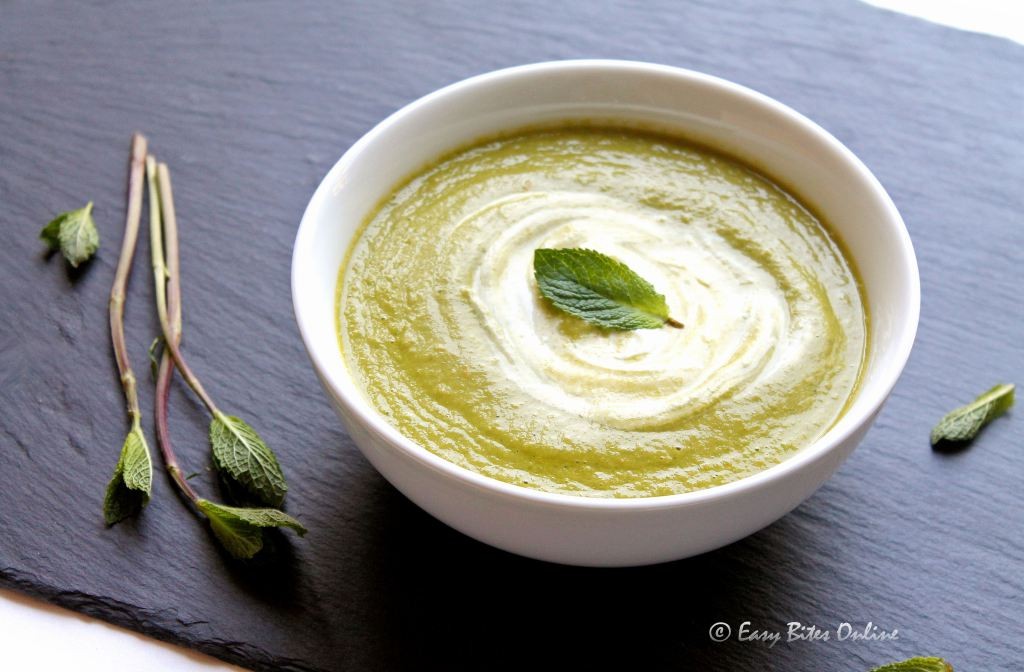 Since we're keeping things cool, in order to preserve the life of those beneficial probiotics, a yogurt-based gazpacho makes a lot of sense.
This chilled soup comes from Easy Bites Online. It would make a refreshing and creamy summer side dish that will no doubt please the palates of your dinner guests.
Food writer, Anu Nagaraja, says she was impressed with how much flavor this Cucumber Mint Gazpacho holds – especially considering you don't add any salt. Other ingredients not mentioned in the name of the soup include: yellow or orange pepper, avocado, garlic cloves, spring onion and green chili sauce.
Anu says this is a dish best served very cold. She even suggests adding ice cubes when serving to make it more chilled.
6. Fruit-filled Greek Yogurt Popsicles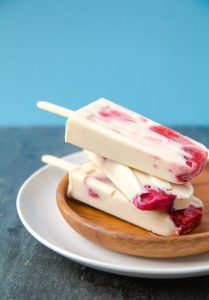 This one is super simple and will be a big hit – especially with the kids.
It will work best if you have a popsicle-maker or popsicle molds – and if you do have children – you most likely own one. It's just hiding somewhere in that cupboard full of tupperware containers.
Christina Lane from Dessert for Two added roasted fruit to her frozen yogurt pops. She tossed fresh strawberries and plums in a bit of oil and sugar and then stuck them in the oven at 400-degrees.
It should take less then 30 minutes to roast the fruit. Christina says, when the juice starts oozing out and gets thicker, the fruit is ready. Then simply mix it with some healthy yogurt and freeze.
Of course, you don't have to roast the fruit, it can also be fresh. Roasting could bring out a little extra sweetness.
This is a fun treat that would even make a great breakfast. Breakfast on a stick!
7. Creamy Coleslaw with Yogurt
Are you a creamy coleslaw person or a vinegary coleslaw person? The vinegar based coleslaw is arguably healthier than slaw made with huge gobs of mayonnaise.
But if you use Greek yogurt instead of the mayo, your creamy cabbage salad just stepped up the health benefits a notch or two.
You'll find one recipe for yogurt-based coleslaw at Cathe.com. It has directions for making a "Greek Yogurt-style mayonnaise," which includes Dijon mustard, cider vinegar and something to sweeten it up like honey or any other kind of natural sweetener.
Dani Spies from Clean and Delicious has a similar coleslaw recipe. She shows us how to make it in the video below.
If you've got an interesting way to use yogurt, or can offer a tip on making it at home, leave us a comment and tell us more!
[jetpack_subscription_form]