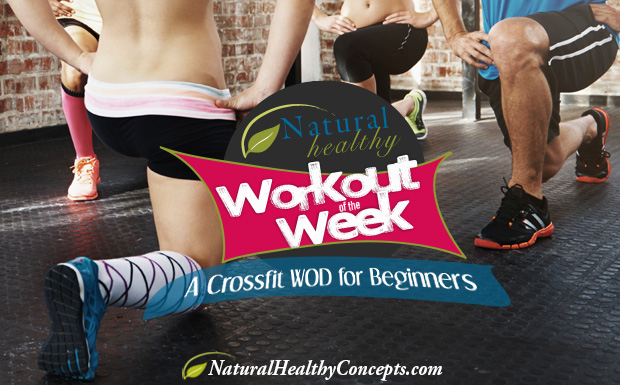 CrossFit has taken the fitness community by storm. Regular classes and even gyms entirely devoted to this high-endurance sport are popping up everywhere, and if you've been thinking of jumping in, there's no better time than right now.
This week's workout is just for you, beginning CrossFit athlete. Let's get started, shall we?
What is CrossFit & How Does it Work?
CrossFit is a competitive fitness sport that involves a multitude of exercise and fitness elements, including (but definitely not limited to) high-intensity interval training (HIIT), gymnastics, weightlifting, calisthenics, strongman, and even powerlifting. Equipment ranges, too. Barbells, kettlebells, jump ropes, and resistance bands are just a few of the items you might use.
CrossFit, Inc. was founded by Lauren Jenai and Greg Glassman in 2000, with the very first gym located in Santa Cruz, California. Today, there are well over 10,000 CrossFit gyms and many more coaches. It has exploded in recent years, and there are competitions across the world now, too.
The basic premise behind CrossFit is simple. Each day, a different workout (known as a WOD or Workout of the Day) is posted. After a short warm-up, you complete the posted workout. WODs will vary in rounds, how many minutes each round is, and rest time. A large number of them follow the AMRAP (as many reps as possible) model, meaning you'll do as many exercises as you can in the set time before resting and moving on to the next exercise.
CrossFit, while it may seem complicated, really isn't, and can do great things for your overall health while also helping you stay in shape. Now, let's get to this week's workout!
The Sit-Ups & Lunges WOD
This week's WOD is from Daily Burn, and is a perfect one for beginners or for those of you who are just looking for an easier workout choice. It's pretty self-explanatory.
In the first round of three minutes, push to get as close to 15 sit-ups as possible, then rest for two minutes. Following rest, push as hard as you can to get as close to 15 lunges as possible in three minutes, and then rest again for two minutes. You'll do three complete rounds of this.
Seems easy, right? Maybe. The point is to push yourself as hard as you can each round. Challenge your body. Daily Burn states that "if this starts to feel too easy, scale it up by adding weight to the lunge or add another two rounds to make five rounds total" (Source). You even have the freedom to add a third exercise, if you'd like. That's the fun of CrossFit—the workouts are entirely customizable to each person.
Want to know more? Check out the posts below:
Cool-Down & Recovery
For your cool-down period this week, take a 15-minute walk or go for a swim, if you have access to a pool. Stay at a leisurely pace and let your heart rate return to normal.
If you've been looking to try some new protein products, take a look at the ones listed below:
Are you a fan of CrossFit? Let us know in the comment section below. We'd love to hear how it's helping you stay healthy!
If you enjoy reading our posts, don't forget to subscribe by entering your email in the box below!
[jetpack_subscription_form]