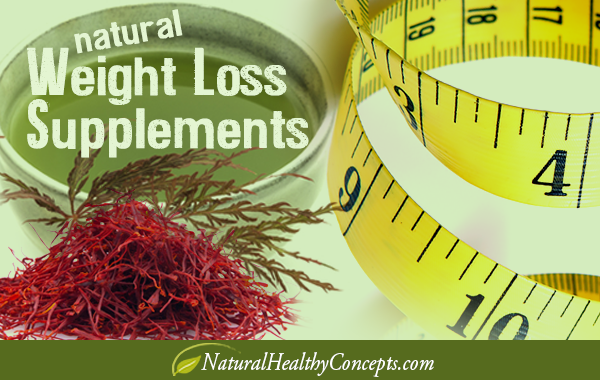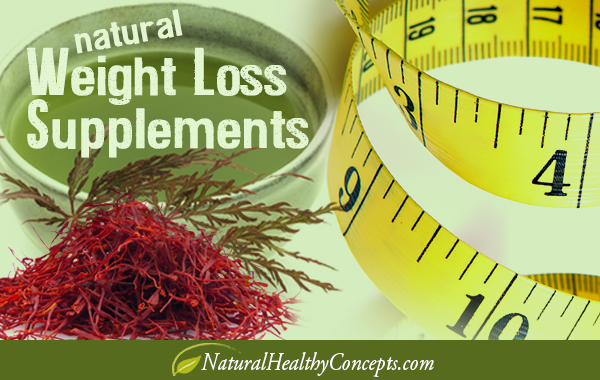 It seems like there's a newly discovered weight loss miracle trending everyday. Whether it's a triple fruit concoction like Triphala, an herbal supplement or some sort of fad diet – people everywhere are searching for a way to shed pounds fast. Although many studies claim specific weight loss supplements alone can help you lose weight, I don't think there's a magic bean or miracle pill that will get you to your ideal weight all on it's own.
I do think there are health and weight loss benefits from natural plant-based supplements. If you follow a healthy nutrition pyramid, and take a trusted supplement, you should be able to enhance your weight loss.
Here's an infographic highlighting 9 natural plant-based weight loss supplements to explore.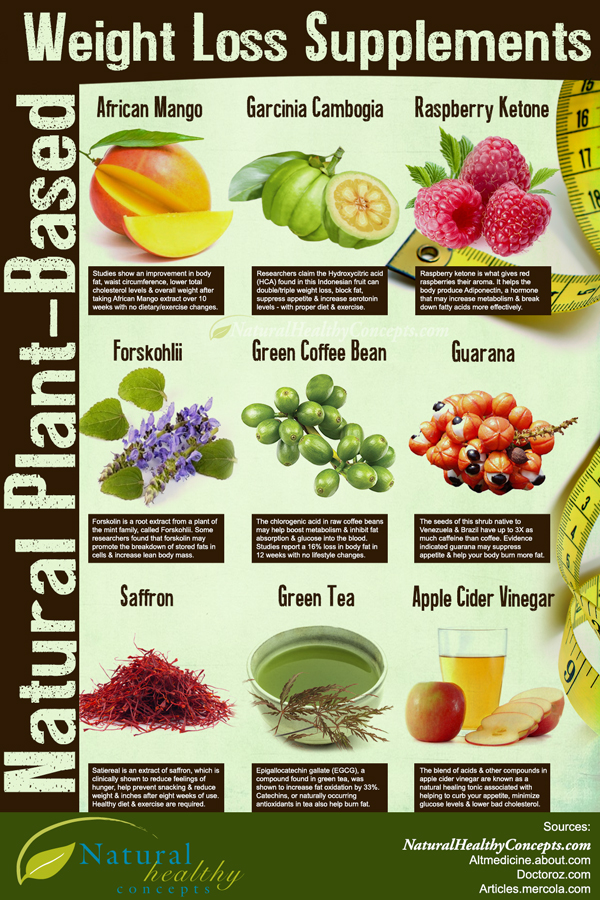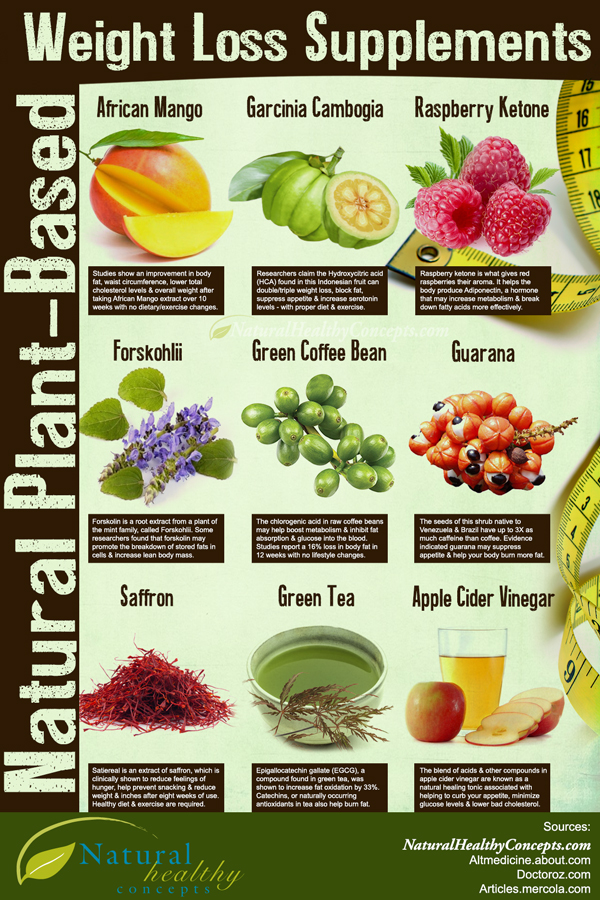 Below is a bit more info about each natural weight loss supplement along with a specific product to try. If you want the benefits from a mixture of them, you'll be able to find supplements that combine a few of them together. For instance, Mango-Plex with Raspberry Ketone by DaVinci, combines mango seed extract, raspberry ketone, green coffee bean extract and green tea extract together to synergistically break through weight loss barriers.
1. African Mango
This fruit grows in west Africa. It's the seeds of the fruit that may offer weight loss benefits. African Mango, or Irvingia Gabonesis, works by supporting favorable changes in glycerol-3 phosphate, leptin and adiponectin in your body. Glycerol-3 phosphate is an enzyme that turns sugar in the blood into triglyceride stores in fat cells. Leptin is a hormone responsible for appetite control, and adiponectin is a hormone responsible for insulin sensitivity.
Studies claim African mango helps your body increase adiponectin, decrease glycerol-3 phosphate and use leptin more effectively.  This means it has the potential to help you burn fat, slow body fat production and suppress your appetite. You can read all about how African mango is supposed to work and learn about the three clinical studies that tested its effectiveness in the article, African Mango – Weight Loss Miracle or Just Another Fad? 
2. Garcinia Cambogia
South Asia is home to this small fruit. The HCA (Hydroxycitric Acid) found in garcinia cambogia extract is said to do two things.
First, it stops the enzyme – citrate lyase – from turning carbs into fat.
Second, it increases serotonin levels, which is one of our feel good hormones. Typically, low levels of serotonin can cause a person to feel anxious, emotional or depressed. In some cases these people will stress eat because it makes them feel better.
Two Natural Healthy Concepts customers who reviewed Garcinia Cambogia by Essential Source said:
"Great for cutting out all snacking, really helps with smaller portions too!"

"Garcinia Cambogia really helps with emotional eating, i have been losing about 4 pounds a week."
3. Raspberry Ketone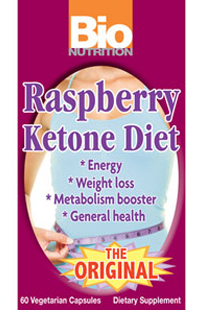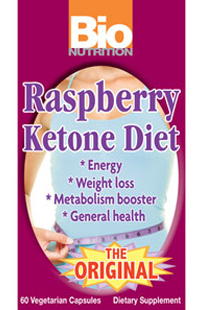 Ketone is the compound that gives raspberries their aroma. It takes up to four pounds of fresh raspberries to produce one capsule of Raspberry Ketones. If you wanted to get the same result from fresh raspberries, you'd have to eat about 90 pounds!
This is another fruit that is known to increase your levels of adiponectin. Higher levels of adiponectin helps increase metabolism, regulate glucose and break down fat into fatty acids for energy.
Raspberry Ketone Diet is a popular natural health supplement that you may have already seen on the Dr. Oz Show. Â Personally, I've known a few people to loose some weight taking it, but even Dr. Oz recommends a healthy diet and exercise when you do.
4. Forskohlii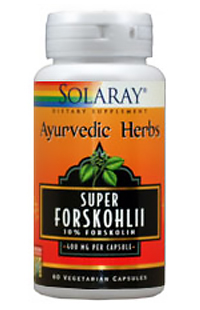 Forskohlii is an Ayurvedic herb and a member of the mint family. It grows on the sun-exposed slopes of India. Forskolin is a compound extracted from forskohlii, and has been the subject of several research studies since 1981.
It has been found to activate an enzyme known as adenylate cyclase, which increases levels of cyclic AMP, the most important cell-regulating compound in the body. An increased level of cyclic AMP promotes fat breakdown, healthy metabolic function and helps maintain healthy blood sugar levels.
One of Natural Healthy Concept's customers who says she's in love with the product, reviewed Solaray's Super Forskholii. She said,
"Started taking Super Forskohlii. I am losing inches everywhere and have much more energy."
5. Green Coffee Bean
The chlorogenic and caffeic acid content found only in raw, unroasted coffee beans is claimed to be the reason Green Coffee Bean extract helps people lose weight. These powerful antioxidants may help boost energy and support metabolism. Caffeic acid is responsible for the energy boost while being naturally low in caffeine. Chlorogenic acid (CGA) may help slow the release of glucose into the blood after eating and reduce the absorption of fat.
There was a study published in the Diabetes Metabolic Syndrome and Obesity Journal, that followed a group of 16 adults who supplemented their diet with Pure Green Coffee Bean Extract for 12 weeks. The participants lost an average of 17 pounds – without making any lifestyle changes.
The important part is the acid content and the amount of MGs. Svetol is the trademark Green Coffee Bean Extract owned by Naturex with at least 45% chlorogenic acid. You can be confident that you'll be getting a clinically studied amount of this antioxidant if it says Svetol. Green Coffee Bean Extract by Terry Naturally has 500mg Svetol, which is right about the suggested amount.
6. Guarana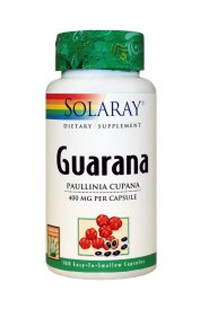 Guarana is a shrub native to the Amazon. Its seeds are one of the richest sources of caffeine, containing three times as much as coffee. Some studies suggest guarana may affect how fast you feel full. Therefore, it may help suppress your appetite.
One study showed weight loss potential when guarana was taken with yerba mate and damiana. More evidence suggests the caffeine content has a positive effect on lipid metabolism causing an increase in fat-burning.
The Journal of Psychopharmacology found that guarana improved memory, mood and alertness at low doses as well.
7. Saffron
Satiereal is an extract that comes from saffron, a spice native to Greece. Satiereal saffron has been clinically shown to reduce feelings of hunger and help prevent snacking.
Along with diet and exercise, this supplement is known to reduce weight and inches after eight weeks of use. One customer who tried the ReBody Hunger Caps said she had one week with no workout, no cravings and lost 4 pounds by the end of the week.
An added bonus to taking saffron is a positive improvement in mood!
8. Green Tea
The key catechin or antioxidant compounds found in green tea extract are Epigallocatechin gallate (EGCG). This is the most active polyphenol in green tea and is 25-100 times more potent than vitamins C & E. EGCG in green tea extract is believed to increase your body's fat oxidation, support a healthy metabolism as well as maintain normal insulin levels.
The antioxidant and fat burning effects of green tea have been studied extensively and it turns out there are plenty of other health benefits offered from EGCG. It also supports immune function, cardiovascular health, skin, joints, intestines, liver function, dental and respiratory health.
9. Apple Cider Vinegar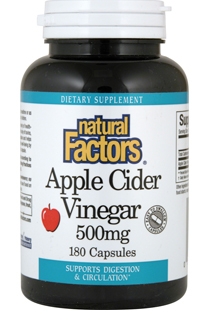 Apple cider vinegar is made using crushed, fermented apples.
The mixture of acids, like acetic acid and malic acid, found in vinegar is the reason it's viewed as a natural healing tonic. These acids help minimize glucose and insulin fluctuations, curbs the appetite, slows digestion and lowers bad cholesterol and triglycerides.
Besides the weight loss benefit, apple cider vinegar contains beneficial bacteria from the fermented apples as well as many vitamins and minerals for overall health.
Whatever you choose to try, remember that everyone is biochemically unique. So, if something works well for one person, it may not work the same for you. And vice versa. Also, many natural weight loss supplements will probably give overweight and obese individuals the best results. But anyone trying to lose a few pounds can do it simply by eating as close to a raw diet (veggies, fruit, nuts, seeds, beans, greens) as possible and with daily exercise. Good luck!
Reference: https://www.lef.org/magazine/mag2008/ss2008_report_more-weight-loss.htm