Without a doubt, probiotics have been one of the biggest health trends in the past year, and with good reason! These supplements have tons of potential benefits, from supporting digestive system health to maintaining a healthy immune system
However, one of the problems with the popularity of probiotics means there are hundreds of supplements available today. It can be difficult to distinguish between the different strains (Lactobacillus? Bifidobacterium? Streptococcus? None of the above?), and different formulas (Powdered? Liquid? Shelf-stable? None of the above?), let alone find the perfect product to support your health.
That's why we've created a round up of our favorite probiotic supplements to support your health.
But first…
A Quick Probiotic Primer
Probiotics are live microorganisms that are found throughout your body, especially in your digestive system. Although the idea of living organisms swimming around your body may be an uncomfortable thought, your body actually needs these "good" bacteria in order to function optimally.
Probiotics work to balance good and bad bacteria in your body, and also play a role in immune system health. They also work to support digestive system health by helping your body digest and absorb nutrients.
There have been several studies on the effects of probiotics in your body, including this 2013 study that concluded that probiotics may have a positive effect on gut health and on your microbiome (for more about gut health and the microbiome, check out these two posts).
Probiotics have also been studied for their effects on other health issues. In another 2013 study, researchers looked at the effects of probiotics on antiobiotic-associated diarrhea. According to the review:
Twenty-three studies (4213 participants) assessed the effectiveness of probiotics in preventing CDAD (C. difficile-associated diarrhea) in participants taking antibiotics. Our results suggest that when probiotics are given with antibiotics they reduce the risk of developing CDAD by 64%.
Probiotics are also being studied for their effects on immune system health, weight loss, and more.
Top Probiotics to Support Your Health
Whether you're new to the world of probiotics, or are just looking for a new favorite, here are our favorite products on the market today.
For the Smoothie Drinker
Infinitely customizable, smoothies are one the best and easiest ways for your body to get key nutrients from fruits and vegetables. This probiotic powder  from Pharmax makes a quick addition smoothies or shakes, and it blends easily with your favorite ingredients. It has a mild, apricot flavor that tastes great so it's no wonder that this is one of the top probiotics we carry!
For the Chewable Vitamin Fan
If you're not a fan of traditional tablets or capsules, a chewable supplement may be a good option for you to try. This probiotic from Solaray not only delivers 4 billion CFU (colony forming units) per chewable, it also has a great-tasting orange cream flavor to support your health.
For Kids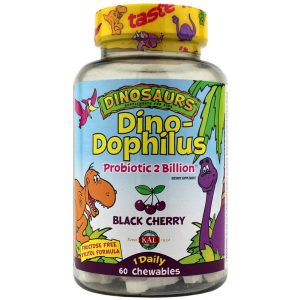 If you're looking for a probiotic to support your child's health, these fun dinosaur chewables from Kal are some of our top probiotics for kids. Designed to support digestive health in children, they have a black cherry flavor, and are made without fructose.
For Men and Women
Men and women have different health needs, so it makes sense that they may need different supplements for probiotic support. Garden of Life formulates their raw probiotics to support the unique health challenges men and women face, and offer 85 billion live cultures per serving.
For General Probiotic Support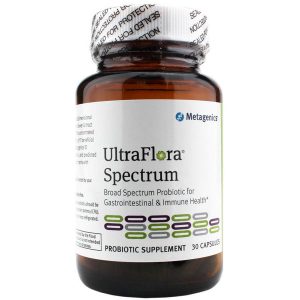 If you're looking for a probiotic that offers broad spectrum support for digestive system health, UltraFlora from Metagenics may be an option for you. This supplement offers a proprietary blend of 30 billion live organisms to support digestive system health, immune system health, and more.
In addition to the top probiotics, we carry a number of other probiotics on our site, including liquids, softgels, and powders designed for on-the-go support. We'd love to hear your experience with probiotics in the comments, or you can follow us on Facebook, Twitter, or Instagram for more health-related updates!
[jetpack_subscription_form]