Back to school can be an exciting time for your child. A new school year often means the chance to make new friends and gain new knowledge. However, heading back to school can also mean more germs, and more opportunities for your child to get sick.
Rather than spending your year dealing with the seemingly inevitable coughs, sniffles, and fevers that are associated with the beginning of the school year, there are few easy steps you can take to support your children's immune systems.
5 Supplements to Support Immune System Health
Because children grow so quickly, it's essential that they get the nutrients they need for optimal health and development. While ideally children would be able to get these nutrients from their diets, many children are picky eaters and refuse to eat certain foods (even if you know those foods are packed with nutrients!). In addition, busy days and hectic schedules can also make it difficult to incorporate a full spectrum of nutrients into your child's diet.
Luckily, there are now a wide variety of supplements that are designed to support your child's immune system and promote their overall health. We've rounded up a few of the most important supplements, plus some of our favorite products, so you can feel ready for the school year!
Omega-3 Fatty Acids
While we sometimes tend to think of fats as negative, some are necessary for your body to function optimally. Omega-3 Fatty Acids are among these "good fats," and contribute to nervous system health, cardiovascular health, and more. The most well known omega-3s are EPA (eicosapentaenoic acid), DHA (docosahexaenoic acid), and ALA (alpha-linolenic acid), which can be obtained from foods like fish, grass-fed beef, flaxseeds, leafy green vegetables, and nuts.
One of our favorite omega-3 supplements is this one from Nordic Naturals. These great-tasting orange-flavored gummies are free of gluten, as well as artificial colors and flavors. They also don't have the "fishy" taste that is sometimes associated with other omega-3 supplements. They are intended for children ages 2 and older. Get these gummies here!
Probiotics
Probiotics are beneficial bacteria that live in the digestive system and work to promote a healthy balance of intestinal bacteria (also referred to as intestinal flora). Probiotics also assist in the digestive process, and are believed to help support the immune system. Probiotics are important for children since their microbiome (the collection of microorganisms that live on and in the body) starts to develop when they are in the womb (read more about the human microbiome here).
We love these probiotic chewables from Kal. These black cherry-flavored tablets are free of fructose, and come in adorable dinosaur shapes. Plus, they deliver 2 billion viable microoganisms per serving. Order here!
Vitamin D3
Also called the "sunshine vitamin," vitamin D3 plays a role in the absorption of key minerals, the strength of bones and teeth, and the health of the immune system. However, a number of children experience vitamin D deficiency and may benefit from a vitamin D supplement. When choosing a vitamin D supplement for your child, make sure to look for vitamin D3, since it is the form of vitamin D that your body naturally produces.
If your child needs a vitamin D3 supplement, we're fans of Rainforest AnimalZ Vitamin D3 from Bluebonnet. These berry-flavored, chewable tablets deliver 400IU of vitamin D3 per serving, and are made from whole food fruits and vegetables. The small-sized tablets are also easy for children to chew, and they are recommended for children 3 and older. Order them here!
Vitamin C
Vitamin C is also called ascorbic acid, and it plays a number of roles in the body. It is primarily known for promoting immune system health. It's also an antioxidant, and works to protect cells from free radical damage. If your children are continually exposed to airborne germs, then a vitamin C supplement may make a difference for them.
These chewable supplements from Carlson are a great option for children, since the vitamin C comes in a buffered form that makes it easier on the stomach. This supplement also contains calcium for added support and has a natural tangerine flavor. They are suitable for children 4 and up, as well as adults. Order here!
Multivitamins
A multivitamin is another great way to fill nutritional gaps in your child's diet. These supplements offer a spectrum of vitamins and minerals to support overall health. They also seek to support healthy growth and development, and also support healthy immune function.
One of our top-rated multivitamins is this one from Solaray. It contains a number of vitamins, including vitamins A, C, D, and E, as well as minerals like calcium, magnesium, and potassium. These great tasting chewables come in a natural black cherry flavor. Order them here!
Checklist
As the school year begins, it's important to consider your child's health. If you're considering adding supplements to your child's diet, we've created this helpful checklist so you can make sure you're getting the products you need.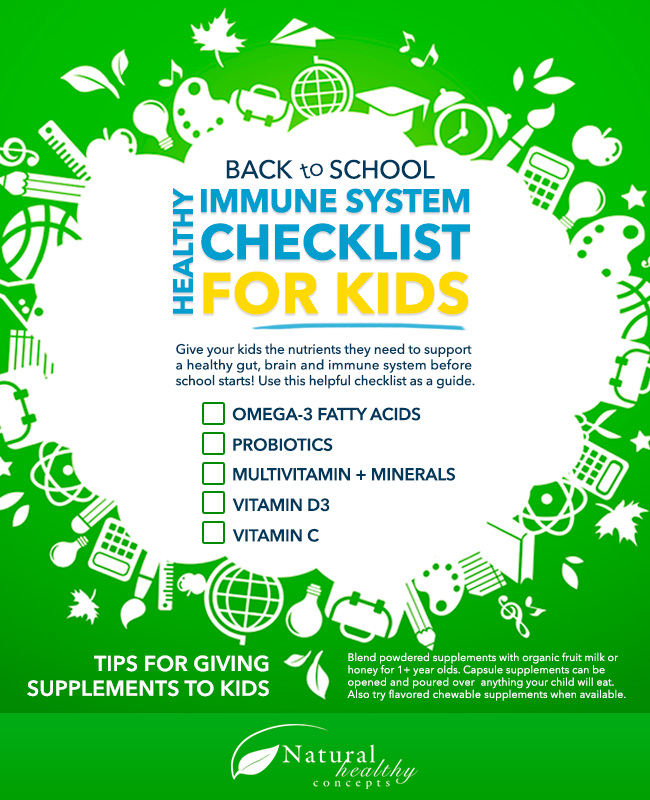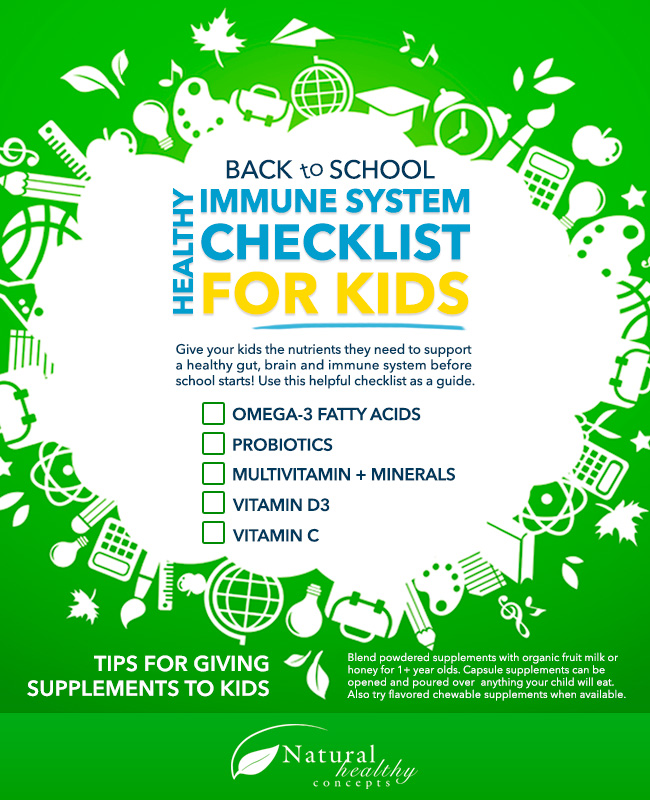 Do you have any favorite products or methods you use to support you child's health? We'd love to hear them in the comments!
[jetpack_subscription_form]