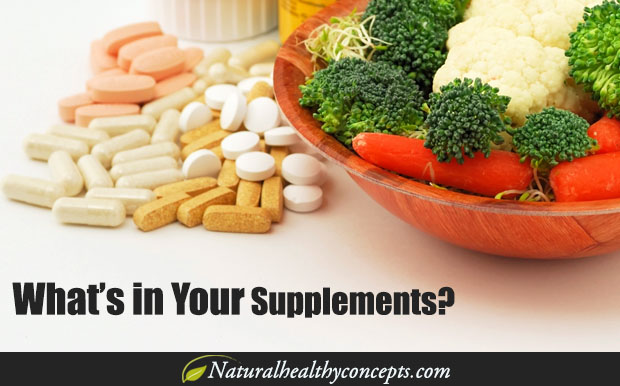 Can you depend on nutritional supplement manufacturers to actually put the ingredients they claim to use inside their products?
The trustworthiness of the vitamin and supplement industry has come into question and is now under intense scrutiny. That's after testing commissioned by New York's Attorney General indicated certain store brand supplements at major retailers did not contain the active ingredients listed on the labels. (Read the original press release)
Now critics and some consumer advocacy groups are pointing to what they call a lack of regulation and oversight of supplements, while many in the supplement industry are questioning the accuracy of the testing methods used.
But what are you supposed to do?
Big Box Stores and Their Brands
Store brand vitamins and supplements seem like they could be similar if not the same as store brand products -like a generic bag of chips or laundry detergent.
They are supposed to contain the same ingredients as a brand name product, but they are typically less expensive. Retailers will pay a private-label supplier to manufacture the products, which are then packaged with the retailer's label.
The four major retailers accused of putting fraudulent and in some cases contaminated private-label supplements on their shelves are: Wal-Mart, Walgreens, GNC and Target.
A method known as DNA Barcoding found that 79% of products tested did not contain the active ingredient listed on the label. Those ingredients include: Ginkgo biloba, St. John's wort, ginseng, garlic, echinacea, valerian, and saw palmetto.
The tests seemed to show that the supplements in question contained only "cheap fillers" and that some of those fillers could be dangerous to people with certain food allergies.
The New York State Attorney General's office sent cease-and-desist letters to the retailers demanding they remove the products from store shelves. The AG's office accuses Wal-Mart, GNC, Walgreens and Target of being deliberately misleading. All four stores pulled the products in question from locations in New York state. However, while Walgreens and Target pulled products around the country, Wal-Mart and GNC continue to sell those supplements in other states as the investigation continues.
Meantime, news of the potential fraud has generated headlines such as What's Lurking in Your Herbal Supplement? and opinion pieces like The Potential Danger of Dietary Supplements, featured on CNN.com.
It's important to keep in mind that there have been no reports of any consumers becoming ill because of taking these store-brand supplements. It's also important to note the fact that, so far, only store-brand supplements have come into question in this investigation.
Still, as a consumer who takes supplements as a way to support your health, this is very concerning, and there are probably many questions going through your head. For one thing, no one wants to get ripped off. And it makes you wonder what you're really putting in your body when you take supplements.
Is this a case of major retailers looking to cut costs and make an extra buck or two by trying to pass off lower-quality products? Or is this a widespread problem among all dietary supplements?
It turns out, there are quite a few experts and leading manufacturers in the natural health industry that have questions of their own. Specifically, some are skeptical about the accuracy of methods used to test the store-brand supplements.
Questions Surrounding DNA Barcoding Methods
Put simply, DNA barcoding is a form of taxonomy that uses genetic markers in an organism's DNA to identify it as belonging to a certain species. There is an ongoing debate in the science community concerning whether it is truly a reliable method.
In the past, DNA barcoding has been used to identify food fraud cases – such as cat food being sold as expensive grouper for human consumption. However, there are doubts about how effective this method may be for examining herbal extracts.
Some experts say DNA barcoding should not be trusted for testing the presence of an herbal ingredient in supplements, especially when it is an herbal extract. For example, Mark Blumenthall, director of the non-profit research organization the American Botanical Council told the Associated Press…
"DNA testing seldom is able to properly identify chemically complex herbal extracts, because often DNA doesn't get through the extraction process."
And it's not just members of the natural health community that are pointing to potential problems with DNA barcoding. Consumer advocacy groups like ConsumerLab.com agree. Tod Cooperman, the consumer-funded organization's president, said this about the testing…
"There are definitely problems with herbal supplements but this is not the right method to test those products."
That's why the United Natural Products Alliance is sending people to collect unopened samples of the products in question from stores around the country. Those supplements will then be subject to other common types of testing used to determine the presence of an herbal ingredient.
So you could say that the jury is still out on the retailers accused of selling fraudulent herbal supplements. Steve Mister, the president of the Council for Responsible Nutrition was highly critical of the New York Attorney General's actions – saying it seemed like a "self-serving publicity stunt."
"Instead of giving companies a reasonable opportunity to respond to these concerns, the AG unfortunately chose to label them guilty without a fair trial. Not only is the testing method itself suspect for these kinds of products, but the scientist who developed the assay and conducted the testing is not a botanical or a food expert. He is an evolutionary biologist who specializes in testing DNA in dinosaurs and lizards."
In the end, even if those retailers are exonerated, it doesn't change the fact that there actually are some supplement manufacturers out there conducting shady practices and deceiving consumers.
One of the most recent such cases involved the marketing of a Green Coffee Bean extract as an unbelievable miracle weight loss supplement. Lindsey Duncan, a marketing executive from two companies that sold the supplement, was falsely claiming to be a naturopathic doctor and used an appearance on the Dr. Oz Show to try and promote his products. Duncan and his companies have since come to a $9 million settlement with the Federal Trade Commission for deceptive marketing practices.
So how do you know who you can trust?
How Things Work at Natural Healthy Concepts
Natural Healthy Concepts is an online store offering nutritional supplements and other natural health products from some of the most-reliable names in the industry. At this time, we do not sell our own private label supplements. Instead we focus on providing our customers with trustworthy brands.
Our president and founder, Theresa Groskopp, is a certified nutritionist who takes the time to research each brand we offer. Many of the companies we work with take great pride in their science-based approach to health and nutrition.
In response to the recent controversy, Standard Process published a series of key points on its website explaining the steps it takes to ensure it creates quality products.
"Standard Process chemists perform multiple assays to guarantee that our products meet label claims. For more than 85 years, Standard Process has produced high quality dietary supplements that our customers and their patients can rely on…"
In certain cases, third-party testing is used to validate the quality of a manufacturer's supplements. Often this is done to ensure product safety and purity. For instance, fish oils from Nordic Naturals and Designs for Health are typically third-party tested so that consumers can be sure there are no heavy metals or other toxins present in the products.
There are also notable supplement manufacturers who focus on their own, in-house testing methods because they believe it is most effective. On the NOW Foods website, the company explains how it follows its own quality guidelines.
"We have a trained professional staff that follow GMPs (Good Manufacturing Procedures) to test our products. Our QC (Quality Control) checks every lot of product we make and we have a production history for every bottle…

In the very scientific field of analytical testing, the presence of other ingredients causes problems. The rest of the ingredient matrix can affect the test for a specific ingredient. This is called interference. This is a problem. In our labs we develop and adapt the analytical methods specifically for our special matrices. Thus we attack the problems and solve them. Since we have a highly trained analytical staff and we know our ingredients well, we can do this most effectively.

A third party lab does not do this. They just break the capsule or tablet apart and test. This may or may not give an accurate answer. We know our products, so we can test them in ways that produce more accurate results than outside labs can provide."
A good lesson to be learned from the latest controversy over dietary supplements is that it's always wise for consumers to be skeptical. You should do you your research – especially when it comes to purchasing products that are intended to impact your health. Any company claiming to offer products that seem too good to be true should prompt you to take a closer look.
It's also important to remember that quality really does matter. If you're choosing a natural health product because it has the lowest price, (as the case may be with store-brand supplements) you just might be getting what you pay for.
A common misconception that comes up every time there's an issue with natural health products is that "vitamins and supplements are not regulated." This is simply not true. While the Food and Drug Administration does not require the same approval process for these products as prescription drugs, there are still many requirements and laws regarding how supplements are manufactured, sold and marketed.
Find out more in our article – What You Probably Don't Know About How Supplements are Regulated.