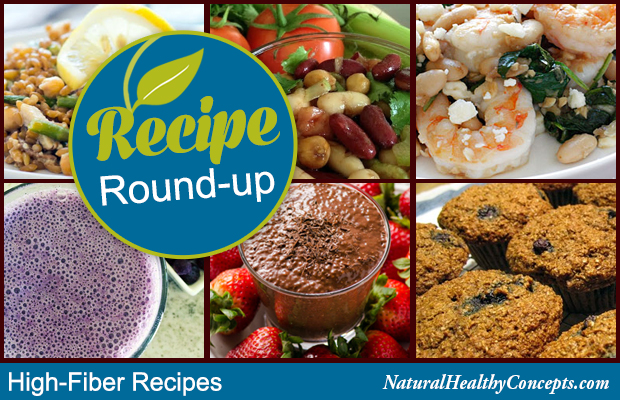 People often associate the word fiber with a list of unpleasantries: gas, bloating, diarrhea and cramps to name a few. Where's the love?!
The fact is, dietary fiber is an important part of a healthy diet. Unfortunately, most Americans don't eat enough. According to MedlinePlus, a service of the U.S. National Library of Medicine, the average American eats 10-15 grams of fiber per day, but needs more like 30 grams. Obviously, health professionals would like to see this change.
Sources of Dietary Fiber
It helps to know exactly where this roughage comes from. Dietary fiber is an indigestible complex carbohydrate from the walls of plant cells. It is found in foods like whole grains, nuts, seeds, fruits and vegetables. There are two important types of dietary fiber:
Insoluble: These water-insoluble types have a laxative effect and promote movement, thereby helping prevent constipation. Sources include: whole wheat, whole grains, wheat bran, corn bran, seeds, nuts, barley, couscous, brown rice, bulgur, zucchini, celery, broccoli, cabbage, onions, tomatoes, carrots, cucumbers, green beans, dark leafy vegetables, raisins, grapes, fruit, and root vegetable skins. (Source)
Soluble: These water-soluble types absorb water during digestion and form a gel. This slows down digestion and makes you feel full. Sources include: oatmeal, oat cereal, lentils, apples, oranges, pears, oat bran, strawberries, nuts, flax seeds, beans, dried peas, blueberries, psyllium, cucumbers, celery and carrots. (Source)
Dietary fiber is also available in supplements, but it's always best to get your fiber (or any nutrients) from whole foods first, as they also provide vitamins, minerals and phytochemicals. Supplements are helpful for people who find it difficult to consume enough fiber in their diets alone.
Benefits of Dietary Fiber
Soluble fiber decreases blood cholesterol levels, which reduces the risk of heart disease.
Soluble fiber can help stabilize blood sugar levels in people with diabetes.
Fiber adds bulk to one's diet without additional calories, so it may reduce the risk of obesity and severity of diabetes.
Soluble fiber makes you feel full faster, so it's great for weight control.
Fiber aids digestion.
Insoluble fiber helps prevent constipation.
In addition, "Eating plenty of plant foods that supply dietary fiber — vegetables, fruits, whole grains and beans — may help protect us against cancer, especially colorectal cancer," according to the American Institute for Cancer Research.
Do You Need More Fiber?
If you need to boost your dietary fiber intake, start now, but do it gradually to avoid those aforementioned ugly side effects. It also helps to increase your water intake as you increase fiber consumption.
To get you going, I have a few high-fiber recipes for you to try:
Purple Magic High-Fiber Breakfast Smoothie
Move over fiber cereals — pack some fiber into your breakfast with this delicious purple smoothie from Elizabeth Rider's blog. Not only does it pack a fiber punch at 28g, but it also provides protein, omega-3s and healthy carbs! With a prep time of two minutes, anyone can blend one up for the trip to work.
Need ingredients? Natural Healthy Concepts has a few of the ingredients for this recipe online. I use protein powder, psyllium husk and chia seed from the store.
Spring Farro Risotto with Lemon and Tahini
Sarah shares this incredible high-fiber recipe on her blog, Making Thyme for Health. This lighter version of risotto is also vegan friendly. The recipe includes fiber-rich ingredients like Shiitake mushrooms, whole-grain farro and chickpeas. I can't wait to try this one myself!
Fiber-Filled Bran Muffins
Susan shares a healthy, fiber-filled muffin recipe on her blog, Farmgirl Fare. They are made with 100% whole grains, no refined sugar and no cereal (a pet peeve of hers). Best of all, you can make variations to the base bran recipe to make all kinds of tasty options, from blueberry bran to cranberry orange bran. The oat bran and wheat bran offer lots of soluble and insoluble fiber.
Natural Healthy Concepts carries a few varieties of organic honey that will go great with this recipe!

Tuscan White Beans with Spinach, Shrimp and Feta
This recipe on skinnytaste.com is a great source of dietary fiber at 6.2g per serving. Gina uses a bit of vinegar, fresh sage, and crumbled feta for flavor instead of salt for a healthy twist. Of course, small white beans are a great source of dietary fiber, but spinach is a good source as well. It's low in calories too!
3 Bean Salad
Dawna shares her delicious recipe for a fiber- and protein-packed three bean salad on MindBodyGreen.com. Beans, beans and more beans … need I say more? She recommends letting it sit overnight so the beans can absorb all of the flavors. One person commented, "AMAZING, delicious, refreshing, alkalizing!"
Chocolate Chia Pudding
The recipe for this rich, creamy, chocolate delight was posted by Olena on iFOODreal. It combines fiber — chia seeds, cocoa powder — with complex carbs, healthy fats and protein. It makes for a mouth-watering breakfast on-the-go or super-fudgy dessert. As Olena puts it, "It tastes like something in between tapioca pudding, mousse and Greek yogurt." Each serving has 17.0g of dietary fiber!
Natural Healthy Concepts carries a variety of stevia, organic maple syrup and chia seed products if you need to stock up.
Let's Hear from You!
Do you have a favorite high-fiber recipe? We'd love to hear your comments! Subscribe to our blog now to receive our carefully selected recipes every Friday!
[jetpack_subscription_form]