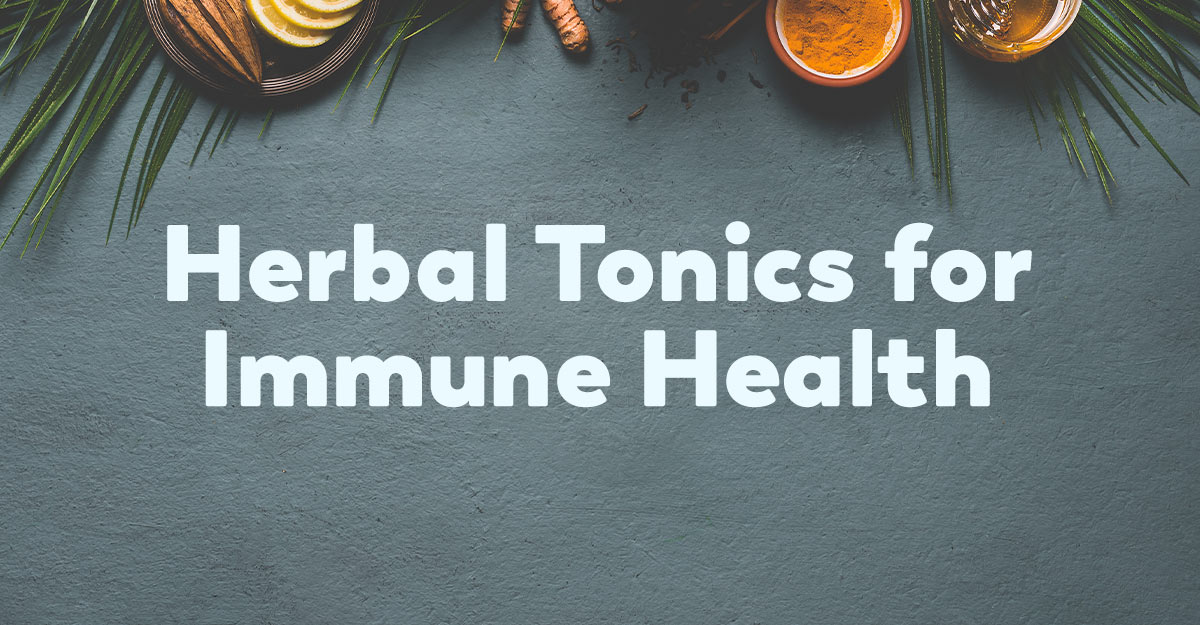 Herbal tonics have a long history of use in natural medicine, particularly in Traditional European Naturopathy, African Traditional Medicine, and Traditional Chinese Medicine. The definition of what is considered an "herbal tonic" varies widely, but in general, a good working definition is that an herbal tonic contains "products with medicinal properties of two or more plants or herbs that can act alone, in synergy, or additively in the restoration or maintenance of health."
Herbal tonics of all kinds are still used today to support a variety of health and bodily systems; one of the most popular uses of herbal tonics is to support or boost immune health.
One of the best things about herbal tonics for supporting immune health is they're pretty easy (and not too expensive) to make at home. Read on for two of the most popular herbal tonic recipes for immune health.
Fire Cider Herbal Tonic
Practitioners of natural medicine often turn to some form of fire cider whenever they feel a cold or flu starting to come on. To make your own fire cider, start with this basic recipe, courtesy of Eat This.
Ingredients
¼ cup freshly chopped ginger.
¼ cup freshly chopped garlic.
¼ cup freshly chopped horseradish.
2 dried hot chiles, crushed or freshly chopped.
1 tablespoons ground or grated fresh turmeric.
½ teaspoon black peppercorns, crushed.
1 orange, washed and quartered.
1 lemon, washed and quartered.
Apple cider vinegar.
Raw honey.
Instructions
Combine garlic, ginger, horseradish, chiles, turmeric, and peppercorns in a quart-sized glass jar. Squeeze juice from oranges and lemons into the jar, then add the rinds. Stir well, and press solids down well.
Next, pour in enough apple cider vinegar that it completely covers any floating solids. Don't overfill.
Close and seal the lid of the jar. Place in the refrigerator and let the mixture sit for at least 12 hours.
To take, pour about a shot's worth (1-2 ounce) and add honey to taste. Take a shot or half a shot every morning until you're feeling well again.
Elderberry Immunity-Boosting Tonic
Elderberry extract has been used for centuries in natural medicine to fight colds and infections, clear up the skin, and support immunity. So what better ingredient to base an herbal tonic for immune health around? Here's what you'll need for this herbal tonic.
Ingredients
4 ounce dried elderberries.
2 ounce grated fresh ginger.
2 ounce Echinacea angustifolia dry leaf and flower.
30 ounces of apple cider vinegar with the mother.
Honey to taste.
Instructions
Add all dry ingredients to a 30 ounce Mason jar.
Pour in the apple cider vinegar.
Seal the lid on the jar.
Using either a Crockpot or the stovetop to heat water, bring enough water to cover the jar to about 90-110 degrees Fahrenheit. Once the water has reached this temperature, place the sealed jar in the warm water bath, and let it sit for 4-8 hours. Refill the water in the pot occasionally if needed.
After 4-8 hours, carefully remove the jar from the water bath and strain the tonic. Cheesecloth or flour sack towels work best.
Once you're strained the liquid through the cloth, squeeze the leftover herbs in the cheesecloth to get out any remaining juices.
Take a shot (2 ounces) at a time, adding honey to your taste preference.
Along with these popular herbal tonic recipes, you can also support your immune health with the following supplements from Apricot Power, Standard Process, and Host Defense.
Bitter Apricot Seed – Apricot Power
Each capsule of Bitter Apricot Seed from Apricot Power contains 50 milligrams of vitamin B17, a glycoside nutrient only found in the seeds of certain fruits, some nuts, several beans, a variety of berries, some grasses, and certain seeds. Bitter Apricot Seed also provides pangamic acid and naturally occurring enzymes. Since this formula comes in a capsule, you don't have to worry about the bitter taste sometimes associated with apricot.
Immuplex – Standard Process
Immuplex from Standard Process contains antioxidants, vitamins, minerals, and glandulars, including photomorphogens and cytosol extracts to support the healthy functioning of the immune system. When taken daily, not only does Immuplex support your immune system, but it also supports normal white blood cell activity and the normal response to inflammation in the body.
MyCommunity Immune Support – Host Defense
If you're looking for a comprehensive natural supplement to help support your immune system, look no further than MyCommunity Immune Support from Host Defense. MyCommunity Immune Support is Host Defense's most comprehensive formula that provides a rich blend of 17 powerful mushroom species to support immune system health.
What are your favorite herbal tonic recipes for immune health?