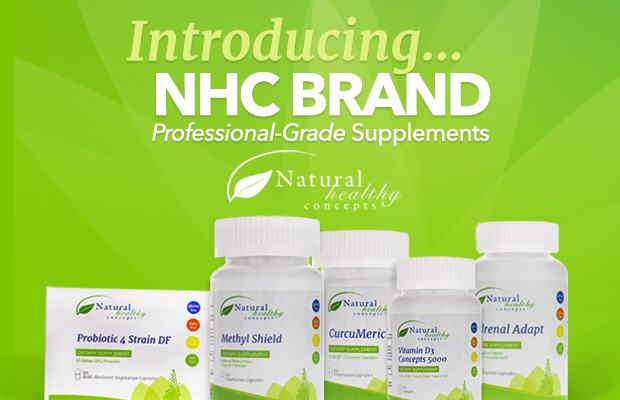 For over a decade, Natural Healthy Concepts has been a trusted nutritional supplement retailer for health-minded shoppers. We're proud to introduce our new line of professional products that are identical to formulas in some hard-to-find professional brands! From multivitamins to minerals and more, we've got a wide variety of dietary supplements to meet your needs.

Natural Healthy Concepts is committed to supporting our loyal customers on their journeys to better health, every step of the way. That's why we created the Natural Healthy Concepts brand of dietary supplements, designed just for you!
In 2004, we began as a small, dedicated company with big dreams in Appleton, Wisconsin. Our founder, certified nutritionist Theresa Groskopp, built Natural Healthy Concepts on the strong belief that health and wellness lies in proper nutrition. Over the last decade, we've expanded into a brick-and-mortar store and grown our online presence, celebrated by customers from all over the world.
In the summer of 2016, after positive response and interest from people just like you, Natural Healthy Concepts launched our first-ever, private label brand of natural health products. We are excited to share these unique, professional-grade supplements with you, because we truly believe in our founder's motto: "Your health is the best investment you'll ever make!"
About the Natural Healthy Concepts Brand
With the Natural Healthy Concepts brand, you can shop with confidence that you're getting the best nutritional support your body needs to help maintain optimal health. Our products include professional-grade supplements, herbs, vitamins and minerals that are otherwise not easily accessible to the general public and at a significant cost-savings! Plus, the entire Natural Healthy Concepts product line is hypoallergenic and contains no gluten, dairy, soy or nuts.
Our products are manufactured in a facility compliant with the U.S. Food & Drug Administration's Pharmaceutical Quality/Manufacturing Standards (CGMP), so you can be sure we meet the highest quality control standards. Many of our quality, affordable products are also NSF certified by The Public Health and Safety Organization, complying with specific standards for safety, quality, sustainability and performance.
Our Most Popular Supplements
With over a dozen professional-grade supplements in the Natural Healthy Concepts product line, which is still growing, we offer bioavailable nutrients that naturally support your overall health and wellness. We also offer specialty products with formulas identical to hard-to-find, professional brands, with the same benefits and a cost-savings!
We know that in a fast-paced lifestyle, it's not always possible to eat as healthy as you would like. That's where supplements can help fill the gaps in your diet. Our products provide a wide range of support, including for the normal function of your cardiovascular system, digestive system, immune system, metabolism and more.
A few of our most popular dietary supplements include:
Adrenal Adapt includes adaptogenic herbs like rhodiola and cordyceps, along with B vitamins that support stress management, antioxidant activity, and adrenal and immune function.
CurcuMeric 95 contains BCM-95, a clinically studied, 100% pure turmeric extract that may provide support for joint health and the temporary relief of occasional, minor pain related to physical activity.
Methyl Shield is formulated with B vitamins and other key nutrients to provide support for the body's methylation process and homocysteine balance.
Multi-Nutrient Concepts Without Iron promotes nutritional support through a blend of activated vitamin and mineral complexes in vegetarian capsules.
Omega Concepts 780 EC provides essential omega-3 fatty acids from organic, wild-caught, sustainable fish sources.
Vitamin D3 Concepts 5000 supports bone and dental health, immune system health, cognitive health, and more through a comprehensive vitamin D3 formula.
Partners in Your Health
At Natural Healthy Concepts, we are dedicated to your overall health and well-being. Think of us as partners in your daily natural health routine. You can count on us to always provide you with:
A selection of high-quality, professional-grade vitamin and supplement products
Hypoallergenic ? gluten-free, dairy-free, soy-free and nut-free ? products
FREE, fast domestic shipping
A certified nutritionist carefully selecting products to meet our standards
A qualified staff of dedicated, caring natural health industry professionals
NSF-certified, CGMP-compliant products and manufacturing processes
If you're looking for a natural way to supplement your daily nutrition, shop the Natural Healthy Concepts brand today! Experience the savings and potential benefits of these professional-grade supplements for yourself.
Have you tried the Natural Healthy Concepts brand of supplements? Are you looking forward to trying our products? We'd love to hear your story! Please share your story in the comments below!
###
Leslie Benson writes regularly about nutrition and healthy living for Natural Healthy Concepts. Visit NHC.com today to browse a wide selection of vitamins, minerals, and other dietary supplements.