Our taste buds are like small children. If you give them sugar, they'll want more sugar.
But, our taste buds shouldn't be making the decisions about what we feed our bodies. Instead, we should use our brains to choose the foods that give us the nutrition we need to live a healthy life free from disease and sickness.
It seems there are many opinions on food pyramids partly because there are many styles of eating. Like vegan, vegetarian, pescetarianism, paleo, among others. These names start to sound like a bunch of of dinosaurs!
But, the most promoted pyramid that I think natural health advocates would love to renovate is MyPyramid put out by the Food & Drug Administration. Here's what their pyramid looks like…

(scroll down to see the natural health pyramid alternative)
I remember when the FDA's food pyramid had the top section dedicated for sweets and sugars. At least they got rid of that!
What the FDA's "Steps to a Healthier You" pyramid doesn't point out is that most of these grains are cheap and chemically processed with additives, dyes, preservatives and hydrogenated oils. The dairy is packed with hormones and antibiotics, the chicken is chucked full of arsenic, the GMO infested meat is from cows that ate corn and that lived an unnatural and unhealthy life. And, the fruits and veggies are loaded with pesticides.
I guess it's a good thing they don't include water in the steps to a healthier you. Since they started poisoning our public water with fluoride in the 1950's, it's probably better that way.
For more on the cruel and disgusting food today, read this article by the Huffington Post on Processed Food: 9 Nasty Truths About The Meals You Eat.
After-all, the FDA, USDA, Big Food, Big Agriculture, and Big Pharma are all on the same team in this corporate food and drug monopoly that's taking control of our food system and government.
So, I say no thanks, FDA Food Pyramid…Here's a more natural health and nutrition approach.
You won't always be able to abide by it 100%. But, if you use this pyramid as your main guide for health & nutrition – it will help you be the healthiest you can be!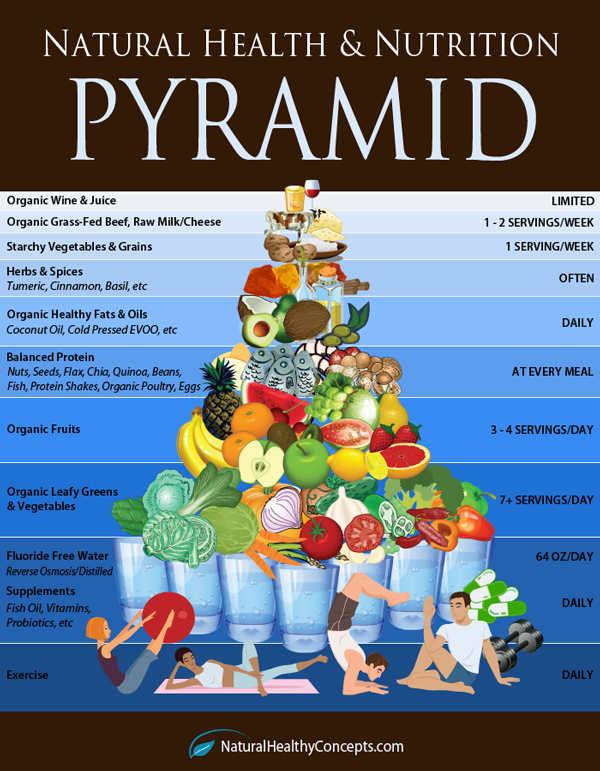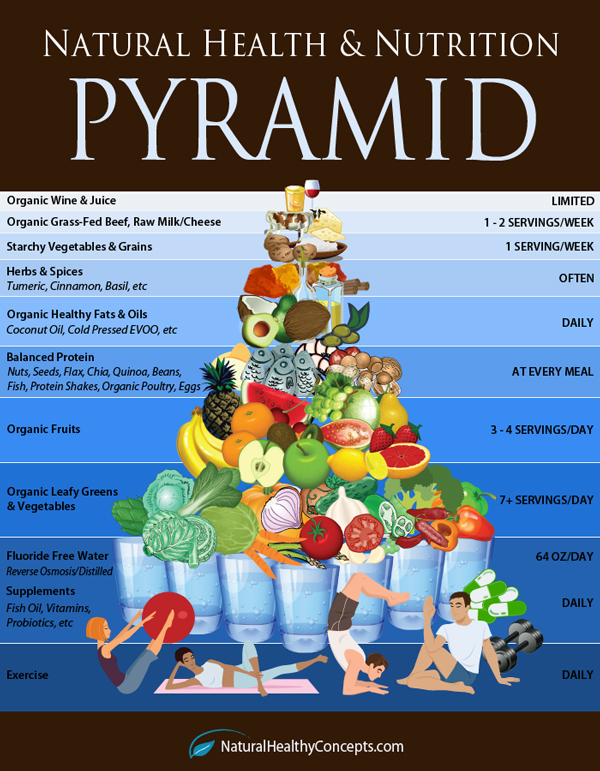 Also check out this Raw Food Diet Conversion Chart to help you get some more specific ideas on the best foods for your health.
Other articles to spare a moment for are The Dirty Dozen Plus Two, and You Really Can Eat Healthy on a Budget.
Go to Fight Big Food to help take on corporate power for America's farmers, families, and the future of our food.
Remember to support local farmers as much as you can!
Thanks for reading. Leave a comment below – I'd love to hear from you.