You may have heard the terms liposomal and Lypo-Spheric™ mentioned in conversations or seen them referenced on websites related to dietary supplements and thought: "What??" Well, we're going to answer that question for you here!
These words are somewhat common today thanks to the work of scientists in addressing an important biological problem: some nutrients from our diets and supplements may not process or absorb properly after they're digested. Instead, they may be passed as waste, never making it to our cells where they are needed. Enter liposomal delivery technology! This method was developed to maximize bioavailability (absorption) of nutrients beyond that obtained by capsules, tablets, softgels and powders.
Liposomal
Liposomes are essentially microscopic, nutrient-filled bubbles encapsulated in a double-layer membrane of essential phospholipids. These small vesicles protect the nutrients from destruction through the digestive system and are able to deliver them in such a way that allows for maximum absorption – outperforming other methods of delivery.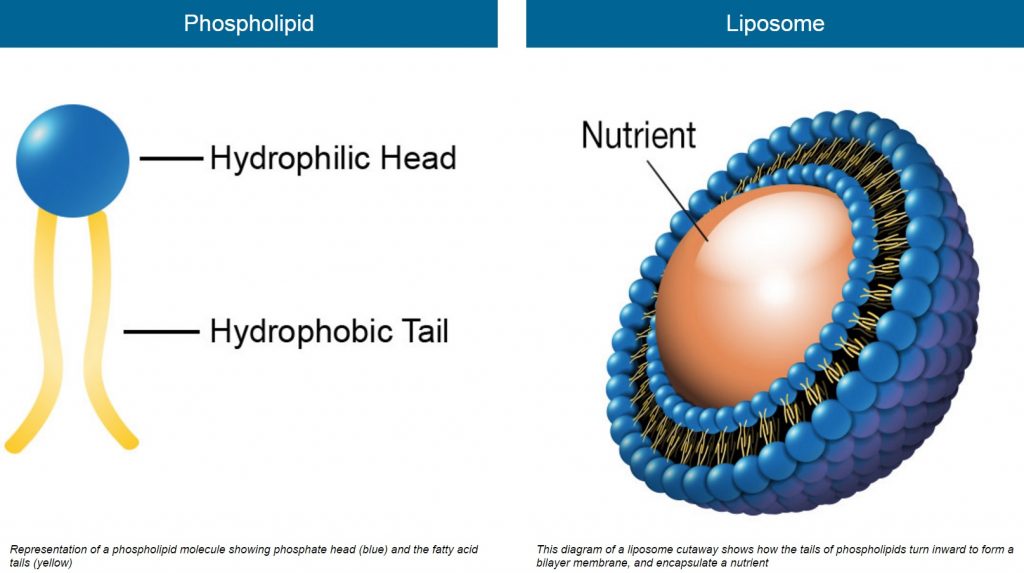 Once ingested, liposomes enter the bloodstream within minutes and remain intact. There, they release their active nutrients to cells. It is believed that this happens in two ways: 1) the liver processes these phospholipids as fats, which then results in the release of the nutrients; and 2) the body's cells take the phospholipid materials in order to repair their own membranes, which then allows the contents to escape.
According to the National Center for Biotechnology Information, "Liposomes represent an advanced technology to deliver active molecules to the site of action. This technology has resulted in a large number of liposome formulations encapsulating active molecules, with high target efficiency and activity. The possibility of modulating the technological characteristics of the vesicles makes them highly versatile both as carriers of several types of drug (from conventional chemotherapeutics to proteins and peptides) and in therapeutic applications (from cancer therapy to vaccination)." (Source)
While liposomal encapsulation technology has been used by researchers and the pharmaceutical industry since the 1970s, it wasn't being used for dietary supplements … until LivOn Labs got involved.
Lypo-Spheric™
LivOn Labs, the first to bring liposome encapsulation technology dietary supplements to market, spent almost two years collaborating with scientists and manufacturers to make this happen. Since each substance requires a unique combination of phospholipids and other ingredients to properly encapsulate it, the process was challenging. However, their first product, Lypo-Spheric™ Vitamin C, exceeded their expectations. LivOn Labs bills it as "the most bioavailable, most effective oral vitamin C available anywhere." (Lypo-Spheric™ is the name given to their patented liposomal encapsulation process.)
As the company's marketing literature emphasizes, "The difference is in the delivery."
LivOn Labs' Lypo-Spheric™ Products
There are currently four Lypo-Spheric™ supplements available from LivOn Labs. Basically, you take them like a shot. You squeeze the individual packet into a small amount of a cool beverage and drink (no blending or stirring, as it won't dissolve)!
All of the Lypo-Spheric™ products are free of GMOs, gluten, dairy, hexane and sugar. Be sure you know what's in your supplement!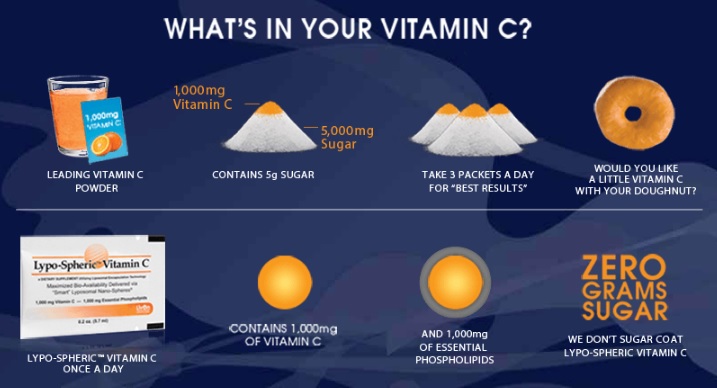 Natural Healthy Concepts offers all four of these popular Lypo-Spheric™ supplements:
Lypo-Spheric Liposomal Vitamin C
by LivOn Labs
(supports optimal health, antioxidant activity, and joint and muscle health)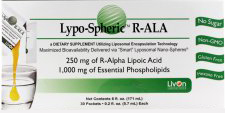 by LivOn Labs
(supports optimal nerve health, antioxidant activity and healthy insulin sensitivity)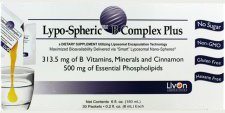 Lypo-Spheric Liposomal B Complex
by LivOn Labs
(supports optimal energy, weight management, and healthy blood sugar levels*)
*already in the normal range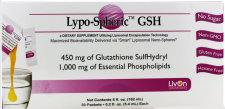 by LivOn Labs
(supports liver, immune and cellular health, and antioxidant activity)
Do you take a supplement that incorporates liposomal encapsulation technology? Let us know your thoughts in the comments section below!
[jetpack_subscription_form]