Cannabis … It's not just for smoking!
If you're like most people, you associate the word "cannabis" with marijuana. But, there is another important use for a plant of the genus Cannabis related to industry. In fact, it is looked upon as the valuable, versatile and renewable natural resource of the future.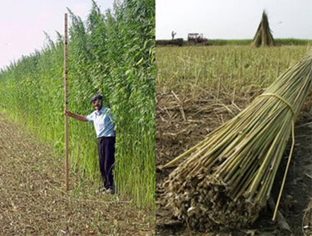 Cannabis is often referred to as "hemp," especially when it is grown for industrial use. These hemp plants have a high fiber content and typically do not produce flowering buds. Instead they grow tall and fast to maximize stalk harvest, thanks to selective breeding. In addition, industrial hemp has low concentrations of THC (a psychoactive drug). Some countries have set a maximum THC content of 0.3 percent for this hemp. (Marijuana's THC content can range from 10 to 30 percent.) As an added bonus, hemp can be grown without herbicides and pesticides, and with minimal fertilizer.
Despite its huge potential in industry, including reducing fossil fuel use, hemp remains quite controversial. Find out more about this, as well as its history and other interesting facts in this blog post.
Now, here are the top 6 hemp products you simply must have:
Nutritional goodness in a bottle! This is one of the best-known hemp products. When you press the seeds of the industrial hemp plant, you get an oil that contains lots of nutrition but only trace amounts of THC. Only hemp seed oil contains the valuable essential fatty acids-omega-6, omega-3 (in a perfectly balanced 3:1 ratio), GLA, oleic acid and stearidonic acid. It contains 75-80 percent polyunsaturated fatty acids – topmost among all plants – and only 9-11 percent saturated fats. Plus, it delivers protein, essential amino acids, chlorophyll, antioxidants and essential minerals, including phosphorus, potassium, calcium, magnesium and sulfur!
Try to get 1 to 2 tablespoons of hemp oil in your diet each day. Be sure to choose cold-pressed oil that has not been refined to get all of its health benefits. You'll enjoy its rich, crisp, nutty flavor.
You can use hemp oil as:
a salad oil
a veggie drizzle
a smoothie add-in
an oatmeal ingredient
a garnish
a dietary supplement
Please be aware that hemp oil should not be used in high-temperature cooking. Also, it has a somewhat short shelf life, so purchase accordingly.
Interestingly, there are other industrial applications for hemp oil related to body care products (see below), biodiesel and ethanol/methanol, nontoxic alternatives to petroleum and chemical-free plastics.
Hemp seeds are extremely nutritious! The high-fiber seeds are packed with easily digestible protein. (In fact, they have more than any other seed.) They also contain the essential fatty acids omega-3 and omega-6, all of the essential amino acids and other nutrients. Hemp seeds continue to be studied for their promising effects related to blood pressure, cholesterol, blood sugar, weight management, immune function and joint health.
Ways to use hemp seeds:
eat by the handful
add to smoothies
spread over salads
mix in homemade granola
toss in yogurt
stir into oatmeal
You can also find these seeds in other hemp products like hemp seed spreads, hemp seed energy bars and hemp seed meal.
Watch this video on the dietary benefits and uses of hemp seeds for more information.
If you're into supplementing with protein powder, hemp protein is the answer – not only for vegans and vegetarians, but also for anyone!
In its raw form, hemp has the second-highest amount of protein of any food (soy being the highest). (Source) However, it is easier to digest than soy protein. Hemp contains the proteins edestin and albumin, which have nutritionally significant amounts of all the essential amino acids. It is typically made up of over 30 percent oil and about 25 percent protein, with considerable amounts of dietary fiber, vitamins and minerals. (Source)
Give your skin the vital nutrients and essential acids it needs! Hemp lotions are great for your skin and generally come in subtle scents.
Hemp oil is known for its nourishing, hydrating and rejuvenating properties. It also contains antioxidants, which support healthy aging of the skin. Hemp oil makes for a non-greasy, easily absorbed moisturizing oil – a perfect ingredient for a natural lotion. Hemp lotions leave skin looking smooth, healthy and radiant.
Hemp seed oil is very versatile, so you'll also find it in many different eco-friendly body care products like lotions, bar soaps, shaving gels, baby soaps, lip balms, shampoos, all-purpose soaps, skin oil and much more.

Hemp Milk
It's an amazingly nutritious and savory alternative to cow's milk!
While it is one of the lesser-known hemp products, it is gaining steam in our country. If you have dietary sensitivities, or are vegan or vegetarian, hemp milk is definitely something to consider.  It is made by blending hemp seeds and water. The creamy result is nutrient rich and easily digested. Plain organic hemp milk is free of sugar, cholesterol, soy and gluten.
Nutrients in an 8 oz. glass of hemp milk:
900mg omega-3 fatty acid
2800mg omega-6 fatty acid
all 10 essential amino acids
4 grams of digestible protein
46% of RDA of calcium
0% cholesterol
potassium
phosphorous
riboflavin
vitamins A, B12, D and E
folic acid
magnesium
iron
zinc
and more … (Source)
Hemp milk comes in a variety of flavors and has the essential nutrients you need for a healthy diet.
Hemp Clothing
If you value environmentally friendly products, you might want to shop more for clothing made from hemp!
According to Hemp Basics:
"On an annual basis, 1 acre of hemp will produce as much fiber as 2 to 3 acres of cotton. Hemp fiber is stronger and softer than cotton, lasts twice as long as cotton, and will not mildew. Cotton grows only in moderate climates and requires more water than hemp; but hemp is frost tolerant, requires only moderate amounts of water, and grows in all 50 states. Cotton requires large quantities of pesticides and herbicides-50% of the world's pesticides/herbicides are used in the production of cotton. Hemp requires no pesticides, no herbicides, and only moderate amounts of fertilizer." (Source)
Source: http://hempethics.weebly.com/what-is-industrial-hemp.html
Another benefit of hemp fabric is its inherent antibacterial properties. Since bacteria are believed to survive in cotton and polyester fabrics for weeks, hemp products can be a healthier option in places where individuals are vulnerable to microorganism exposure. For example, EnviroTextiles is developing a line of organic hemp medical supplies for hospitals. Its products include scrubs, sheets, lab coats, towels, privacy curtains and robes.
Hemp clothing benefits include:
It's eco-friendly
It's durable
It's more absorbent
It's made from a renewable resource
It's naturally resistant to mildew and mold
It can be recycled in paper production
Hemp fabric is often blended with other materials to produce a soft, fashionable, long-lasting product.
Hemp is a valuable natural resource that has not yet been allowed to fully flourish in our country. There are many products that can be made in a more environmentally friendly fashion with hemp. Some of these hemp products include paper, building materials, paint, textiles, food, detergent, oil, fuel, varnish, ink, plastics, body care and more!
What's your stand on hemp products? You can share your thoughts in the comments section below.
If you're interested in receiving our posts directly in your inbox, sign up here!
[jetpack_subscription_form]