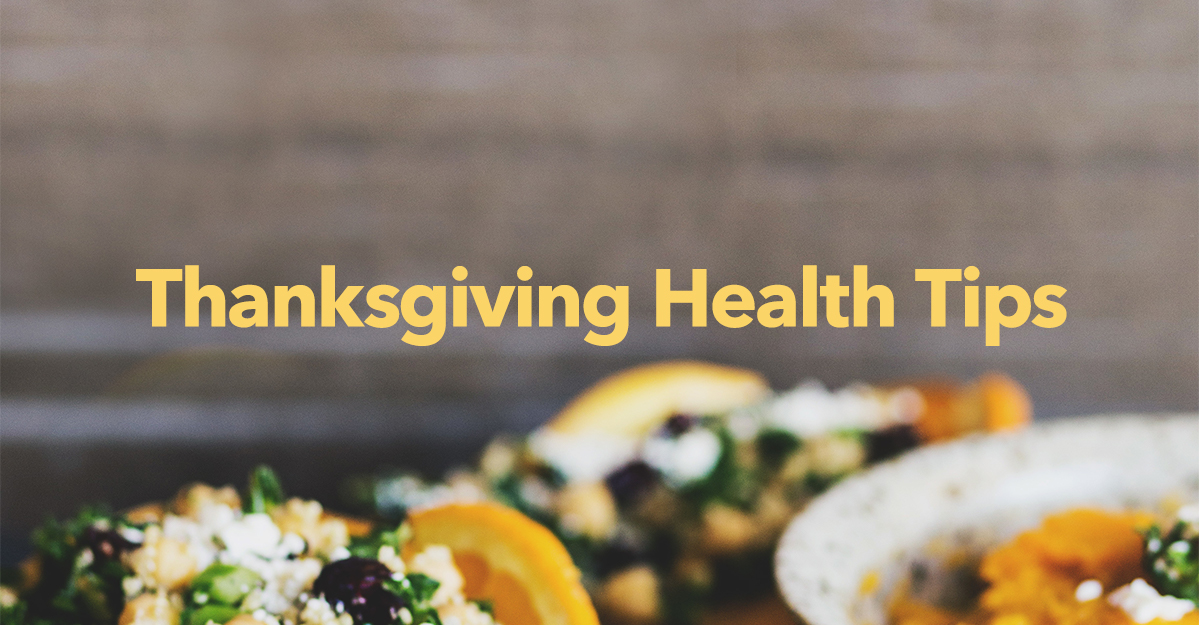 Thanksgiving isn't ever an easy day for you diet, or your pants. However, if you go into it with a plan you may walk out of grandma's house a little less stuffed than the Thanksgiving turkey. Not every part of the Thanksgiving meal needs to be avoided – foods like turkey, green beans, and sweet potatoes are rich in key nutrients and fiber. Oftentimes, though, it's the ingredients we add to these natural foods that stack the calories and sodium against us. Keep reading for 6 Thanksgiving health tips to help you navigate the holiday table.
Try These 6 Thanksgiving Health Tips
Don't Fill Up on Appetizers
We understand that Uncle Murray's salmon cakes are to die for and that Aunt Sharon makes a mean pickle roll up. But remember that the meal is still to come, so when it comes to the app table, think nibbles instead of gobbles.
Offer to Bring Some New Side Dishes
Does your family serve sweet potatoes with a heaping of mini marshmallows, or green beans with a gallon of butter and fried onions? This year, offer to bring a few healthier side dishes that pack all the flavor of the originals without all the calories. Who knows? They may become a new family favorite.
Use a Smaller Plate
Studies have proven time and time again that using a smaller plate still makes you feel full, while eating smaller portions. You still get to enjoy all your Thanksgiving favorites without having to work off the calories in spin class over the weekend.
Commit to One-Helping Only
We know that this one is hard, but after you've finished your first plate, stop and take a drink of water and a few deep breaths. Remember that you don't get that full feeling right away and that you'll probably want a piece of pie later. Even though it's hard to pass up extra mashed potatoes and gravy, your pants will thank you for it later.
Go for a Post-Meal Walk
Take a page of the European handbook and bundle up for a post-meal walk. You'll get fresh air and a few extra steps, all while helping your digestive system work through your Thanksgiving meal.
Try Supplements for Digestion and Immune System Support
Is your stomach feeling a little off from too many seasonal treats? Regain gut balance with Digest Basic + Probiotics from Enzymedica, which contains 8 strains of beneficial bacteria. For young family members, try Ultimate Flora Kids from Renew Life.
Other Holiday Health Tips
Take a Multivitamin
The holidays can be a busy, stressful time of year with seasonal health challenges around every corner. Keep you and your family healthy with a once daily multivitamin like ONE Multivitamin from Pure Encapsulations, or PhytoMulti with Iron by Metagenics.
Use Essential Oils
Keep your family healthy this winter with Nature's Shield. This essential oil blend uses natural oils of clove bud, citrus and cinnamon to clean and purify the air and surfaces in your home.
Feeling the stress of the season? Essential Oils can bring you balance and calm in the midst of too many parties or a mountain of gifts to wrap. Lavender Oil and Bergamot Oil are two beneficial oils that may help relieve your holiday worries, so stock up on both oils from NOW Foods.
How do you navigate the holidays without throwing your health goals out the window? Share your strategy with us in the comments section below.