It's getting down to the wire! How is your Christmas gift list looking? If you still have a few people to cover, we have some great health-minded gift ideas that we're sure the recipients will love.
Why give "healthy" gifts? With the New Year just around the corner, over two-thirds of Americans will be making resolutions related to being healthy. So, with these ideas, you'll be supporting your loved ones' missions to better themselves!
Gift Ideas for the Health-Minded
Who doesn't love The Naked Bee brand? Anyone who's health conscious in any way would value something from its natural personal care line. That's why we adore The Naked Bee Travel Kit. It contains organic, travel-size toiletries like Hand & Body Lotion, Cleansing Shampoo & Conditioner, Oatmeal & Honey Triple Milled Soap, a Beeswax & Soybean Wax Candle and SPF 15 Lip Balm, all with The Naked Bee's famous orange blossom honey formula. Plus, every product is free of parabens, dyes, lauryl and laureth sulfate, propylene glycol and "all of the bad stuff." You'll find over three dozen of The Naked Bee products in our online store. This is one of our favorite gift ideas!
NOW's Real Bamboo Ultrasonic Oil Diffuser
Considering how big aromatherapy has become, the Real Bamboo Ultrasonic Oil Diffuser from NOW is a perfect gift. It delivers a cool mist to preserve the integrity and holistic properties of the essential oils. Its features include automatic shut-off, extremely quiet operation, easy cleaning, timer settings and more, plus it's BPA free! We also carry a huge selection of essential oils from brands like Wyndmere, NOW and Touch of Earth, along with carrier oils and blending accessories. All great gift ideas for any health-minded person!
Badger's Man Care Mustache Wax
Perfect for the men on your list, Badger's Man Care line, which includes this popular Mustache Wax, is made with organic plant extracts and nourishing oils, butters, and beeswax. In addition, we have the Man Care After Shave Face Oil, After Shave Face Tonic, Basic Shave Set, Beard Oil, Hair Oil, Hair Pomade, Beard Balm, Pre-Shave Oil and Shave Soap Bar. You can also shop for other Badger certified organic body care, lip balms, bug repellents and natural mineral sunscreens here. When it comes to gift ideas for men, these products are hot!
Aloha Bay's Himalayan Salt Crystal Lamp
Most natural health enthusiasts are familiar with the intriguing Himalayan Salt Crystal Lamps like this one from Aloha Bay. They are formed from hand-chiseled blocks of crystal salt and can be lit from the inside with a light bulb or candle. These lamps are valued for the attractive, soothing light they emit. Some believe that Himalayan Salt Crystal Lamps also provide health benefits. This one has a soft pink glow, hardwood base, 110V light fixture and a height of eight inches, which is best for small rooms. Talk about a unique gift idea, right?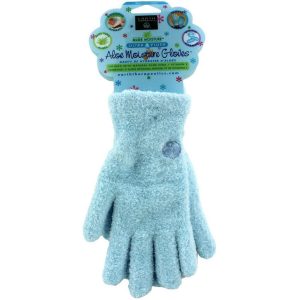 Earth Therapeutics' Aloe Moisture Ultra Plush Moisturizing Gloves
Give someone the opportunity to pamper their hands during this dry winter season. These Aloe Moisture Ultra Plush Moisturizing Gloves (in blue and pink) from Earth Therapeutics are infused with aloe vera, so they continually moisturize, while providing hands with ultra-plush comfort. We also carry the super-soft socks in black and pink! Both are 97% nylon/3% spandex, fit most hand/foot sizes— and are thoughtful gift ideas!
Good Earth's Mason Jar Soy Candle in Cranberry Spice
Mason Jar Soy Candles from Good Earth are made with 100% natural, non-GMO soy wax and premium natural fragrances. Plus, they burn longer and cleaner than traditional candles! In addition to this cranberry spice option, we also offer Mistletoe (evergreen with a hint of berries and spice), Sweet Basil Vanilla, Crème Brule and several others. We also carry Good Earth's Apothecary Jars. These biodegradable candles are wonderful gifts!
For more ideas, check out our Holiday Gift Guide, which includes over 700 gift ideas with a healthy twist.
Do you use any of these "healthy" products? Share your thoughts about them in the comments section below!
[jetpack_subscription_form]