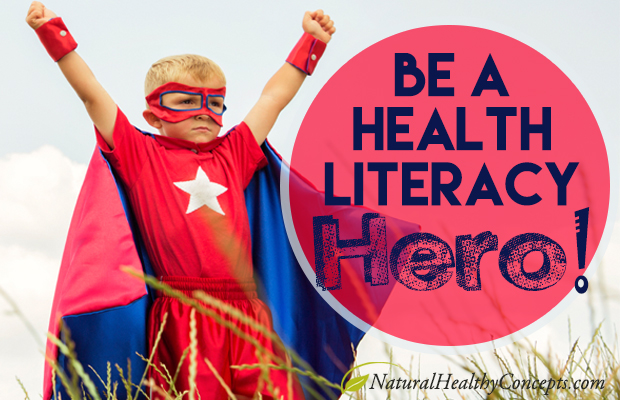 October is Health Literacy Month. So what, right?
October is also National Eczema Awareness Month, Cyber-security Awareness Month, Breast Cancer Awareness Month, Pit Bull Awareness Month and Black History Month in the UK. That's only the beginning.
With so many things to be aware of every month, you might have a hard time caring about any of it. That's understandable. But, as dull as it sounds, health literacy really is an important issue. Here's why…
For starters, health literacy can help you be on top of all the other health issues that apparently need more awareness.
But more importantly, studies show Americans are seriously lacking when it comes to health literacy.
According to the U.S. government, only 12% of Americans are considered Proficient in health literacy. 14% of those surveyed fell below what's considered Basic health literacy. That means about 30 million people in this country don't have the knowledge they need to keep themselves healthy.
Research indicates those who fall below Basic health literacy are more likely to report their health as poor, less likely to have health insurance and have a higher rate of hospitalization. That all contributes to increased healthcare costs for everyone.
One of the most frustrating things about the state of our collective health in the United States is that so many of our problems stem from preventable diseases.
Obesity and type-2 diabetes, respiratory illnesses, as well as heart disease and related conditions – so much of this can be avoided if we simply live healthier lives.
According to the CDC, even 21% of cancer deaths are considered preventable.
Health Literacy Month seems to be designed to encourage organizations like your employer, healthcare providers and local government agencies to get better at communicating with people about preventative health measures, medical treatments and healthy living choices.
But we think a more-effective way to improve health literacy is person-to-person.
It starts with you! The mere fact that you've read this much of our article indicates you care about good health and probably already have a decent understanding of what it takes to be a healthy person.
The theme for Health Literacy Month 2015 is "Be a Healthy Literacy Hero."
Natural Healthy Concepts is here to help you learn how to become that hero. Yes, we sell stuff, but we don't call ourselves Natural Healthy Stuff You Can Buy. We're dedicated to helping you discover ways to take your health into your own hands.
Let Natural Healthy Concepts Be Your Yoda!
In the ongoing battle for health literacy, think of yourself as Luke Skywalker and us as Yoda.
We are Mr. Miyagi and you're the Karate Kid. You're a Ninja Turtle (Pick your favorite. Mine's Raphael.) and we're Splinter. We're like Alfred Pennyworth and you're a young Bruce Wayne on his way to becoming Batman.
You get the point.
Natural Healthy Concepts is here to help guide you on your journey, but you are the hero of the story!
We want to give you the knowledge and information you need, the tools and training to be a real health hero. However, in the end, you need to accept the mission.
Here are some good places to start…
1. Know Your Nutrients
How much do you know about proper nutrition? Do you know the benefits of different vitamins and minerals, and what foods you can get them from?
What do antioxidants do for you? What are probiotics? Are there herbs that could contribute to your health and wellness?
You've got questions. We've got answers.
Check out the Health & Nutrition Info on our website in which we give you a basic explanation of major nutrients and other things related to natural health.
2. Make Healthier Meals
Better health begins with the food you put in your body. We're not afraid to tell you that you should be getting most of your nourishment from what you eat and drink before you turn to supplements.
Supplementation should be used to fill nutrient gaps in your normal diet.
To give you and your family's diet a boost, we've been offering tips on healthy dishes every week for more than a year now.
Don't miss our Recipe Roundups, which we publish here on the blog every Friday. They feature many beautiful and delicious dishes from the best health and food bloggers on the web.
You'll find everything from turmeric recipes for anti-inflammatory benefits, to healthy & easy breakfast ideas for kids. There are recipes for homemade protein bars and advice on how to have a gluten-free Thanksgiving.
3. Keep Your Body in Superhero Shape
In addition to a healthy diet, exercise is an extremely important part of preventing disease and maintaining good health.
That's why every week our in-house fitness expert, Kerri Krueger, puts out one of her Workout Wednesday articles. There are a lot of different types of workouts and exercise plans out there, which means there is something for everyone.
Kerri also offers workout tips from how much protein you need to the importance of proper hydration when you're training.
Heroes aren't lazy. They keep their bodies in the best condition possible so they can be ready at a moment's notice.
4. Choose Your Secret Weapons & Superpowers
Every superhero has a secret weapon or a special power. Ironman has his suit. The Flash has super-speed. Batman has gadgets galore. Wolverine has awesome sideburns and blades that pop out of his fists.
Many superheroes also have a weakness. Tony Stark has an artificial heart keeping him alive. Superman is crippled by kryptonite. Daredevil is blind, and apparently Thor loses his Norse god status if he lets go of his hammer for more than a minute.
Maybe your kryptonite is gluten. Maybe your body lacks a certain nutrient like magnesium. Maybe you need a secret weapon that gives you a little extra energy support.
Natural Healthy Concepts is here to help you battle those weaknesses and give you the tools you need to be your best – kind of like Q in the James Bond movies.
Want something that could give you an athletic edge? Check out our sports nutrition products.
Looking to get the most out of your nutritious diet? Consider digestive enzymes to maintain good health.
Stress and anxiety draining you of your power? Try stress relief supplements to support relaxation and cognitive health or get natural sleep support for those nights when you need your rest.
Putting up a fight to reach your ideal weight? Get a helping hand from our dietary supplements for weight loss.
Okay, that's the selly part. But the truth is, nobody becomes a hero solely because of their super-abilities. And natural health products are not magic bullets that let you off the hook.
Being a hero takes courage, commitment and conviction. Do you have what it takes?
Now It's Your Turn!
Spider-Man's guiding light came in the form of advice Peter Parker received from his Uncle Ben.
"Knowledge is power. And with great power comes great responsibility."
The cycle doesn't end here. It's time for the student to become the master. It's time for Batman to show Robin how to get the job done. It's time for Aquaman to teach Aqualad the — okay enough.
How will you use your knowledge to improve health literacy in the lives of those around you? How will you be a "Health Literacy Hero"? It starts with being a great example. You could also recommend products that can help people and share what you've learned with others.
(Hint: There are SHARE BUTTONS all over our articles 🙂 )
Don't miss our growing collection of infographics focused on a wide variety of health topics.
We'd love for you to speak up in the comments and tell us about the resources you use to improve health literacy.
Remember – you can subscribe to our blog below so you'll never miss an article. Just enter your email address!
Good Luck. We're All Counting on You!
[jetpack_subscription_form]
Here are Some Superheroes Who Could Probably Use Some Health Literacy