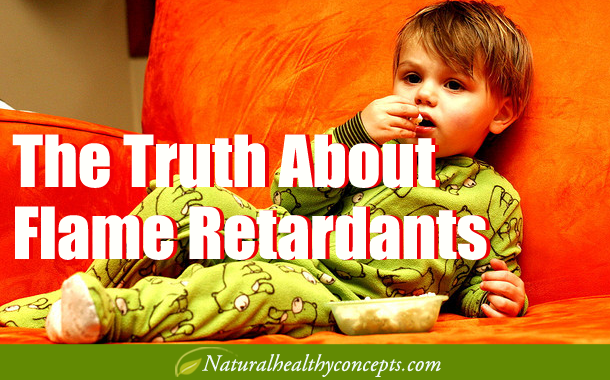 I know you might be thinking… Please, not again! Not another reason I need to worry about the health of my kids.
Believe me, it was hard to bring myself to research flame retardants. I couldn't help but think maybe I just don't want to know.
I was already aware that the air inside is 2-5 times more polluted and toxic than the air outside. But I never knew it could be because of potentially harmful chemicals hiding in my furniture.
On top of all the toxins we're already trying to avoid in our food, water and consumer products – we now have to try and protect our kids from the pounds of highly toxic flame retardants lurking in our bedding, clothing, carpets and sofas.
You've got to be kidding.
I never would have thought my cuddly couch poses a health risk to me and my family!
Doesn't it feel like sometimes our own health and that of our kids is so out of our control – no matter how hard we try?
You're not alone if you feel this way. I feel this way every day and it's very overwhelming. But don't get too discouraged, because there are some positive changes taking place right now. And there are things we can do to take action against the toxins found in flame retardants…
What Are Flame Retardants?
Flame retardant chemicals were originally supposed to help by giving people a little extra time to escape a fire. Since the 1970s, these chemicals have been added to most commercial and consumer products in order to meet flammability standards. Even though chlorinated tris (TDCPP) was banned from children's clothing in 1977, because it was proven to cause cancer, it is still the most commonly used flame retardant in the U.S. today.
These are the two types of flame retardants that are most commonly used and extremely concerning to our health and environment:
Halogenated flame retardants (AKA organohalogen flame retardants)
Organophosphorous flame retardants
These chemicals do not break down, they travel far from the source, they're bio-accumulative and very toxic.
The scary part is, they have long-term health effects more often than immediate side effects.
Here's an example of how we come in contact with flame retardant chemicals…
Flame Retardants Facts & Health Risks
At least 90% of Americans have flame retardant chemicals in their blood.
Out of 100 baby products tested by the Green Science Policy Institute, 80 of them had toxic flame retardants.
Many studies indicate flame retardants can cause infertility, lower sperm count in males, endocrine system disruption, birth defects, lower IQ, hyperactivity in children, developmental problems and all sorts of cancer.
American mothers' breast milk has record levels of flame retardants.
A recent Duke University study found that children have at least 5 times as many flame retardant chemicals in their systems as their moms.
Women with higher levels of flame retardant toxins in their bodies take twice as long to get pregnant.
Infants who have high levels of flame retardants at birth have 4 points lower IQ by age four.
The History of Flame Retardants
Flame retardants started being used in the early 1970s when nearly half of all Americans smoked cigarettes, which was a major cause of all fires. It just so happens, the tobacco industry had a lot to do with the push of flame retardant chemicals.
Dr. Mercola tells us in an article regarding flame retardants, that it's because they were under major pressure to make fire-safe cigarettes. He also explains that, instead of making self-extinguishing cigarettes, they created a fake front group, the National Association of State Fire Marshals, to push for federal standards of fire-retardant furniture.
They got what they wanted, and in 1975 California passed TB117 (California Technical Bulletin 117) that required furniture sold in CA to pass a 12-second flammability test with the use of these chemicals.
Of course, word caught on and it naturally became a national standard where almost all furniture manufacturers were dousing their materials with possible poison.
But it was a win-win for Big Tobacco and the three major chemical manufacturers involved.
Do Flame Retardants Even Provide a Fire Safety Benefit?
In one word – NO. Flame retardants do not make anything fire proof. In fact, they can make fires even more deadly. GreenSciencePolicy.org informs us that although flame retardants slow the burning of foam by three seconds, the smoke is way more toxic. And it's the smoke that is more likely to kill you in a fire than the fire itself.
Here are a few more facts about the toxic smoke cause by flame retardants.
Flame retardants cause twice as much smoke,
Six times as much carbon monoxide
90 times more soot
Female firefighters in California have six times more breast cancer
This is a very informative 15-minute-long TED talk given by the Green Science Policy Institute executive director, Arlene Blum. Arlene gives you the gist of the problem with flame retardants as well as hope for overcoming the issue.
Watch the TED Talk on Flame Retardants
What's Up With Flame Retardants Today
Just recently, California passed a new flammability standard called TB117-2013.
An article from Elka Home explains the 2013 TB117 update very well:
"The new TB117-2013 enables foam manufacturers to reduce or eliminate flame retardant chemicals – but it doesn't forbid their use. The new law was designed to enable manufacturers to eliminate the flame retardants, but if they choose to use them it's not illegal. It's up to manufacturers to decide how they plan to meet the new standard."
How do you think the chemical industry reacted to this?
Not so well according to California's Director of Governmental Affairs, Bill Allayaud. Last month, in an article published by The Environmental Working Group, Bill wrote –
"But the chemical industry that has profited for decades from this overly stringent standard is not going down without a fight. It fought hard against the new California law over the last eight months. It also sued the state when the new flammability standard went into effect."
At least the new standard seems to give us some freedom of choice and hopefully will help spread awareness. Especially since the mandatory flame retardant labeling bill is still waiting to be signed into law.
Take Action Against Flame Retardants to Help Protect Your Family
You can take action and demand a national furniture flammability standard today.
Simply sign the EWG's petition to get toxic chemicals out of our couches. EWG researchers want you to know,
"While we are starting to see a shift in the market because of state-level regulations, that progress would be halted if poorly designed new national standards were announced. We need to tell the Consumer Product Safety Commission to protect our health and our families' health right now."
More Ways to Protect Your Family Against Flame Retardants
Take a few minutes to preview the Trailer for Toxic Hot Seat. The movie is set for release on December 1st, 2014.
Featured Image Credit Via Flickr.com
More Good Reads:
http://www.ewg.org/research/flame-retardants-2014
http://greensciencepolicy.org/topics/flame-retardants/
https://www.commondreams.org/headline/2014/07/02-5#.U7TJ15AGirY.facebook
http://articles.mercola.com/sites/articles/archive/2014/10/01/carpet-installation.aspx
http://saferchemicals.org/2014/09/24/couches-without-toxic-flame-retardants-coming-soon-to-a-major-retailer-near-you/
http://products.mercola.com/flame-retardant-bedding/