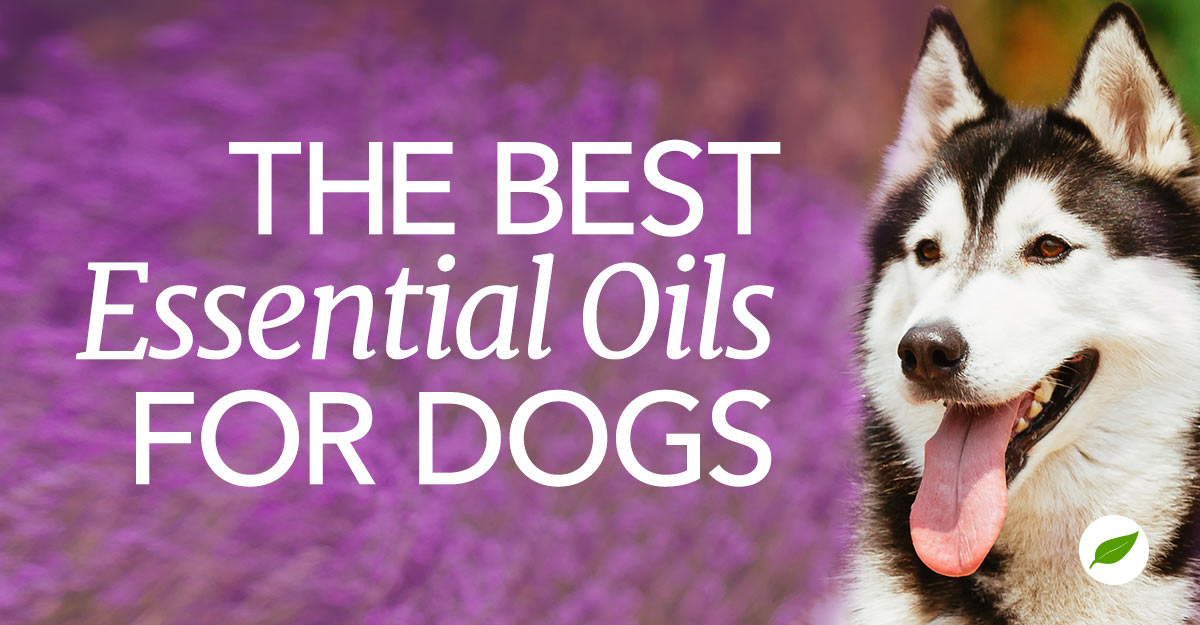 Have you ever applied a flea treatment for your dog and thought, "Ugh, this smells awful?" Many over-the-counter flea repellents smell that way because they are filled with chemicals that – to their credit – are great at killing fleas, but they may be unhealthy for your dog, and you! To protect your furry friend, try natural essential oils for dogs instead. Learn more in this blog post.
Aromatherapists and natural pet therapists have long touted the benefits of using essentials oils for dogs, not just for fleas, but for all sorts of ailments. For instance, the essential oil Citrus sinensis, also commonly known as sweet orange, is a natural flea repellent. So is cedarwood oil.
Most would agree that natural essential oils, also called aromatic oils, smell much better than the chemical stuff. However, you have to be careful when using them on animals. Not all essential oils are safe for use on animals, and the ones that are safe need to be administered properly.
Here's a simple beginner's guide to safely trying essential oils for dogs.
First, Do Your Research
 Before administering any essential oils for dogs, it is important to learn about what they do and how they may affect your pet. Some essential oils that are safe for humans may be toxic to animals, so it's important to educate yourself.
Some of the worst offenders for pets include cinnamon, citrus, pennyroyal, wintergreen, and ylang ylang, all of which are commonly found in essential oils that humans use topically and for aromatherapy.
Dogs have an extremely keen sense of smell and are more sensitive to oils than humans. As with humans, essential oils for dogs must be diluted (usually mixed with a safe binding agent such as almond oil) and administered properly according to the dog's weight. Some oils are specified for use only on the skin or fur and are not to be ingested. Also, you should make sure to avoid the eyes, nose and genitals when using oils on your pet.
Talk to a veterinarian if you are looking to use essential oils for dogs who are pregnant or on puppies that are younger than 10 weeks.
Potential Benefits of Essential Oils for Dogs
Now that you know the potential risks of using essential oils for dogs, let's talk about some of the oils that are safe* and the potential benefits they could have for your fur baby. Here is a list of common issues dogs experience and the essential oils that could help.
Digestion Issues or Weight Management: ginger, spearmint
Fleas and/or Ticks: cedarwood, eucalyptus, geranium, sweet orange
Irritated or Red Skin: carrot seed, niaouli, sweet marjoram, thyme
Itchy Skin: carrot seed, German chamomile, lavender
Moodiness: clary sage, lavender, Roman chamomile, sweet marjoram, sweet orange, valerian
Muscle/Joint Discomfort: chamomile, ginger, helichrysum
Many essential oils offer a variety of benefits, so when selecting a supply for your pet, look for those that are multi-use. Some "must have" multi-use essential oils for dogs include chamomile, lavender, niaouli, and thyme.
How to Use Essential Oils for Dogs
There are many different ways to use essential oils for dogs. Always check packaging for specific instructions, but some common ways pet owners use oils include:
Sniffing – Apply the oil to your hands (make sure it's properly diluted first), and have your dog smell them.
Wearing – Apply oil to your dog's collar, vest, bandana or sweater, so they can inhale the scent continuously throughout the day. This method is particularly helpful for nervous dogs.
Paws – Many essential oils for dogs can be applied to the paws so they benefit from the smell and absorption into the skin.
Spray – For hard to reach/larger areas, try your diluted oils in a spray bottle. Be careful to avoid the eyes, nose and genitals.
In food – A few essential oils may be safe to use in your dog's food (always read directions first and choose a food-grade essential oil). For larger animals, a couple drops may be applied to the gums (pull back your dog's bottom lip and place food-grade drops right under their teeth).
*Note: Not for use with pregnant dogs or young puppies without first consulting a veterinarian.
Choose Oil Blends Formulated for Dogs
Selecting an essential oil blend created specifically for use on dogs can bring you peace of mind when getting started. Natural Healthy Concepts offers a variety of pet products, including essential oils for dogs, designed specifically to help support canine health.
Instructions on how to use the products are clearly listed on each bottle (usually measured according to weight), and some products may also be used on cats or other household pets. Be sure to check each product first.
Do you use essential oils for dogs? We'd love to hear about it! Submit your comments below.