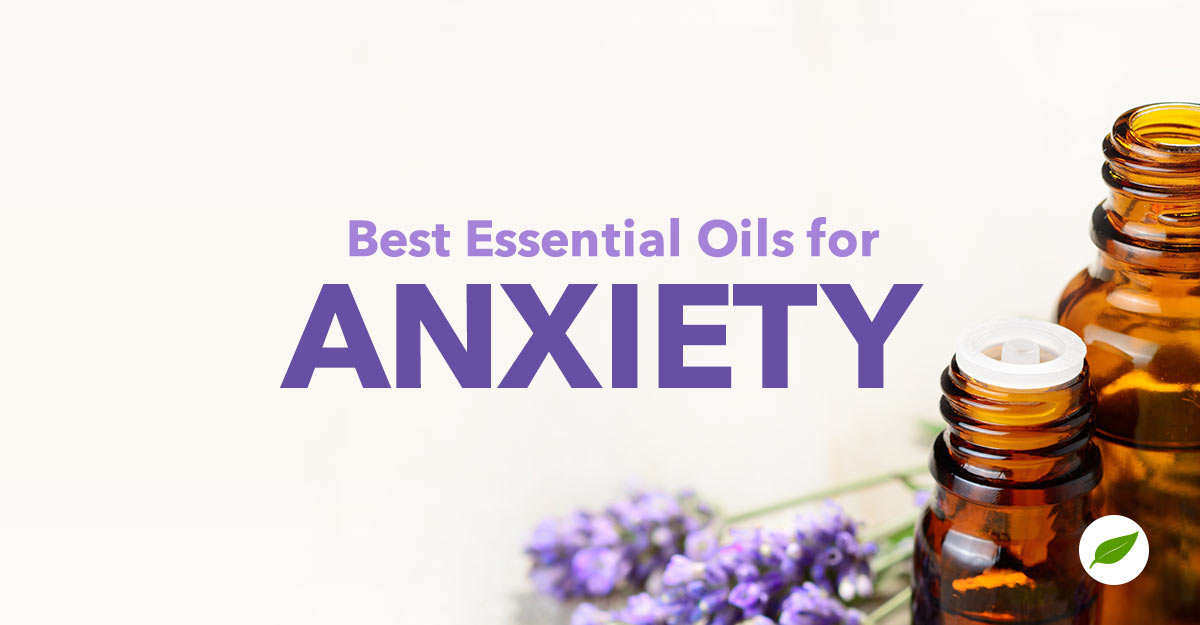 The tradition of practicing aromatherapy using essential oils is centuries old and spans the globe. Natural healers have always known about the potentially beneficial properties of essential oils on the human body, mind, and spirit. These beliefs on natural healing are now beginning to intertwine with scientific research as study after study uncovers the impact of essential oils. Keep reading to learn more about the 7 best essential oils for anxiety and how you can use them as tools to maintain a healthy mood and spirit.
When it comes to modern medicine, essential oils can be a tool in the struggle to balance mood and manage the symptoms of anxiety. Anxiety can manifest itself in many ways – and when unchecked – can mean the difference between approaching your life with energy and confidence or fear and fatigue. According to mental health experts, anxiety is the most commonly diagnosed mental health condition in America, with researchers suggesting that more than 18% of adults battle anxiety each year.
Managing anxiety and mood imbalance often requires a variety of targeted, personalized treatments and lifestyle changes including prescription medication, nutrition, exercise, and rest.  Essential oils for anxiety may help you restore a sense of calm and confidence.
Try These 7 Essential Oils for Anxiety
Lavender Essential Oil
Lavender essential oil is the number one, go-to choice when it comes to aromatherapy targeted to calm and soothe anxious nerves. A long list of studies have concluded that the use of lavender essential oil can contribute to healing, wellness, and mood health. In fact, some hospitals diffuse lavender essential oil to relax patients and support healing after surgery. Experts agree that lavender essential oil is generally considered one of the safest oils available and that can be diffused and applied directly to the skin. When it comes to use around children, it should only be used in small doses and with care.
Stock up on this essential oil staple by grabbing Lavender Essential Oil from Wyndmere Essential Oils for a steam distilled oil with a light, sweet floral scent.
Roman Chamomile Essential Oil
As one of the oldest and most trusted essential oils, Roman chamomile essential oil should be top your list of the best essential oils for mood balance and stress support. It is derived from the chamomile plant and has a brilliant blue-green color when first distilled. Worldwide research conducted in the U.S., Italy, and Brazil shows that Roman chamomile has the ability to provide stress support and bring about a sense of calm. Use it in your diffuser or in a 2% dilution with a trusted carrier oil.
For a 100% pure, sustainability grown Roman chamomile product, check out Roman Chamomile Dynamic Essential Oil from Nutri-Dyn.
Lemongrass Essential Oil
The mild, soothing smell of lemongrass has been shown to support against anxiety, combat irritability, and help you achieve a more restful sleep. Lemongrass is a fresh herb often found in Thai cuisine, but the essential oil of the plant holds a wealth of potential health benefits as well. Lemongrass oil can be diffused or applied directly to the skin using a safe carrier oil like jojoba oil or almond oil.
Try it for yourself by purchasing this soothing, refreshing Lemongrass Oil from NOW Foods.
Clary Sage Essential Oil
If your stress and anxiety is caused by hormonal shifts, you may want to try clary sage essential oil as an alternative to lavender. Clary sage oil has been shown to have a significant effect on the hormonal system and may help with anxiety related to PMS, menopause, or postpartum depression. In fact, clary sage oil may be one of the most useful essential oils available, as it has natural antidepressant, anti-inflammatory, antifungal, and antiseptic properties.
Add this versatile essential oil to your collection by trying Clary Sage Essential Oil from Wyndmere Essential Oils.
Ylang Ylang Essential Oil
Ylang ylang essential oil comes from the flower petals of the tropical ylang ylang tree, a large tree commonly found in Indonesia, Asia, and the Polynesian Islands. The scent of the ylang ylang flower has been prized for centuries and is a highly sought-after perfume ingredient. Ylang ylang essential oil has been shown to contain natural antidepressant and mood supportive properties, with many believing that the scent of ylang ylang can bring about passion, positivity, and romance.
Try it for yourself! Buy Ylang Ylang Extra Essential Oil from NOW Foods.
Vetiver Essential Oil
Known for its calming and reassuring energy support, vetiver essential oil is often used to calm stressed nerves and has been used with success in trauma patients. This valuable oil comes from the tall, grassy vetiver plant (Chrysopogon zizanioides), which grows in India, Haiti, and Indonesia.
Want to add vetiver essential oil to your collection of natural health products? Check out Vetiver Dynamic Essential Oil Vetiver from Nutri-Dyn. This earthy, 100% pure oil has a unique aroma may support a healthy mood, helping you to feel centered and calm.
Peppermint Essential Oil
Another popular essential oil which may help combat anxiety is peppermint essential oil. Studies show that using peppermint oil can promote a calm and alert mood and could potentially ease headache pain and discomfort. Diffusing peppermint is the safest way to experience its benefits, to use topically dilute with a carrier oil.
To experience the soothing, uplifting power of peppermint, check out Peppermint Oil from NOW Foods.
The Science Behind Essential Oils for Anxiety
Each essential oil contains a unique fingerprint of compounds derived from the plants from which they are derived. These individual compounds have specific effects on the body as they interact with brain chemistry and the bloodstream, depending on how they are used. Research shows that lavender has a proven anxiolytic (anxiety reducing) effect in patients recovering from surgery, as well as women in the postpartum period of childbirth.
When you use essential oils, they evaporate quickly and are introduced into your body via inhalation through your nose and mouth. Through your lungs, these particles are absorbed into your bloodstream, allowing the beneficial compounds of the essential oils to get to work. When inhaled through the nose, the vapor can be absorbed directly into the brain tissue where it has the ability to impact your emotions as well the lymphatic brain, which controls your heart rate, blood pressure, and breathing.
To get a better understanding of how lavender affects the brain, scientists administered it to patients while using MRI imaging. Research indicates that inhaling the scent of lavender, for instance, causes "neuronal enhancement … and reduction of activity" in various parts of the brain. When the brain interacts with lavender, it contributes to a sense of calm that supports against feelings of anxiety.
How To Use Essential Oils for Anxiety 
Diffusing
Each of the essential oils listed above can be safely diffused. You can sniff the smell of oil from the bottle or add a couple drops into a personal essential oil diffuser. For a "whole-room" effect, purchase a plug-in essential oil diffuser and add water. The machine will release a gently scented mist full of brain-relaxing aromatherapy designed to lift your spirits and calm your nerves.
Topical Application
While some essential oils can be applied directly to the skin, it's generally recommended that you dilute the potency of essential oils with a carrier oil. Some quality carrier oils include almond oil, jojoba oil, coconut oil, or grapeseed oil. Need a few ideas to integrate these oils into your routine? Try mixing 1-2 drops of essential oils with a carrier oil for a relaxing night-time massage, or dab them behind your ear before a stressful meeting or social situation.
Oral Ingestion
Before taking essential oils orally, it's best to check with your healthcare provider to ensure that it is safe to do so given your unique medical needs. It is also important to only use specific food-grade essential oils, such as select products from NOW Foods. Remember that essential oils are a powerfully concentrated form of their natural plant form and should be used wisely. They are not recommended internally for pregnant women and young children.
Shop The Best Essential Oils for Anxiety
If you're ready to use essential oils in your fight against anxiety, the store at Natural Healthy Concepts is well stocked to help you get started.
Anxiety Soother
For an easy-to-take daily dose of helpful essential oils and herbs, try Anxiety Soother from Herb Pharm. This herbal supplement contains Kava rhizome, lavender, passion flower, and other helpful ingredients to promote relaxation and a balanced mood. Taking this formula regularly could help support a healthy response to daily stress. This formula may also provide temporary relief from occasional feelings of anxiety. Simply add a full squeeze of the dropper bulb to 2 oz of water or juice, up to five times per day, between meals.
Anxiety Release Essential Oil Blend
This relaxing mix of aromatherapy essential oils is specially formulated for natural anxiety relief support. Each drop of Anxiety Release Synergistic Blend by Wyndmere Essential Oils contains a 100% natural blend of essential oils including orange, lavender, clary sage, geranium, vetiver and Roman chamomile. This blend is best used in diffusers, inhaled from the bottle, or added to a warm bath.
Which essential oils for anxiety will you try? Share your thoughts in our comments section!