The aroma of cloves often sparks memories of holiday ham, mulled wine or a favorite perfume. This unique scent is described as "powerful, sweet-spicy and hot with fruity top tones." Its strong taste is explained as "uniquely warm, sweet and aromatic."
The clove spice is made from the unopened pink flower buds of the Syzgium aromaticum tree, an evergreen that grows in tropical and subtropical conditions. This tree is native to the Maluku Islands (the Spice Islands) in Indonesia. Today, the top five leading producers of cloves include Indonesia, Madagascar, Zanzibar, India and Sri Lanka.
After being picked by hand, cloves, which resemble tiny nails, are dried until they turn brown. They then have a hard exterior. Their flesh has an oily compound that gives them their nutritional and flavor profile, according to The World's Healthiest Foods.
The use of cloves has been dated back to around 1721 BC. Then, during the Han Dynasty, a Chinese leader demanded that those who addressed him must chew cloves to freshen their breath. Later, during the Middle Ages, cloves started to be heavily traded. There were actually wars over cloves in the 13th and 14th centuries!
Today, the clove spice is used around the world, especially in Asian cuisines. Ground cloves are also used with cinnamon to spice up things like baked goods, squash, fruit pies, sweet potato and pumpkin. Indonesia, India and Pakistan are some of the largest consumers.
It is best to buy whole cloves, as powdered lose flavor faster. It is estimated that the powdered form lasts six months, while whole cloves last one year, and longer if refrigerated.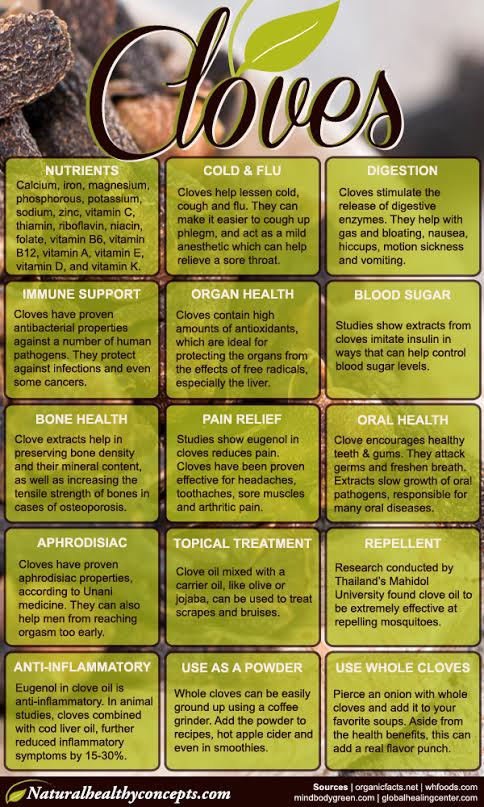 Nutritional Benefits
Cloves are said to have the richest antioxidant source of all spices. In addition, they contain minerals, vitamins, omega-3s and other nutrients.
As The World's Healthiest Foods explains, "Clove's unique phytonutrient components are accompanied by an incredible variety of traditionally recognized nutrients." On their nutrient ranking system, cloves are noted to be an excellent source of manganese, a very good source of vitamin K and dietary fiber, and a good source of iron, magnesium and calcium. (Source)
Cloves also contain phosphorous, potassium, sodium, zinc, vitamin C, thiamin, riboflavin, niacin, folate, vitamin B6, vitamin B12, vitamin A, vitamin E and vitamin D.
Health Benefits
The main constituent of clove is eugenol, which functions as an anti-inflammatory substance. In addition, it contains other biochemicals that "have been reported to possess various properties, including antioxidant, hepato-protective, anti-microbia and anti-inflammatory properties." These bioactive compounds include flavonoids, hexane, methylene chloride, ethanol, thymol and benzene. (Source)
Some of the many potential health benefits of cloves are as follows:
Aid in digestion
Protect the liver
Help with congestion
Have antimicrobial properties
Boost the immune system
Fight tooth pain
Keep teeth strong
Help control blood sugar levels
Preserve bone quality
Fight against oral diseases
Decrease pain and swelling
Protect organs
Help relieve headaches
Improve the appearance of skin
Fight bad breath
Help with cold and flu
Have aphrodisiac properties (Chinese medicine)
In aromatherapy, clove oil's profile shows it can be used as an antiseptic and pain reliever.
Learn to make your own clove oil for a toothache here!
Natural Healthy Concepts carries this popular clove oil.
Do you use cloves to spice up a recipe? Were you aware of the numerous potential health benefits of cloves? We'd love to hear from you!
And, if you'd like to receive more health-related articles like this one, subscribe to our blog.
[jetpack_subscription_form]