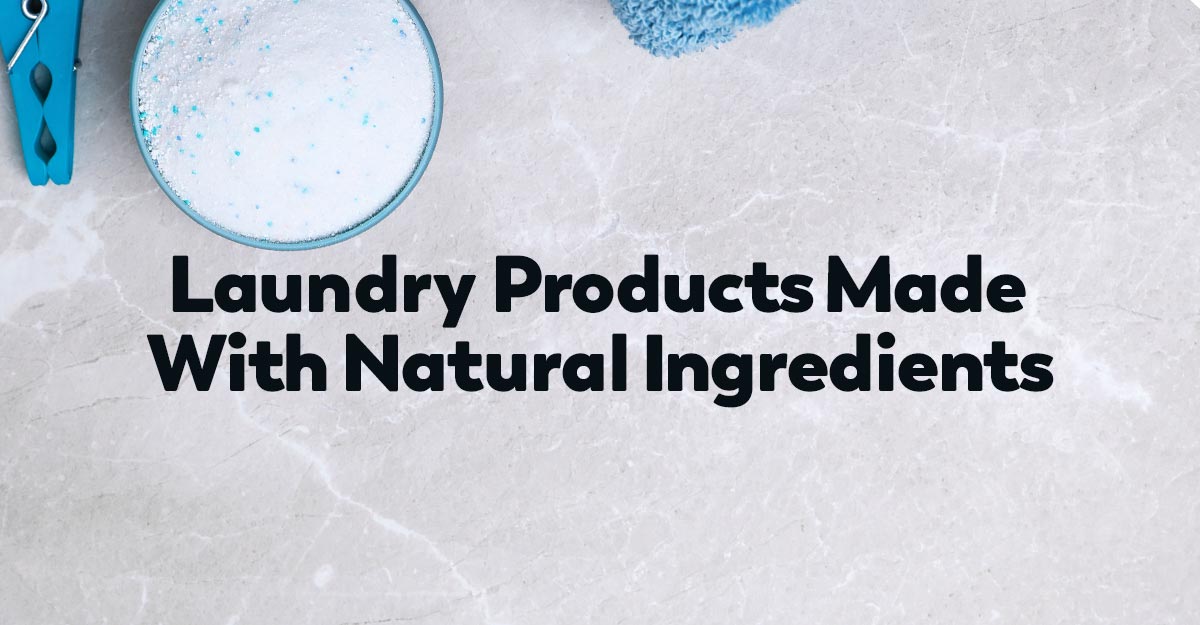 Many ingredients found in conventional laundry products are good for keeping clothes looking and smelling fresh, but they may not be the best for the environment or your skin.
Solvents, bleach, synthetic fragrances and dyes, preservatives, parabens, softeners, emulsifiers, and enzymes are just a few of the ingredients commonly found in laundry products. Not all of these are necessarily bad, but they may be needlessly "strong" or "harsh" when more natural alternatives will do the same thing.
Nature provides so much for us, including compounds like fats, oils, and the essences of plants. These natural ingredients lift dirt from clothes and won't rough up delicate fabrics, plus they may be better for the environment.
If you have been hesitant to switch to more natural laundry products, this article may help. Below is a quick look at how laundry products contribute to skin and environmental problems, and some alternative products you may want to consider.
Potential Harm of Laundry Products
The compounds found in conventional laundry products can have a range of potential effects on the body and environment.
For example, some laundry products change the acidity (pH) of water during the wash cycle before emptying into a local body of water. This change in pH is toxic to some aquatic organisms like algae. Another problem is eutrophication, which occurs when phosphates enter water supplies and feed marine life that consumes all of the oxygen in the water and kills off other living creatures.
Also, some substances are designed not to break down quickly. So when they are dumped into local streams or rivers they can survive for a long time. Eventually, these substances travel into other freshwater sources. If consumed, these substances could contribute to health problems in people or animals.
Some people also experience rashes or other skin conditions when wearing clothing washed with fragrances and dyes. This can become increasingly problematic, because they absorb into the fabric to keep clothes smelling fresh between washing, but they will build up and become irritating.
Some of the symptoms of a sensitivity or allergy to laundry products include:
red rash
mild to severe itching
blisters that may ooze or crust over
bumps
dry, cracking, or scaly skin
tender skin
burning skin
swelling
Each person is different, and you may not notice these effects. But even if you don't, you can still make a positive impact on the environment by switching to more eco-friendly alternatives.
Eco-Friendly Laundry Products
Detergent
Fresh Laundry Detergent from Rebel Green is a plant-based detergent made with USDA-Certified Organic ingredients that are biodegradable and scented with essential oils.
Sal Suds Biodegradable Cleaner Concentrated from Dr. Bronners is a multipurpose cleaner that you can use around the house or when doing the laundry. This mild formula cleans and rinses well.
Stain Stick
Grandma's Laundry Stain Stick from Remwood Products is an ultra-strength version of Grandma's Lye Soap Bar, which is used for washing your hands or during your bath. Use the laundry stick for stubborn stains caused by grass, baby, or blood.
Linen Spray
Fresh Linen Spray from Rebel Green contains pure essential oils that are biodegradable and help to keep bath towels, linens, and bedding smelling like fresh lavender and grapefruit.
Fabric Softener
Fabric Softener from Mrs. Meyer's Clean Day helps to keep clothes, towels, and bedding fluffy and soft without the use of parabens, phthalates, animal-derived ingredients, or formaldehyde.
Dryer Sheets
Dryer Sheets from Mrs. Meyer's Clean Day are the perfect companion for clothes in the dryer to add freshness and help prevent static.
With these products in your laundry room, you will help to keep your clothes clean, exposure to potentially harmful substances to a minimum, and support the environment. Try them and see if they make a difference in your laundry routine.