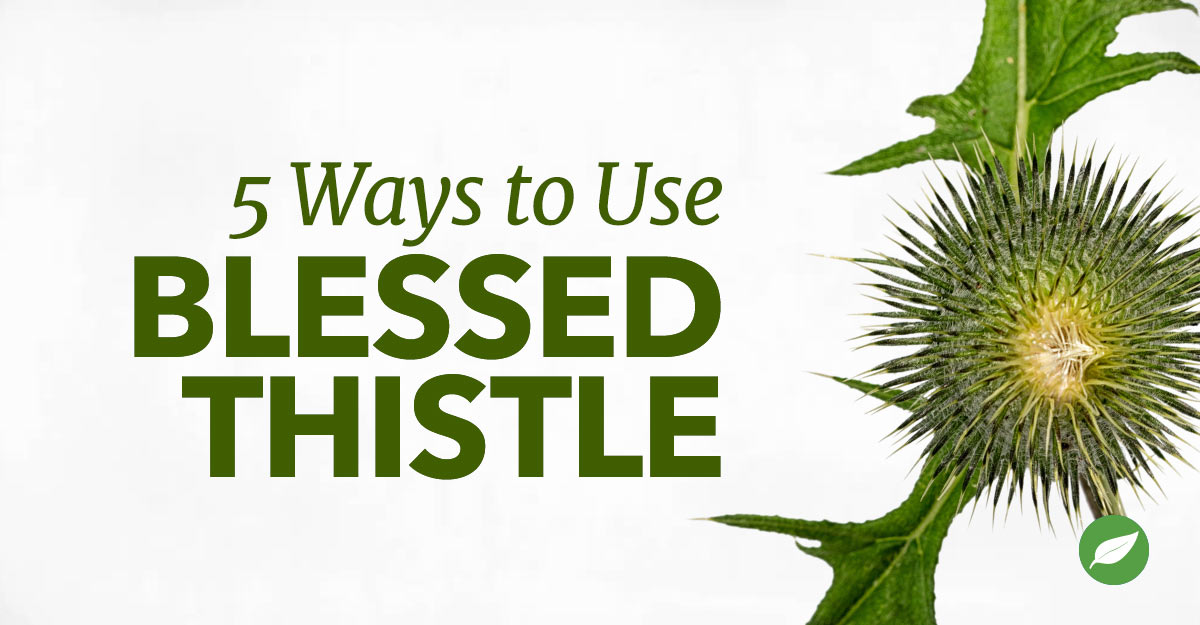 When you think of a thistle, you may think about the prickly purple wildflower that blooms along Texas highways each spring. That purple roadside Texas variety is just one of many in the thistle family, some of which have potential positive health benefits. One of those is blessed thistle. Learn about the top five blessed thistle uses in this blog post!
Blessed thistle is so named because early users believed it to be a "cure-all." Blessed thistle can also be found under the names "Holy thistle" and "St. Benedict's thistle." Most well known for its support of digestive system and female-related health challenges, blessed thistle uses and potential benefits can be delivered through a variety of methods. If you're looking to include blessed thistle in your healthy lifestyle, consider the following.
How Does Blessed Thistle Work?
Blessed thistle contains bitter compounds that may affect the thickness of mucosal fluids while promoting their production, particularly in the digestive and respiratory systems. This may explain some of its positive support of digestive and reproductive organ health. Blessed thistle also contains astringent compounds that are believed to help cleanse the body, dilate peripheral blood vessels, and maintain healthy tissue. In addition, it is said to be an excellent herbal source of potassium and sodium.
Common Blessed Thistle Uses
01. Capsules: Capsules, such as the vegetarian-based Blessed Thistle from Nature's Way, are one of the most popular ways to take dietary supplements of any kind. Tuck them in a travel-sized pill box for convenient on-the-go nutritional support.
02. Extract: Using blessed thistle in extract form, such as Blessed Thistle from Herb Pharm, is an easy way to hide the supplement in the water or juice you're already drinking every day. This liquid formula contains extracts of certified organically grown whole flowering Cnicus benedictus (blessed thistle) plants.
03. Tea: If you're a tea drinker, you can also get your blessed thistle in a delicious tea blend. Flor-Essence from Flora is a gentle dry herbal tea of blessed thistle, watercress, kelp, red clover blossom, and other botanicals, that promotes the natural detoxification of the digestive system, helping to cleanse the liver, kidney, and colon. Get the formula in a ready-to-use liquid tea concentrate, or in a box of 16 individual tea packets. Once prepared, keep the tea refrigerated and use it within three weeks.
04. Tincture: A tincture is a concentrated liquid herbal extract using alcohol or apple cider vinegar to preserve the nutritional properties of an herb for a longer shelf life. It can be taken as a supplement using a dropper. Tinctures are taken under the tongue and enter the bloodstream quickly. Just a few drops typically equals one 8 oz. cup of tea.
05. Poultice: A poultice is paste made of dried or fresh herbs such as blessed thistle, activated charcoal, salt, clay, or other substances that are applied directly to the skin or wrapped in a cloth and left on the skin for several hours to support skin health and healing. A poultice is not as concentrated as an essential oil or a tincture, and bandages must be changed often.
As with adding any supplement or herb to your diet, we recommend you talk to your healthcare practitioner first. If you think you may be pregnant, or if you have allergies to plants in the Asteraceae family, including ragweed, do not take blessed thistle supplements. Otherwise, your healthcare professional is likely to recommend a personalized dosage plan for you based on your current health goals and other medicines or supplements you may currently be taking.
Learn more about blessed thistle uses and potential benefits by subscribing to our blog via email, and browse Natural Healthy Concepts for all your blessed thistle needs.
What are your favorite blessed thistle uses? Do you plan on introducing this herb into your healthy lifestyle? We'd love to hear your thoughts in the comments section below.