2014 marks the 11th WholeFoods Magazine Natural Choice Awards!
Votes from their readers came flying in this year honoring a total of 18 excellent brands in the natural health industry. Natural Healthy Concepts is proud to offer 13 of the award winners, and 13 of the runners up!
Congratulations to all of these dedicated companies who work hard to make a positive difference when it comes to health and nutrition.
Here are the 13 Winners that you can find at Natural Healthy Concepts at fair prices and with free shipping.
1. New Chapter, Full-Line
A first time winner, New Chapter supplements were a hot seller this year. Some of the best selling products include, Wholemega Fish Oil, Perfect Prenatal and Zyflamend Whole Body. Wholemega includes a balance of 3,6, and 9 essential fatty acids and is made with extra-virgin wild Alaskan salmon. The prenatal is made with whole food, organic ingredients and probiotics to help keep mom and baby healthy. Zyflamend offers support for inflammation and aging, with powerful antioxidants from ginger, turmeric, green tea and rosemary.
2. Bluebonnet Extreme Edge, Sports Nutrition
Bluebonnet took home two awards this year and it's also the second time Extreme Edge products won the sports nutrition category. Huge sport authorities like the NFL, MLB and NCAA have a list of 165 ingredients that are off limits for athletes.
Extreme Edge products do not contain any of the substances, and are perfect for bodybuilders, professionals and the everyday athlete.
3. Bio Nutrition Garcinia Cambogia, Weight Loss
When it comes to dropping pounds, Garcinia Cambogia has been a hit. This year, it earned a spot in the weight loss supplement category for the first time. It is the absolute best seller!
To find out more about how Garcina Cambogia actually works for weight loss, read our article on 9 Natural Plant-Based Weight Loss Supplements (Infographic).Â
4. Bluebonnet Ubiquinol, Heart Health
This is the second award Bluebonnet Nutrition earned in the heart health category. Perhaps Bluebonnet is being honored for their mission to remove allergens from their products, and be completely free of GMOs. But, their Ubiquinol also contains the active form of CoQ10 that the body is able to use immediately. Many other forms on the market are made from the oxidized form of CoQ10, which has to be converted to the reduced, active antioxidant form.
To learn more about why you need Ubiquinol, read our article on Ubiquinol – The Key to Energy, Longevity & a Healthy Heart.
5. Terry Naturally Curamin, Joint/Bone Health
A third time Natural Choice Winner, Terry Naturally's Curamin took the Bone & Joint Health award this year. The secret is the BCM-95 Curcumin, which has up to 10 times more absorption for fast, natural and effective pain relief. The other unique ingredients, like boswellia, nattokinase and DLPA, help reduce inflammation, promote blood flow and even boost your mood.
Curamin is one of Natural Healthy Concepts Top 10 best selling supplements. For more info on Terry Naturally's Curamin and CuraMed, read our article on Curamin or CuraMed – Which One Should I Take? (Infographic).
6. Source Naturals Wellness Formula, Immune Health
This was the first year of the Immune Health category in the Natural Choice Awards, and Wellness Formula from Source Naturals is the big winner! This supplement combines powerful herbs, antioxidants, vitamins and minerals to support the immune system, respiratory system, stress response and antioxidant defense. It's a Bio-Aligned formula that works to fix the root cause of your body's system imbalances.
7. Enzymedica Digest Gold, Digestive Health
Enzymedica won the Digestive Health spot this year with their ever popular Digest Gold, plant-based enzyme supplement. It supports the digestion of proteins, carbs, fats, sugars and fiber. It also includes ATPro, which is a combo of magnesium, alpha lipoic acid and CoQ10 to enhance energy production.
Natural Healthy Concepts customers who reviewed Digest Gold have said it's been a real life saver.
If you want to know more about digestive enzymes, read our article on 5 Reasons to Take Digestive Enzymes.
8. Nature's Way, Herbs
Nature's way is a 5-time award winner in the Herbs category! They are an industry pioneer, and have been around for more than 40 years. They offer over 500 natural products including 200 herbal supplements. They also provide high quality vitamins, minerals, homeopathic formulas and specialty products. Natural Healthy Concepts is proud to offer the Nature's Way brand! The Alive Gummies for kids and for adults, are among some of our best sellers! Their Charcoal Activated, Fenugreek Seed and Milk Thistle are also quite popular.
9. Nordic Naturals Nordic Berries, Children's Supplement
Nordic Naturals takes their first ever win in the Children's Supplement category this year with their chewy and super tasty Nordic Berries! Kids love them. I'm not gonna lie – adults love them too.
They have a sweet and sour citrus flavor and provide 100% daily value of the most essential nutrients without artificial colors, flavors or preservatives. It didn't take me long to realize these were the only multivitamins I could get my 2-year old son to eat.
10. Quest Nutrition, Nutrition Bar
This nutrition bar won the vote hand-down this year. The company strives to end the obesity epidemic and make healthy eating fun! Their nutrition bars have 20 grams of protein, prebiotic fiber and natural ingredients without gluten or artificial sweeteners. The bars are made to help speed up recovery after workouts, curb hunger without spiking insulin levels and promote the growth of good bacteria in the gut.
Quest Nutrition is a bit newer to the natural health industry, but the president of the company says they will soon be coming out with more food products, rather than just protein bars. We're excited to see what else they will come out with!
11. Derma-e, Skin Care
Derma-e has won the best skin care line in the Natural Choice Awards for the 6th time this year! They are a family-owned company that started with a jar of 12,000 IU Vitamin E Moisturizing Creme, and word of mouth was enough to get things going.
Today, they offer more than 80 hand made face and body care products that are designed to help things like fight age spots, scars and blemishes. Their formulas are also free of harmful parabens, GMOs, gluten, sulfates, mineral oil and dyes. They are also 100% vegan, earthy friendly and cruelty-free.
12. Giovanni, Hair Care
Arthur Giovanni, founder of Giovanni Hair and Body Care, started out as a leading stylist in Hollywood. His salon was a hit with many celebrities! But, he had one problem. His hands started reacting negatively to the harsh chemicals in the products he was using. That's when he created his own safe alternative. Giovanni's professional line of organic shampoos, conditioners, repairing treatments, finishing and body care products won the Hair Care Natural Choice Award this year!
Each product is made without parabens, sulfates or animal by-products. Everything is manufactured in the U.S., and created with a base of vitamins, herbs, minerals, proteins and other nutrients.
13. Dr. Bronner's Magic Soaps, Personal Care
Dr. Bronner's Magic Soaps is a 2nd time winning brand in the Personal Care category of the Natural Choice Awards. These soaps give "multi-purpose" a whole new meaning! They can be used in at least 18 different ways, including as a body cleanser, for laundry, washing produce, dishes, for pets and so much more.
Dr. Bronner's Magic Soaps are made with organic extra-virgin coconut, olive jojoba and hemp oils. They are 100% vegan, cruelty-free, biodegradable, certified Fair Trade and contain no synthetics, thickeners or preservatives.
Here's a graphic featuring the 13 award-winning brands we carry.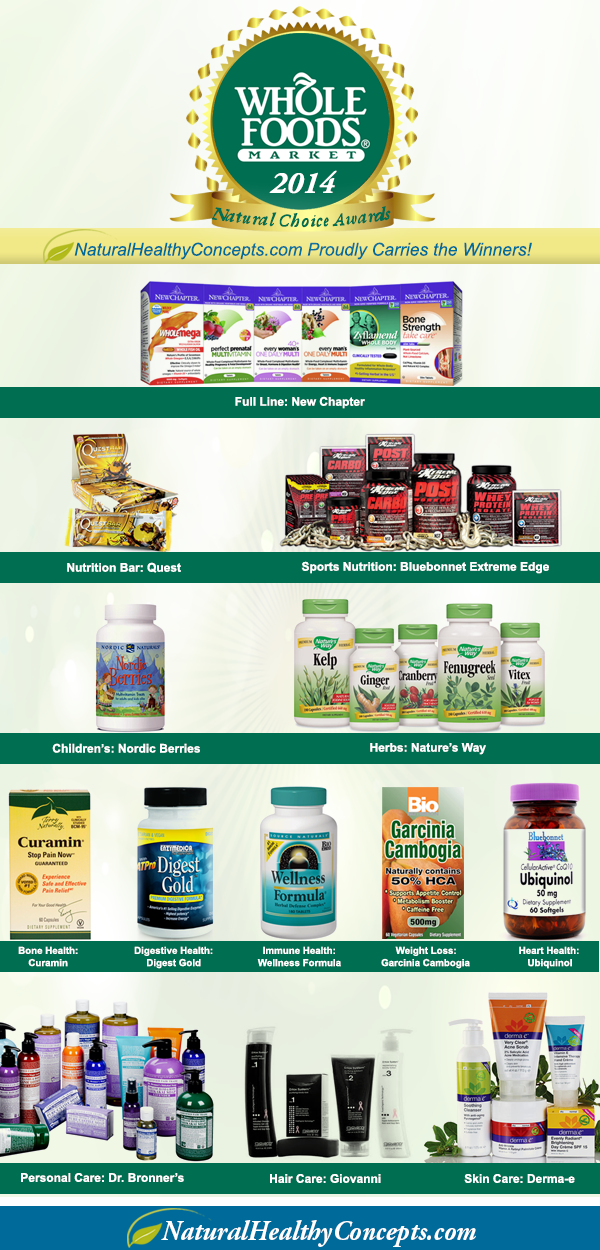 What's your favorite natural health brand, supplement or personal care product? Is there a company you would have liked to win a certain spot? I know I would have liked to see Acure Organics or 100% Pure win one!
Share this with the people you love, to help them make healthy buying decisions! Don't forget to Like Natural Healthy Concepts on Facebook and subscribe to our blog free on the top right of the homepage.