When summer hits and it gets warm outside, few things cool me down like a cold glass of iced tea. As a kid growing up in a tiny Wisconsin town, summer beverages were pretty limited in my house. We were usually offered three choices: Kool-Aid, which was chock full of sugar, water, which nobody ever chose willingly, or iced tea with lemon.
Unlike my siblings, I was never really a fan of Kool-Aid, and water was just too tasteless for me (even though we were made to drink at least two glasses every day anyway). My parents always made the same iced tea, day in and day out. They'd brew a pitcher of hot tea from Lipton tea bags, then cool it in the fridge, finishing it off with lemon slices for a little extra flavor.
I loved it.
However, with age comes new tastes, and with new tastes come new iced tea flavors. If you're tired of the same plain iced tea this summer, take a look at the seven we've rounded up and cool off with something new!
7 Healthy & Refreshing Iced Teas
1. Healthy Sweet Tea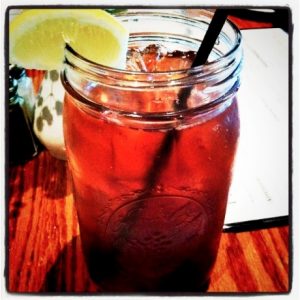 Sweet tea has been a tradition in the South for many, many years. In the movie Steel Magnolias, Dolly Parton's character called sweet tea the "house wine of the South," and if you've ever tried it, you probably understand why.
Making it is simple. Brew six or seven Luzianne tea bags and pour it over a cup (or more) of sugar or a sweet syrup. Store it in a gallon pitcher and serve over plenty of ice. Seems great, right? A typical glass of sweet tea can contain an amount of sugar that is two times what you find in a can of Coke!
Thankfully, there are healthier versions of sweet tea, such as the one Betsy came up with over at DIY Natural. It's made with organic black tea and sweetened with organic cane sugar or raw honey (like this option from YS Organic Bee Farms). Betsy says you can also use stevia (try this one from Stevita) or maple syrup, such as this organic variety from NOW Foods.
2. Peach Mango White Iced Tea
Let's face it—black tea isn't everyone's favorite. White tea offers a lighter,
and most of the time, a much more refreshing flavor, especially when it comes to iced tea.
If you've been looking for that lighter taste with a twist of fruit, this recipe from Jen at The Scrumptious Pumpkin calls for fresh peaches and mango, and white tea instead of black. (While the recipe does call for sugar, you can also substitute stevia or your favorite natural sweetener as well.)
Not only do you get the nutrients from the fresh fruit, but Jen says, "Studies have shown that white tea may have the highest levels of ECGC as compared to all other types." That means your body gets extra support in the fight against aging, as well as a metabolism boost, and who doesn't want that?
3. Hibiscus-Pomegranate Iced Tea
For many people, summer brings a sort of tropical feeling to the air, and there are few things that can add to that feeling the way an ice-cold drink can.
Tropical tea is perfect for people of all ages, and Jen over at SoundBodyLife offers a refreshing recipe for hibiscus-pomegranate iced tea. Chock full of powerful antioxidants from the pomegranate, you'll get extra immune and cardiovascular support. Hibiscus isn't without its own benefits, offering support for healthier cholesterol and blood sugar levels.
For this recipe, Jen states that you can brew hibiscus tea bags, or you can steep summer dried hibiscus flowers in water—the choice is yours! After it cools, add pomegranate juice, such as PomGreat Pomegranate Juice Concentrate from Jarrow Formulas. If your brew isn't quite sweet enough, you can add stevia or agave nectar (like this option from NOW Foods).
4. Matcha Mint Iced Tea
Matcha is all the rage in the tea community, and has been for quite a while.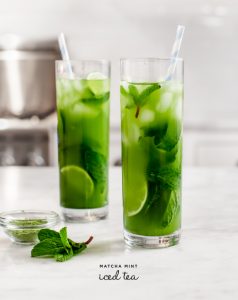 (You can read more about matcha tea and its health benefits here.) While most people brew it hot, Jeanine from Love & Lemons brewed it cold and added refreshing twists.
My favorite thing about this recipe is that it doesn't take long. Shake ice-cold water and matcha (give Mountain Rose Herb's Organic Matcha Tea a try) together until all the lumps are gone. Add ice, as well as handfuls of mint leaves and lime slices, and you've got a refreshingly cool and delicious way to beat the heat this summer. Prefer your tea a little sweeter? No problem! Jeanine says honey or sugar cane add just the right amount of sweetness.
5. Cucumber & Grapefruit Green Iced Tea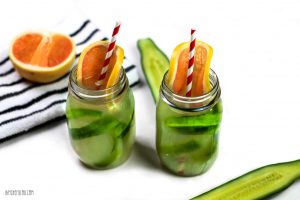 Iced green tea is one of my favorite summer drinks. I usually add in some fruit for extra flavor and sweetness, but hadn't considered cucumber before (and yes, it's technically a fruit).
Tristan, the man behind the blog known as IAMCHEF changed my mind with this simple recipe for cucumber and grapefruit green iced tea. You might not think so at first, but the cucumber and grapefruit flavors complement each other perfectly, and mixed with the green tea, you get a great-tasting drink and a metabolism boost.
The grapefruit adds an immune boost and may also help relieve stress, while the cucumber, which is packed with vitamins and minerals, supports brain health, helps manage stress, and delivers powerful antioxidant protection.
Two green tea bags (this Green Tea Energy from Yogi Tea is a great option), one whole cucumber and one whole grapefruit are all you need to get started. If you've got a sweet tooth, Tristan says a dash of honey is ideal for a touch of sweetness.
6. Hibiscus, Lemongrass, Basil & Honey Sweet Iced Tea
If you're looking to trade in your bland iced tea for a healthier, flavorful,
antioxidant-packed option, this recipe from Tieghan at Half Baked Harvest is one you don't want to miss.
Brewed with summer in mind, this tea delivers the taste of hibiscus (and all the health benefits, too!), as well as the sweetness of honey, and the complementary flavors of lemongrass and basil for a cold drink that is beautiful and rich in color and in taste. Plus, it's another much healthier version of sweet tea.
For added flavor, Tieghan freezes hibiscus tea ice cubes and adds them to a glass filled with this delicious tea. What could be better?
7. Â Blackberry Long Island Iced Tea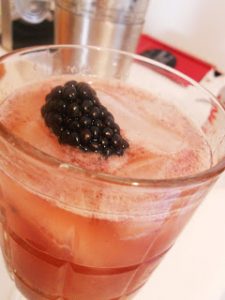 Summer can be stressful as well as fun. For that reason, Lauren's recipe for Blackberry Long Island Iced Tea is here to make things a little easier.
Long Islands (as they're called for short) typically have quite a bit of alcohol in them, but this recipe offsets the taste with fresh blackberries and lemon juice (I recommend freshly squeezed juice). There is always the option to include less alcohol as well.
While the alcohol helps you relax, the blackberries deliver a powerful antioxidant punch to fight signs of aging. They're also packed with vitamin C and bioflavonoids as well.
Cool off with something new and healthy this summer. Give one of these great recipes a try and let us know how you liked it by leaving a comment below!
If you enjoy these posts, enter your email below to get all of our posts right in your inbox!
[jetpack_subscription_form]