Whether you need a salad for a picnic, family get-together or a party, you won't hesitate to bring and share any of these lettuceless salad recipes. I personally get tired of the same old picnic and party food. The salad lover should find these lettuceless salads flavorful, colorful and healthy!
Once you start sharing these salads at picnics and parties, you're going to get moved to the top of the A-list!
First, here are a couple Salads with Protein:
Avocado Mango Chicken Salad
The presentation alone sold me on this. Had to try it. First, you can't go wrong with chicken in a salad. Combining chicken with avocado, mango, onion and lime juice just sounds so yummy and healthy, how could you not try it? Add a little garlic, salt and plain yogurt and voila! A delish, healthy and substantial salad that is suitable for any gathering. Get the ingredients and directions from Eat. Drink. Love. Try it out!
Roasted Summertime Chickpea Salad
Nearly everyone is familiar with chickpeas in hummus. But I personally can't say I had made a chickpea salad until I found this recipe. I really do like cilantro so any recipe that has it catches my attention. So yup, this salad has cilantro, along with chickpeas, avocado (love that too), garlic (Mmmm), corn, gorgonzola, grape tomatoes, olive oil, vinegar, parsley, mint, basil & honey.
So good protein, great herbs, some veggies and good fats. Good stuff! Get the directions and ingredients at How Sweet It Is. I might try roasting mine on the grill next time just to see!
And a few Salads with Starches:
Roasted Potato Salad with Mustard-Walnut Vinaigrette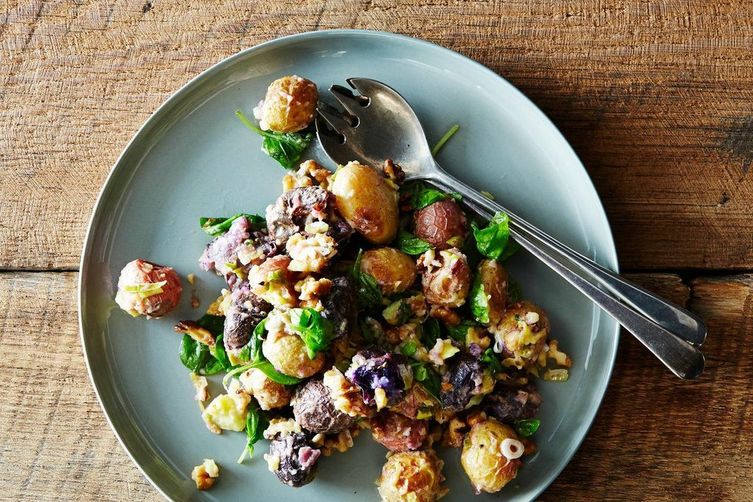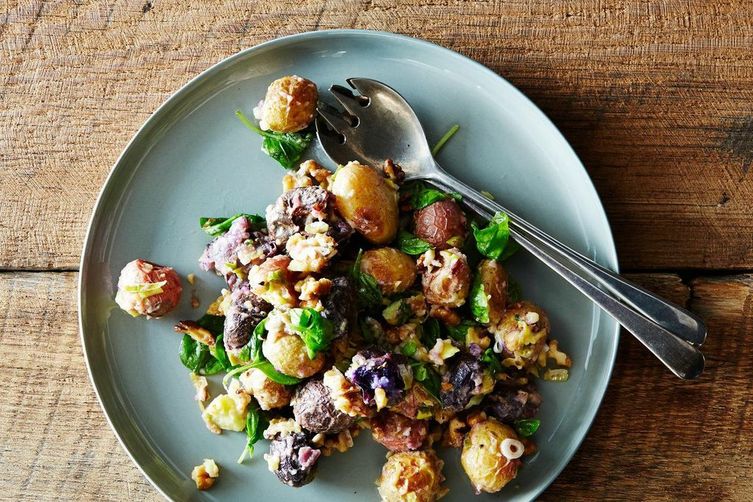 It would almost (almost) be sacrilegious to exclude a potato salad from a lettuceless salad compilation. So here it is, stripped of the typical mayonnaise. Instead, the dressing mixes olive & walnut oil, dijon mustard, garlic, lemon juice and red wine vinegar. Roasted baby reds or other small potatoes, chopped walnuts, scallions and torn pieces of basil are mixed with dressing for an unusual potato salad. Guests will be asking for seconds, and the recipe!
Directions and ingredients can be found at Food52Â along with several other fantastic looking recipes on their site.
Greek Orzo Pasta Salad
How many picnics have you gone to where there is a tuna pasta salad? Don't have enough hands to count do you? This pasta salad features orzo (but couscous could be substituted). The great thing about this greek salad version is I can think of so many things to include in it for a different twist on the original. The original uses a greek dressing, crumbled feta cheese, kalamata olives, red onions, celery and baby spinach to mix with orzo. Check it out at Kitchen Simplicity. Kitchen Simplicity speaks to me personally. While I like to cook, I don't usually have much time. So I am all over simple, yet healthy recipes made from real food.
Roasted Corn & Cilantro Salad 
The picture of this recipe looks so good and so fresh – why wouldn't you try it? Well I suppose if you didn't like cilantro; but I do! I think people either love or hate cilantro. The key is using it with a light hand so it doesn't overpower everything else.
Fresh sweet corn is the base of this salad (try to find some GMO-free) . Red pepper,cilantro, chili powder, lime and jalapeno give this salad some zest. Olive oil, fresco cheese and jicama smooth out the flavor. Give it a go and see how you like it!
Get directions and portions at Dinner Was Delicious – what a great name!
And then there is my favorite – Cucumber Salads:
Cilantro-Lime Cucumber Salad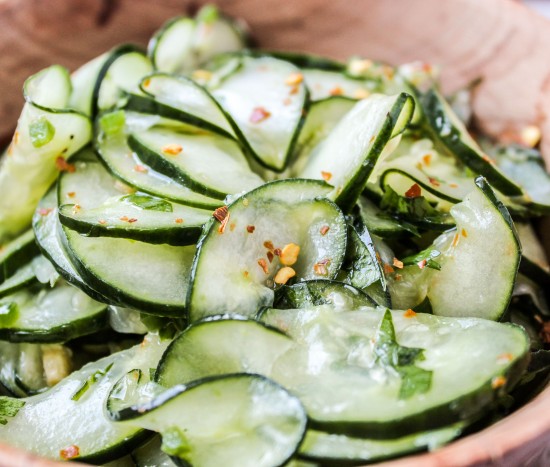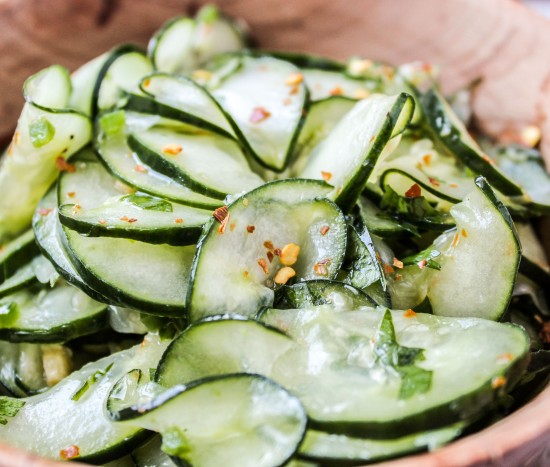 Yup, cilantro again. You know it is reputed to help bind heavy metals and carry them out – right? Even if it doesn't, I don't care.
There really isn't anything better than a cucumber fresh-picked off the vine and eaten that day (preferably within hours). If you've got a garden you KNOW what I'm talking about. So cucumbers, lime, cilantro, garlic, jalapeno, olive oil, crushed red pepper are mixed to eat immediately, or marinate in the fridge for a bit. Zesty & flavorful!
Check out The Food Charlatan's recipe box for directions to this one and many others.
 Cucumber & Coconut Salad with Sweet Basil Dressing
Ok to be honest, I haven't tried this one yet but it's on my list.Coconut is soooo good for you that anyway you can fit it in to your diet seems like the thing to do. I also have a basil plant that is doing extremely well this year so I am looking for new recipes to use it.
Lime, basil, water, agave and olive oil make up the dressing. Cucumber, coconut, basil and cilantro (he he) are mixed with the dressing for a fresh new take on cucumbers. Choosing Raw makes a good point that this salad is so fresh, you could even do without the coconut if you wanted to.
That's it for this recipe round-up. If you find these recipes to be a hit, come back and let us know. It's easy to find recipes out there, but finding good and healthy ones isn't always so easy. Leave your comments here and share the wealth!