Let's face it, many of us have way more on our plates than we should. Sometimes life feels so rush, rush rush and there are days where we only have time to whip together a quick meal. But it would be nice to not have to sacrifice nutrition for convenience.
That's why I've gathered up some 3-ingredient recipes, from healthy food bloggers across the web, that are both delicious and nutritious.
They are so simple you can even memorize them! Take a look…
1. 3-Ingredient Banana Pancakes
Did you ever think you could make pancakes without flour? I had no idea until I came across Petra's recipe from Zoom Yummy. It turns out, all you really need is a banana, an organic egg and some cinnamon and you can easily whip up some tasty and nutritious pancakes.
As long as you have those three main ingredients, and a little coconut oil for the pan, you're good to go. Petra says she likes to add a few slices of banana and some honey on top, but you can get as creative as you'd like. You could mix in a tablespoon of hemp seeds or a few blueberries for added nutrition if you have them on hand. Eat them plain or drizzle some organic maple syrup on top. Either way, enjoy the taste of this super simple and healthy breakfast.
2. 3-Ingredient Strawberry Peach Wine Slushies
Did I say healthy recipes? Whoops. But I guess when it comes to alcohol, wine is one of the better choices. At least it has some beneficial antioxidants, right?
Speaking of the health benefits of wine, check out this great wine debate infographic comparing the benefits of red wine versus white. What do you think is the healthier choice?
This 3-ingredient recipe was created by Stella from Hungry Happens. Stella says it's a summer necessity and all you need is a bottle of white wine, two frozen peaches and two cups of frozen strawberries, and you've got refreshing summer drinks for four.
3. 3-Ingredient Quinoa Avocado
Quinoa is one of the best grains you can eat. It's a complete protein and has many other nutrients like zinc, magnesium, folate and even some omega-3s. It's also as simple to make as rice and it adapts well to all different kinds of flavors.
Brigette from the Free People Blog came up with this simple recipe while she was experimenting with random ingredients in her kitchen. Wouldn't you know, it turned out to be her favorite quinoa recipe! She says the combination of avocado and quinoa creates a consistency that's extremely satisfying to eat. The feta on top adds that necessary pinch of salt to complete the dish. It can be eaten hot or cold and as a meal or side dish. And it sure does fill you up!
4. 3-Ingredient BBQ Stuffed Sweet Potatoes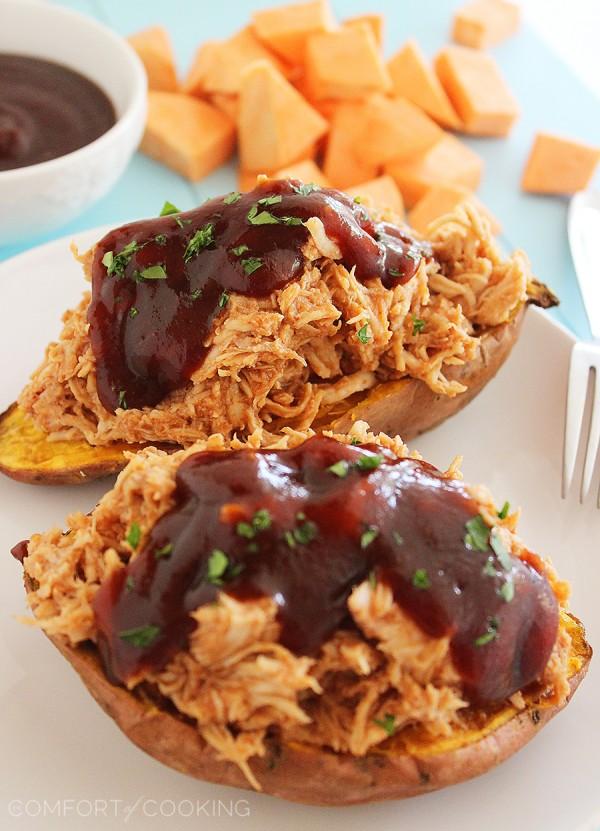 Recipe creator and blogger, Georgia, from The Comfort of Cooking says we should try these rock-your-socks off stuffed taters as soon as possible because they're that good and you won't believe how easy they are!
She also reminds us that sweet potatoes are a nutritional powerhouse, and when you stuff them with tangy BBQ chicken (antibiotic and hormone-free chicken), you've got a complete melt-in-your-mouth meal that goes very well with a green side salad.
I've found the easiest way to cook shredded chicken is in the crock pot on low for eight hours. But if you don't have the time for that, baking it in the oven is also an option.
Conventional store-bought BBQ sauce is usually an unhealthy choice, depending on the ingredients. Most of them are made with high fructose corn syrup, maltodextrin, GMO soybean oil and artificial preservatives. So, in order to avoid all of those unnecessary ingredients, you've gotta try making this homemade hot-as-you-want barbecue sauce from Mind Body Green. It's vegan, gluten-free and pretty darn simple. It would even make a great gift idea and look pretty in a Mason jar!
5. 3-Ingredient Cauliflower Soup
It's amazing how many soup recipes you can actually find with only three simple ingredients! Although soup is an excellent way to load up on gut-healing bone broths, veggies, herbs and spices, we don't always have the time to make that kind of soup – especially during our busy weekdays.
Tori Avey is a food sleuth and blogger who says she is officially addicted to this 3-ingredient cauliflower soup that only takes 10 minutes! It sounds too good to be true, but lots of people have raved about how fast, easy and tasty it truly is. Tori says, just don't skimp on the sea salt.
This is another one of those recipes that you can keep simple or get a little creative with. Some people have added peas, roasted parsnip or garlic. Tori says it can be topped with a drizzle of sesame oil, chives, blue cheese or Parmesan. The possibilities are really endless.
Tori also says her Vitamix makes the soup even more creamy and velvety, but any typical blender can get the job done.
Also check out these other two great 3-ingredient soup ideas:
6. 3-Ingredient Slow Cooker Apple Sauce
There's something about homemade applesauce that makes it incomparable to the stuff you can buy at the store.
Apples have many great health benefits, just as long as they are organic or at least pesticide and herbicide-free. According to the EWG's guide to pesticides in produce, apples are the number one most contaminated of all produce.
In addition the the apples, all you need is a lemon, some cinnamon sticks and 5-7 hours to let it cook in your crockpot.
Brandi, from Aunt Bee's Recipes says it's good served warm, but she loves it cold and so do her kids!
7. 3-Ingredient Raw Chocolate Brownies
I had to end with dessert, which doesn't always have to be bad for you. In fact, these delicious raw, vegan brownies created by Rachel from The Stay at Home Chef are a prime example!
Rachel says even though these look and taste like "real" brownies, they actually provide a great source of nutrition. The recipe simply calls for walnuts, dates and raw cacao powder. Can you believe that's all it takes? You might have to try it to believe it!
Eating healthy doesn't have to be hard. As you can see from these recipes, it can actually be quick and easy. It's fun to discover simple meals that satisfy your nutritional needs and your taste buds at the same time. Just don't forget to spread the word and share them with the stressed-out people you love!
You can find many of the quality Non-GMO, organic ingredients we talked about for these recipes at Natural Healthy Concepts with free shipping in the U.S.
They offer organic apple cider vinegar, coconut oil, maple syrup, honey, hemp seeds, sesame oil, raw cocoa powder, raw walnuts, sea salt and a Vitamix.
Good luck and happy, healthy eating!
[jetpack_subscription_form]
Also, check out the Natural Healthy Concepts Facebook page!