Blueberries have superfood status, and for good reason — they're packed with substances that provide huge health benefits. And the news is spreading like wildfire! Blueberry production has more than doubled since the year 2000 to keep up with rising demand.
The best part, especially for Americans, is that they're always available, either fresh or frozen. Since blueberries are native to North America and their season is quite long — somewhere from April to October, with July being prime blueberry season (Source) — fresh berries are in abundant supply for almost half of the year. South American and frozen blueberries then hold us over the remaining six months.
So why do blueberries seem to make the cut for every superfoods list out there? Check out these healthful properties:
Only 80 calories per cup
Virtually no fat
Low in sodium
Rich in fiber
Low in glycemic load
Good source of vitamin C and other antioxidants
High levels of phytonutrients
Great source of manganese
Taste great
Blueberries get their bluish color from powerful antioxidants called anthocyanins. Antioxidants are chemicals that protect cells from free radical damage. Free radicals are potentially damaging molecules that can attack healthy cells in the body. This cell damage has been linked to aging, and diseases like cancer, heart conditions, and decline in immune and brain function.
The flavonoids in blueberries have properties that promote a healthy internal response. They also have a cholesterol-lowering effect.
Researchers continue to study the role that blueberries play in cardiovascular health, brain health, insulin response, cancer research and skin health.
If you need a little inspiration for getting more blueberries in your diet, give these healthy recipes a try!
1. Blueberry Oatmeal Cookies
Amy at Amy's Healthy Baking sure knows how to put blueberries to good use in her Blueberry Oatmeal Cookies. They're perfectly sweet, extra chewy and bursting with tangy dried fruit. As she points out, "As you sink your teeth into each moist mouthful, it's absolutely impossible to tell these skinny treats contain NO butter, refined flour or refined sugar!"
That's right, Amy uses clean-eating ingredients like whole wheat flour, coconut oil and honey. Plus, she offers lots of tips on baking with whole wheat flour, instant oats, eggs, honey and more.
Check out the recipe here.
2. 5-Minute Healthy Blueberry Frozen Yogurt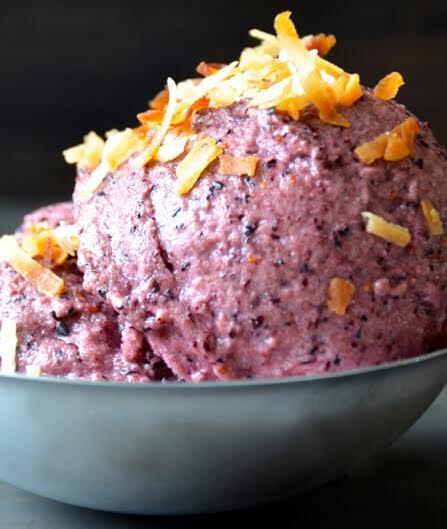 Kelly at Just a Taste can whip up a healthy blueberry dessert in only five minutes with just four simple ingredients and a food processor. This healthy blueberry frozen yogurt couldn't be easier! Just gather the blueberries, agave nectar, coconut-flavored Greek yogurt and fresh lemon juice and you're good to go!
She suggests topping off this tasty treat with toasted coconut flakes for an added crunch. It's the perfect way to satisfy your sweet tooth without the guilt!
3. Blueberry Granola Crisp
Purely Elizabeth pulled out all the stops with this tempting, gluten-free, vegan dessert: Blueberry Granola Crisp. It could have come right out of grandma's cookbook.
The base consists of a mix of blueberries, coconut sugar, lemon juice, cinnamon and arrowroot powder. The crunchy ancient grain granola topping is coated with coconut oil. And, in just 20 minutes, you have a wonderful blueberry treat!
For this and other great blueberry recipes from Purely Elizabeth, click here.
4. Blueberry Maple Overnight Oats
Megan at Healthy Grocery Girl incorporates blueberries into her breakfast with this Blueberry Maple Overnight Oats recipe. It's easy, healthy and convenient for those hectic weekday mornings.
She combines oats, a non-dairy milk beverage like almond or hemp milk, chia seeds, vanilla and cinnamon in a bowl, and then layers it in a mason jar with blueberries and walnuts. Finally, she tops it off with a dollop of pure maple syrup and refrigerates for the night. Then, in the morning, it's ready to go!
Check out the recipe here.
5. Blueberry and Kale Smoothie
Tammy at Organize Yourself Skinny is the go-to girl for smoothies. And she doesn't disappoint with her blueberry and kale version!
This makes a super-smooth treat, thanks to the coconut milk and Greek yogurt. Add to that the nutrients of the blueberries and kale, and you've got a delicious, nutritious meal for any time of day. You can even add a little sweetness with a small amount of pure maple syrup!
6. Healthy Blueberry Scones
Kelley at The Grant Life helps us out with another delicious breakfast treat: Healthy Blueberry Scones. Pair one of these with your favorite coffee and you'll be in pastry heaven!
While they appear to be inspired by Starbucks, she keeps these on the healthier side by using whole wheat flour, and coconut oil. Her recipe calls for Truvia®, but since that is an artificial sweetener, you'll want to try xylitol or stevia instead. This one's on my list for next weekend!
Click here for this recipe.
Do you have a favorite way to incorporate blueberries into your diet (aside from eating them by the handful)? Share it in the comments section below. We'd love to hear from you!
Does this post leave you hungry for more? Enter your email address to have healthy posts like this sent directly to your inbox.
[jetpack_subscription_form]