Remember the days when your babies would eat just about anything? They loved things like sweet potatoes and squash, or even raw onions and radishes! But as most mom's probably agree, something changes along the line, and all of a sudden they become these picky little eaters…
Can you really blame them? After they've experienced the sweetness of watermelon and berries and the deliciousness of salty tortilla chips and popcorn – radishes have a fat chance of being invited to the party in their tummies.
Everyday lunches can be a big challenge. Especially when you have little ones in school and it seems impossible to avoid the hurry, rush-rush of daily life. Then the challenge gets even bigger when you're trying to avoid refined sugars, corn syrups, GMOs, preservatives, pesticides, insecticides, herbicides, artificial colors and flavors, nitrates, antibiotics, MSG, hydrogenated oils, growth hormones, artificial sweeteners, casein, pink slime, mechanically separated meats, and everything else that ever touched Monsanto.
There are thousands of disgusting toxic ingredients lingering in packaged and processed foods available in grocery stores and in our kid's public school lunches! It's very sad.
I find it terribly confusing how so many people are still oblivious to the fact that the rate of sickness and disease has been on a constant incline because of our food, pharmaceutical drugs (including vaccines!) and our polluted environment. I don't want to believe that it's true either. But, if you want to live somewhat of a long life without getting autism, diabetes, obesity, depression, arthritis, diarrhea, eczema, asthma, allergies, constipation, headaches, acne or so many other auto-immune or neurological disorders – then you ought to believe it!
Ahem.
So – these are probably some of the reasons you'd like to pack-a-lunch for your little student. If you're even allowed to! I've heard some crazy stuff about the federal government banning packed lunches without a doctor's note. That sort of information is all over the internet and it makes me sick! Gag and barf.
What is this world coming to?
6 Super Healthy Lunch Ideas Kids Will Love
Before I get going on another rant about the insane ignorance of real health and nutrition in our world today, and the lack of freedom parents actually have in some parts of the country – here are six perfectly healthy lunch ideas rounded up from health minded bloggers across the web. They are all very simple to make, they won't take much time and your kids should actually be excited to eat them!
 1. Fruit & Raw Cheese Kabobs
This is a great lunch idea from the Kelly of the Nourishing Home Blog. Of course there is plenty of room for creativity. Use as many and whatever fruits you or your kids would like. Local and organic is the best way to go. Or, any fruit with a thicker rind should contain less pesticides – like pineapple and mango.
Raw cheese is also considered to be better in the natural health world. You can read about the politics of raw milk in our article – What's Your Beef With Raw Milk Anyway? But basically, it doesn't contain rBGH, it's not ultra-pasteurized and the cows were treated well.
You can cut the skewers to fit your child's lunch box, or even use toothpicks if you want to try mini kabobs. And if time permits, have your kids help you the night before with the cookie cutter shapes. If not, just quickly cut the cheese in cubes.
Along with these kabobs, add in some snap peas, some crunchy red peppers and cukes with a side of hummus. Â Top it off with a couple 7 ingredient no-bake cookie bites and a handful of cashews.
Find these ingredients for 7 ingredient no-bake cookie bites here:
2. Cucumber Roll-ups
Jana from SheKnows gives us a great idea for a bread or tortilla replacement. Cucumbers! With a bit of precise peeling, you've got a perfect way to make a healthy wrap for your kids. Not just healthy, but fun and easy to eat!
Jana uses curry powder, salt and pepper, Greek yogurt and a little lime juice in her rolls. But you could also try garlic powder instead of curry powder, and hummus or mashed avocado instead of yogurt. For the ham, I suggest finding something like Applegate's natural and organic meats. They have no casein, no dairy, no gluten, no antibiotics or hormones and the animals are humanely raised.
Here are the ingredients in their natural black forest ham:Â Pork, Water. Contains Less Than 2% Of The Following: Sea Salt, Cane Sugar, Celery Powder, Spice Extracts.
In addition to the cucumber roll-ups, you could add some frozen grapes, which my boys love! There's something about them being frozen that makes them more like an ice cream treat. Some organic raisins and roasted sunflower seeds would make the lunch even more complete.
3. Apple Cinnamon Almond Butter Sandwich
What a good and simple idea Adrienne from This Country Girl Cooks had. I especially love the cored star shape in the middle. And for your kids, maybe you could even use a heart. Aww.
Seriously, this is such an easy and nutritious lunch idea that your kids will have fun with. You just have to cut your apple in flat slices, spread on some almond butter (use peanut if you wish) and sprinkle with cinnamon.
In addition to the apple sammys, add some organic baby carrots with a side of hummus and as a bonus, throw in a CLIF Kit's Organic cherry pumpkin seed bar. Ingredients: Organic Dates, Organic Pumpkin Seeds, Organic Cherries, Organic Apples, Sea Salt, Organic Rosemary Extract. YUM.
4. Gluten-Free, Dairy Free Pizza Muffins
My boys love pizza as many kids often do! But, unless you're being smart with the ingredients – it's not one of the healthiest ideas. If you're looking for a super simple alternative to pizza at home, find Food for Life gluten free tortilla shells.
Then at 400 degrees, brush a little organic, cold pressed olive oil on the shell and put in the oven for about 5-7 minutes to get a little crispy. Take it out and add your pizza sauce, healthy cheese and toppings and bake for another 5 minutes until the cheese is melted. That tastes awesome and kids dig it.
But these pizza muffins, that gfe Shirley shows us how to make gluten and dairy free, make a great alternative to the beloved pizza pie. Especially in your kid's lunchbox! Visit Shirley's recipe for all of the ingredients needed and directions. This could be a fun baking project to do with your kids over the weekend for their lunches during the week.
In addition to the pizza muffins, add in some mixed raw veggies and a CLIF Kid ZFruit organic fruit rope for dessert. Ingredients:Â Organic Apple Puree Concentrate, Organic Apple Juice Concentrate, Organic Natural Flavors, Malic Acid, Pectin, Colored with Fruit and Vegetable Juice.
They are delicious!
5. Gluten-Free Tuna Pasta Salad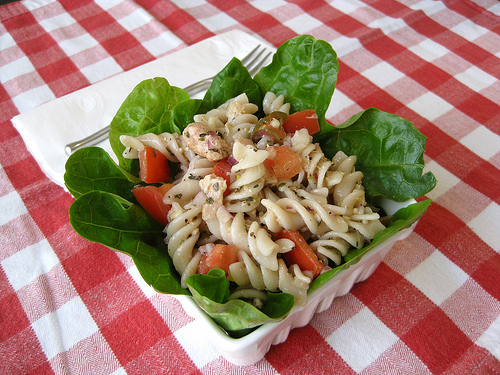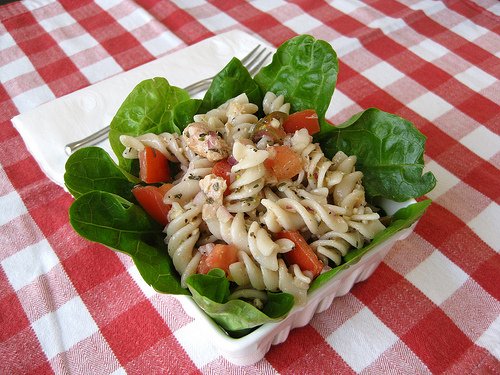 A cold, healthy pasta salad makes a refreshing lunch your kids will thank you for. Ancient Grains makes their gluten-free Fusilli pasta with a special blend of Organic quinoa, amaranth, and brown rice. And Heather from Sage Amalgam shows us how to whip up a homemade dressing that's also healthy and tasty. She uses tuna in her recipe. But that could easily be substituted for your child's favorite meat.Â
Heather's dressing calls for light agave nectar, which you can find for free shipping here.
If you're wonder how you're going to pack all of these lunches, especially something like pasta salad, don't worry. These LunchBots are way cool and they're stainless steel. Hurray, no PCBs! The company also has lunch boxes, water bottles and other fun stuff too.
Watch this short video showing you how roomy these LunchBots are.
6. Gluten Free DIY Lunchable
The Lunchables from Kraft foods are extremely processed and you really just shouldn't go there. But, there's no reason why you can't just take the idea and make it into a healthy, fun lunch for your kids like Marla shows us how to do on her blog Family Fresh Cooking.
Get some organic salami from Applegate with no antibiotics, pesticides, synthetic additives, chemical preservatives, casein, gluten or dairy. Then add in some raw cheese cubes, peas and carrots (side of hummus) and some fresh fruit. A handful of shelled roasted pistachios or raw almonds would make a great addition to this one as well!
There you have it – six ideas for busy parents who are trying to keep their kids the healthiest they can be!
Let us know if you have any other good ideas so we can share them with the world.
If you liked this article, subscribe to our blog free on the top right of the homepage. And don't forget to like Natural Healthy Concepts on Facebook for more natural health tidbits.