When I was a kid, oatmeal was a breakfast staple in my house. My mom touted it as "the only thing that'll warm you up and stick to your ribs," and she was right.
Oatmeal has always been one of my favorite breakfast foods, and while I love the taste, there's something else that I love even more: There are tons of ways to prepare it. Oh, and it's pretty great for your health, too!
This week, we've rounded up some new ways to enjoy your morning oatmeal. Check them out!
The Health Benefits of Oatmeal
While it might not seem like anything great when you're a kid who would much rather have a bowl of sugary cereal, oatmeal provides some pretty great health benefits for people of all ages. People seem to be noticing it, too! There's even a Decision Analyst survey that shows that many Americans chose oatmeal to be the fourth healthiest food from a list of 70.
But just how healthy is oatmeal? To be frank, this seemingly simple breakfast food is a whole-grain, nutritional powerhouse. Check out a few of the benefits below!
Oatmeal is an energy-booster. Packed with protein and a good source of carbohydrates, oatmeal delivers the calories and energy you need to get through the day. According to a 2006 study in the International Journal of Sport Nutrition and Exercise Metabolism, foods like oatmeal tend to cause a slow rise in glycemic levels, which is ideal for fat-burning during exercise (Source).
It may play a role in weight management. Oatmeal is a good source of soluble fiber, which helps you feel fuller for longer periods of time. With less craving, you'll do less snacking, which may mean a healthier body weight and composition.
Oatmeal is heart-healthy. A 1999 study that appeared in The American Journal of Clinical Nutrition states that whole grain consumption is associated with a reduced risk of heart issues due to the soluble fiber (Source). It may even help maintain healthy blood pressure levels, too!
It protects your skin. Oatmeal has been used for many years as a way to relieve skin irritation. According to the American Academy of Dermatology, oatmeal helps to normalize the pH of your skin, which helps stop itching.
Now that you have a good idea of what oatmeal may be able to do for your overall health and wellness, let's take a look at what it can do for your taste buds.
6 Oatmeal Recipes You'll Love
Breakfast Blueberry-Oatmeal Cakes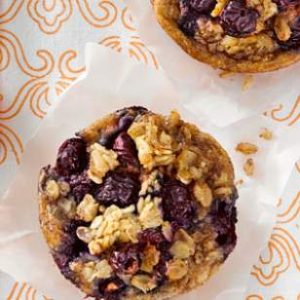 While most people enjoy their oatmeal straight from a dish or cup, there are other ways to eat it, too! This recipe from EatingWell magazine takes the heartiness of blueberry oatmeal and pushes it to the next level by turning it into little cakes!
Made with old-fashioned rolled oats (be sure to soak them for eight to 12 hours beforehand), pure maple syrup and vanilla extract (you can also substitute vanilla stevia and adjust the amount accordingly, if you'd like), then topped with fresh blueberries, this portable take on an old oatmeal favorite is a sure winner!
This recipe is baked in muffin tins, so when they're done, you can freeze extras for later use. These cakes are portable and the perfect complement to busy lifestyles.
Get the full recipe here.
Chocolate Raspberry Truffle Oatmeal
This next recipes comes from Katie over at Chocolate-Covered Katie, and involves two of my favorite things: raspberries and dark chocolate. If you're in the mood for something different from your normal oatmeal flavor, you'll definitely want to give this one a try.
This recipe also calls for soaking your oats before you get started, so be sure to set some time aside for that. After that part is over, it's pretty simple! Combine raspberries (fresh or frozen) and the other ingredients with the oats and warm up.
Oh, and after you warm them? Stick in a square of your favorite dark chocolate (these bars from Dr. Mercola are a good choice) and enjoy!
Get the full recipe here.
Strawberry Banana Overnight Oats
Overnight oats provide one of the best (and fast!) options when it comes to a healthy breakfast—especially when you're busy. This recipe from Julia at Free People makes overnight oats simple, convenient, and delicious!
Mix the oats, coconut milk, fruit, and chia seeds together in a jar and place in the fridge overnight. You can give the recipe a protein bump by adding hemp powder, if you'd like, too! The next morning, you'll have a wholesome, heart-healthy breakfast waiting for you. It's that simple!
Get the full recipe here.
German Chocolate Cake Oatmeal
German chocolate cake has been one of my favorite desserts since I was a kid. However, it can be pretty unhealthy, so I was pretty excited to find this oatmeal recipe from Bethany and Rachel at Athletic Avocado. It combines the healthiness of oatmeal with the best flavors from German chocolate cake, and who wouldn't want that?
With only four steps, this recipe seems pretty simple. Combine the ingredients in a large sauce pan and heat over medium for 10-15 minutes. Cacao powder delivers a rich, chocolaty taste, and flaxseed and pecans all add texture and even more flavor to make your oatmeal a hit with the whole family!
Get the full recipe here.
Pan-Seared Oatmeal with Blueberries
If you're anything like me, there are days when plain ol' oatmeal in a bowl gets, well, old. This recipe from Treehugger remedies that by taking oatmeal and giving it a bit of an image makeover, then tops it off with fresh blueberries and honey.
Simply mix your ingredients in a pan and let simmer until it has a thick consistency. Pour the mixture into a baking dish and allow it to cool. After it's cool, cut your oatmeal and place it in your frying pan and sear each side equally.
The blueberry and honey mixture is simple as well. Boil your honey, then pour over your blueberries. Spoon the mixture over your seared oatmeal, and you've got a delicious and simple way to enjoy oatmeal.
Get the full recipe here.
Cinnamon Raisin Overnight Oats
There's just something about cinnamon and raisin-flavored foods that I love. They just complement each other so well, it's hard to say no! This recipe for cinnamon raisin overnight oats from Sam at Pancake Warriors is pretty easy to put together and tastes great, too!
Along with the oats, cinnamon and raisins, the chia seeds and cinnamon protein powder give this recipe a little extra boost in the protein department, so you'll have the fuel you need to get through the day.
Get the full recipe here.
How do you like your oatmeal? D0 you have any favorite recipes? Leave us a comment and let us know!
If you like these posts, don't forget to subscribe below!
[jetpack_subscription_form]