When the leaves start turning and the weather gets cooler, we start to crave foods from the autumn harvest. We should pay attention to the natural changes of the season as they help guide us to the healthiest foods we can eat. In fact, The World's Healthiest Foods points out that you get the best nutritional value, flavor and price when you buy local foods that are in season.
Fall is when we start to look forward to a hot bowl of soup or stew as well as the delicious flavors and smells of baked apples, pumpkins and spice. And just like the trees, plants, bushes and grasses start to prepare for the turn of the season, we naturally find ourselves eager to spend more time in the kitchen making home cooked meals.
This is the prime time to eat root vegetables like garlic, onions, potatoes, yams and carrots. Pumpkins, squashes, walnuts, sunflower seeds and ginger are also part of fall's best food choices.
With that said, it's time to dig out your crockpot – right?! Â Doesn't it seem like a popular way to cook during the fall? But popular as it may be, it also comes with some bonus benefits…
Besides being super convenient, some people actually consider the crockpot to be a healthier cooking method. Dr. Andrew Weil, M.D. says slow cooking may actually preserve more nutrients compared to cooking with rapid high heat. He also explains a benefit of slow cooking that many people probably aren't aware of.
"Another advantage of slow cooking is that it is less likely to expose you to advanced glycation end products (AGEs), toxins the body absorbs when we consume grilled, fried or broiled meats, cheeses and other foods of animal origin and any foods cooked at high temperatures." Dr. Weil explains. "AGEs may give food appetizing tastes and smells but in the body have been linked to inflammation, insulin resistance, diabetes, vascular and kidney disease and Alzheimer's disease."
But best of all, our homes are filled with good smells and the food just tastes better! On that note, we've rounded up six delicious crockpot recipes from healthy bloggers around the web. Take a look…
1. Crockpot Gluten-Free Chicken Fajita Bowl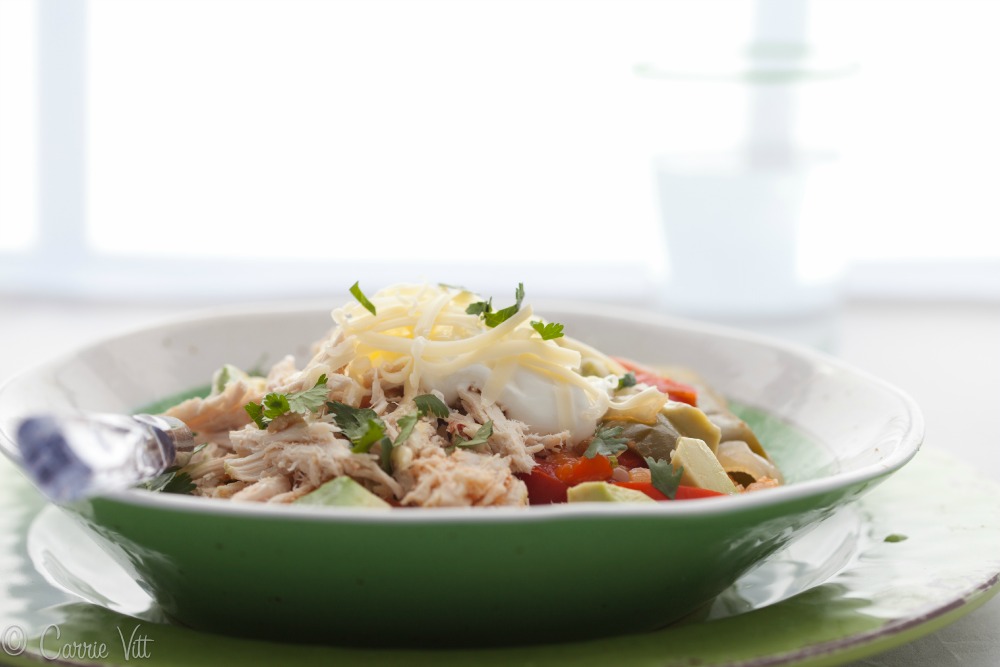 This one doesn't really scream fall, but it sure does make your mouth water thinking about it. Carrie Vitt, a healthy food blogger from Deliciously Organic, gives us all her tips and directions for this simple grain-free meal.
Carrie suggests soaking the chicken overnight in her simple homemade marinade for an even more flavorful dish. She also recommends serving it with Mexican rice. But the thing that's nice about meals like this is the flexibility. You could swap out the chicken for more vegetables if you're a vegetarian. You can also omit the cheddar cheese and sour cream toppings if you're eating Paleo. And if you don't need to eat grain-free, you could fill a tortilla instead of a bowl. Some fresh corn tortillas keeps it gluten-free!
Since beans are loaded with essential nutrients, we suggested adding some black beans as a topping. You could even soak some black beans overnight (a more economical choice) and add them to the crockpot with the rest of the ingredients.
2. Crockpot Butternut Squash & Chickpea Coconut Curry
If you love curry or have yet to try a curry dish, this is a great recipe for you. Beth, a healthy food blogger from Tasty Yummies, says it's the perfect cleanse-friendly fall meal. And it's pretty simple too. You just throw all of your ingredients into the crockpot with the exception the peas and spinach which you'll save for the last 20 minutes of cooking.
It shouldn't be too hard to find yellow curry powder at your local grocery store. If you can't find it there – look up local Indian grocery stores in your area, or try making your own blend.
Whole New Mom tells us how to make a homemade, mild and sweet curry powder.
Either way, I love that this dish is made with loads of healthy spices – including turmeric. There are so many powerful benefits of turmeric!
3. Crockpot Gluten-Free Chicken Soup
Karina from The Gluten-Free Goddess calls this easy, slow cooked comfort with the goodness of cabbage which is so beneficial to a celiac's tummy. Plus, it's made with 8 cloves of garlic which is also loaded with health benefits!
Karina's recipes is gluten, dairy, soy and corn free. Plus, if you're eating on a Mediterranean diet, this one's for you.
It's made with lots of vegetables, herbs and spices and some extra virgin olive oil to serve as the healthy fat.
The first thing I would do is double or even triple the recipe since it only makes 4 servings. You can never have enough soup for the fall! Plus, recipes like this make for a perfect thoughtful gift to share with family or friends. It's not that hard and it can make someone's day! Fill up a large mason jar and tie a cute handmade label around it with some hemp. Talk about a nice way to show you care.
4. Crockpot Roast in Ancho Chili Sauce
This one comes from blogger Mommypotamus – AKA Heather. I love her organic meal ideas which are perfect for the natural-health minded.
The first thing you'll probably need to do for this recipe is find your grass-fed beef roast. You can use Eat Wild's directory to find pasture-based farms around you that sell grass-fed meat and dairy products. The rest is pretty simple and easy to find in your local grocery market.
Just in case you aren't sure what an ancho chili is – it is just a dried poblano. Heather says they are peppery, sweet and perfect for a family of all ages.
Once you have all your ingredients, this roast only takes 10 minutes to prepare!
5. Crockpot Homemade Applesuace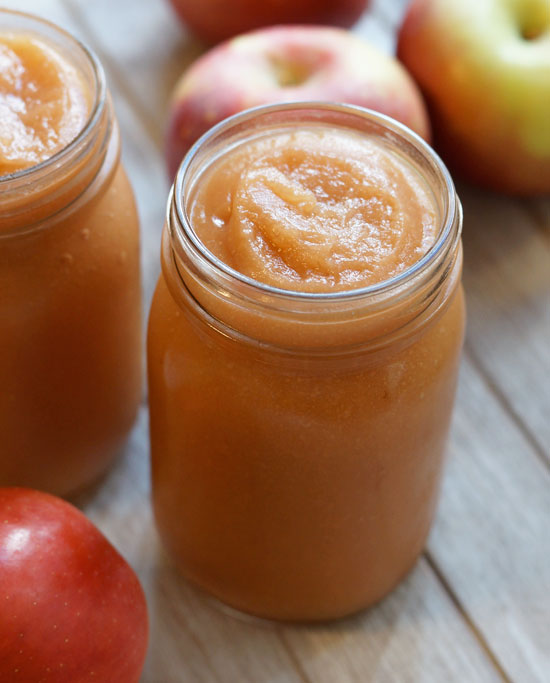 Apples and water in a crockpot and you've got delicious homemade applesauce! Can something so good really be so simple? YES! The simpler the better most of the time. This recipe comes from The Detoxinista, AKA Megan's recipe box. She's another health conscious blogger I love.
Megan says her mom swears by using Jonathan apples. But Megan actually used Fuji apples this time around. The type of apple you use is the one thing that will make each batch different from one another. But, we've put together a helpful grid of apple varieties, that tells you the taste, when they ripen and what they're best used for. So, hopefully that helps you decide on the perfect apple to use!
Other than that, you just need to slice and core the apples. Since most of the nutrients in an apple are in the skin, leaving the skin on will only boost the nutrition in your sauce. After the apples are cooked for hours in the crockpot, the skins become pretty soft and should be easy to blend up anyway. Don't forget to add some cinnamon if you wish!
6. Crockpot Pumpkin Custard For Fall
Cara, from Health, Home & Happiness, tells us that this crockpot pumpkin custard is a totally legitimate snack, dessert and breakfast. Plus, you'll absolutely love the smell of your house after making this one!
Cara's recipe calls for stevia packets, organic maple syrup or honey. You can use whatever you prefer. Making this custard uses a bit different technique than throwing everything in and turning it on. You will have to "preheat" the crockpot for about 45 minutes. You'll also have to use a blender to puree all of the ingredients together. Then, pour the mixture into mason jars that will fit in your crockpot, because you'll be steaming those jars in 1-inch of water.
As you make your crockpot recipes, it's the perfect time to think about your game plan for your winter meals. Perhaps you could make a double batch of some of these meals and freeze them for later. Canning, drying and pickling foods is a good way to naturally preserve and keep healthy meals on hand for the long, cold season.
If you enjoyed this recipe round-up, stop back every Friday for more! Also, don't forget to subscribe to our blog free so you don't miss an article and like Natural Healthy Concepts on Facebook for more natural health fun!