Avoiding sweets during the holidays can be problematic. Avoiding toxic sweets, even more so.
You start out strong, but by mid-December your willpower takes a nose dive – especially after a glass of wine. Before you know it, you've gobbled up a series of goodies loaded with trans-fats, high fructose corn syrup, and a host of other not-so-healthy ingredients.
What if I told you, you could have your candy and eat it, too?
I was pretty much the Christmas goodie queen in my family. I loved making people happy with food!  Now, I'm making them all change course to healthier eating!
I used to make fudge, turtles, peanut butter balls, peanut clusters, and an assortment of seasonal cookies. Then reality and cellulite set in.  I knew I had to eliminate them during the holidays or find healthier alternatives.
Fortunately for all of us with a sweet tooth, there really are delicious, naturally healthy candies and treats you can make and eat. We've lassoed up six of them for you.
So here they are – short and sweet. (Pun intended!)
Coconut Oil Candies
Natural healthy concepts has a great selection of coconut oils to choose from. My personal favorite is from Garden of Life.  You can go one step further on these tasty treats and use raw cacao powder instead of cocoa. These are great to have on hand and good to grab when you're wanting something sweet and chocolatey. And even better, consuming coconut oil before you eat dinner can help curb your appetite – it's true!
Peanut Butter Balls
It wouldn't be Christmas in our house without peanut butter balls.
However, since I've tried to eliminate all gluten from my diet, I didn't know how to get that great peanut butterball taste, with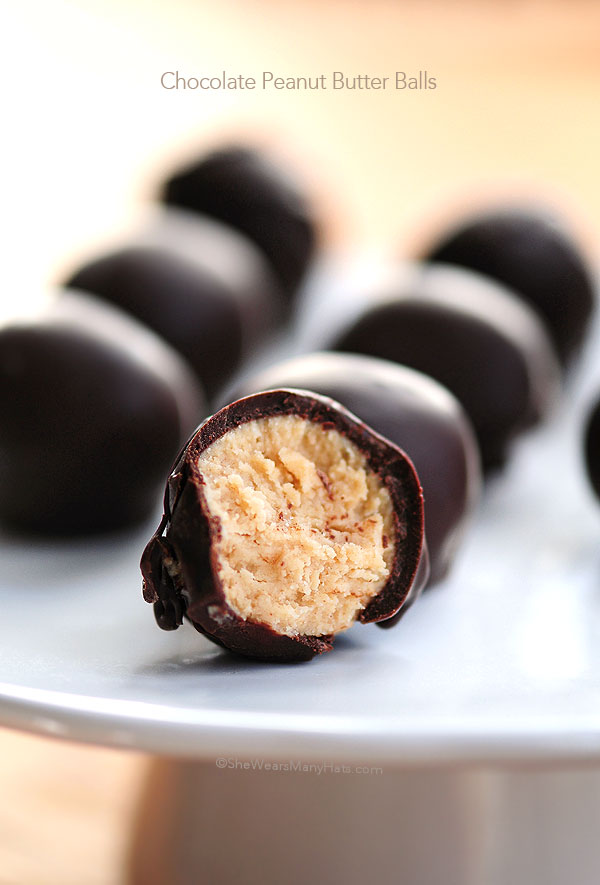 out the graham crackers. Lucky me – here's a great recipe from Amy Johnson of SheWearsManyHats.com.
I love the name of her website….I certainly relate to wearing many hats. She has a plethora of helpful ideas, recipes and more on her site.
As Amy points out, you can substitute other nut butters for the peanut butter. I recommend organic peanut butter because peanuts are pretty toxic. You can read more about the good and bad of peanut butter from Dr. Mercola, here.
Want to cut down on sugar? Substitute xylitol for the powdered sugar, or use half of each.
Did you know you can put xylitol in your blender and make your own powdered sugar? I've done it many times!
The full peanut butterball recipe is here.
Candied Pecans
If you love nuts and enjoy something sweet with them, these candied pecans from Tiffany  at FeelGreatIn8.com  are a delicious alternative for more fattening, sugary treats  – and much less labor intensive, too!
Tiffany is a busy mom of four and I like her honest and realistic approach to healthy living.
This recipe uses pure maple syrup instead of sugar. Maple syrup has quite a few health benefits as you'll see in this article from PreventDisease.com – Maple Syrup Does Far More For Your Health Than Just Sweeten Your Food.
Maple syrup is high in zinc, thiamine and calcium and now it's known to have anti-cancer, anti-bacterial and ….drum roll please, anti-diabetic properties." How great is that?
No wonder the Native Americans used it as a food and a medicine!
This recipe is simple and fairly quick. Just make sure you pay attention while they're cooking so they don't burn.
If you need a nice homemade gift idea, these candied pecans would be perfect in a cute mason jar with a pretty bow.
Get Tiffany's candied pecan recipes here.
Peppermint Fudge
Is there anyone who doesn't love fudge? Maybe you haven't liked it because it's often so incredibly sweet. I confess, I love fudg
e and yes, I used to make the classic Kraft Fantasy fudge with the GMO corn syrup marshmallow creme in it! I don't think I could handle that one anymore, but I still like fudge!
Finding this Holiday Peppermint Fudge recipe from the team at skinnyms.com was like hitting the jackpot.
Made with genuinely healthy ingredients like whole fat canned coconut milk, walnuts, and coconut oil, this recipe  calls for only 1/4 cup of coconut palm sugar (or honey).
That's a far cry from the THREE cups of sugar I used to put in the Fantasy Fudge recipe! Yikes!
Get the full recipe here.
Real Food Caramel Chews
I always made my own caramels for the turtles I used to make. I'd try to do it a little healthier and I'd use organic agave syrup instead of the GMO corn syrup, but agave is always the best either. So I was thrilled to find these Real Food Caramel chews from Julia at CocosWell.com
Pay attention to her instructions on cooking the caramels and make sure your candy thermometer is accurate. While there is a fair amount of sugar in them, there's no fake food in her recipe and this is a good replacement for more toxic caramel recipes. I think I just may make my turtles after-all now that I have this recipe.
Old Fashioned Caramel Corn
Okay, so this isn't really candy, but it's a great holiday treat.
My husband loves popcorn balls and every year I say I'm going to make them…but I don't.
He's very patient!
We end up buying more toxic version from the store.
I'm a little closer to making his dream come true with this recipe from Kimi Harris of  TheNourishingGourmet.com
You can make this dairy free by using coconut oil instead of butter.
This caramel corn is another nice treat to give as a gift – especially to friends with children.
The key ingredient is the rapadura sugar. It's an unrefined sugar with a unique caramel flavor of its own. Rapadura is high in iron and can be used cup-for-cup like regular sugar.
This caramel corn is another nice treat to give as a gift – especially to friends with children. Actually, they're all great treats to give as gifts!
If you have a healthy candy recipe, would you please share it with us in the comment section below?