There's something about fall that makes us crave soup. Nothing satisfies us more on a cool autumn day.
Plus, the fruits and veggies that are in season – like the last of your tomatoes, pumpkin, squash, apples, sweet potatoes, onions, ginger and garlic make some of the best ingredients for a hot and hearty bowl that tastes delicious and is super healthy too.
On top of that, it makes for convenient frozen future meals and thoughtful gifts for friends and family!
Here's a variety of 6 delicious fall soup recipes that we rounded up from healthy food bloggers across the web. Each one serves a purpose – take a look.
1. Pumpkin, Sweet Potato Soup Recipe | Gluten-Free | Dairy-Free
An autumn soup for your soul straight from the kitchen of The Gluten-Free Goddess, AKA Karina. Karina says she used to call this her "Winter Solstice Pumpkin Soup" because it reminds her of the sun during the darkest time of the year. But why not nourish your soul in the fall, freeze an extra batch, and have your winter solstice too!
The recipe combines so many robust flavors – pumpkin, sweet potato, coconut, lime and ginger – with immune boosting vegetables like carrots, celery and onions. There are plenty of healthy reasons to try this soup. Pumpkin is proven to be good for your cholesterol and heart and may even have the potential to boost your mood and help you sleep.
The World's Healthiest Foods tells us sweet potatoes have the power to lower the potential risk of heavy metals and oxygen radicals. I could go on and on about the superpowers of the other vegetables in this soup – but to keep things short, you'll have to check out my infographic on 27 Veggies for Vitality when you find some time.
Thankfully, Karina says this recipe is "deceptively simple to prepare."
You can order Premier Research Labs 100% Pure Extra Virgin Olive Oil from Natural Healthy Concepts.  You know it has to be good when you have to be a certified nutritionist in order to sell it. In that case, you have to have an account and sign in to order. But it's worth it. This oil is made with nothing but sun-ripened Moroccan olives.
2. The Medicinal Chef's Famous Flu Fighter Soup
This recipe was published in an article on Nj.com – a New Jersey news site. But it actually comes from TV medicinal chef and nutrition expert, Dale Pinnock's cookbook – The Medicinal Chef: Eat Your Way to Better Health.
Dale has a recipe for all sorts of health concerns in his book. He even explains what each food can do for your body. I think every cookbook should be like that! It would help us wrap our minds around the idea that food is our medicine and not just for our taste buds and hungry bellies.
Dale's famous flu fighter soup combines shiitake mushrooms, sweet potatoes and – you never would guess it – goji berries. Add the power of garlic and onions, fresh ginger root and green chile on top of that, and you have yourself a delicious bowl of flu-fighting goodness.
3. Autumn Squash Soup | Vegan | Paleo | Dairy-Free | Gluten-Free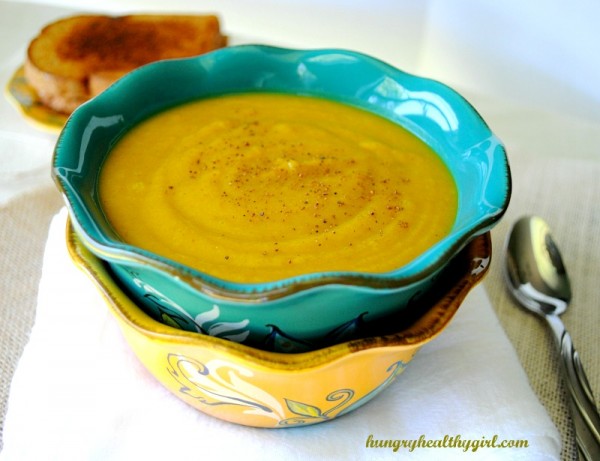 This recipe comes from the Hungry Healthy Girl – Kim. Kim says, if you love Panera Bread's Autumn Squash Soup as much as she does, you have to give this soup a try!
It is what Kim calls "lightly sweetened creaminess." The recipe combines apples, coconut oil and cinnamon with squash, veggie broth, onion, almond milk and curry powder. Simple ingredients. Simple to make.
My mouth started to water just reading the directions! And looking at the visual made me drool. Well, not really – but almost! Even better – it's good for us too. Don't you love the taste of real food that truly nourishes us? I love the taste and the feeling.
You can order a variety of quality pure coconut oils at Natural Healthy Concepts for this recipe. I use the Garden of Life brand (Non-GMO) and I love it!
4. Flush The Fat Away Vegetable Soup | Vegan | Gluten-Free
Skinny Ms. posted this recipe for fat flushing vegetable soup after she discovered it in the book, Hungry for Change.
Hungry For Change, also a film, was done by the people behind Food Matters. The book features some of the most well-known nutrition experts in the world. When you have some time, check out the Food Matters documentaries – they are definitely worth watching.
If you like to do a fall detox or cleanse, this soup will make a perfect meal solution for you. It's loaded with antioxidants that naturally flush toxins. And when the toxins go, the fat that's protecting your organs from those toxins goes along with. That's one bonus of detoxifying your body.
Plus, Skinny Ms. tell us this soup is meant to restore your body's acid-alkaline balance as well as your sodium-potassium balance.
The recipe is pretty basic and simple to make using your slow-cooker. It combines plenty of cancer-fighting and immune boosting superfoods like onions, garlic, sweet potatoes, spinach, black beans and tomatoes. Add a little broth and a bit of spice and let is cook for 6-8 hours.
FYI – You can find a variety of helpful detox supplements from Natural Healthy Concepts to aid your fall cleanse.
5. Lots-O-Broccoli Soup | Gluten-Free
I often find myself stumbling upon recipes from The Nourishing Home – a strategic and healthy meal planning blog by Kelly Smith. Kelly understands proper nutrition, which is probably why I end up there. I dig that.
Kelly says Lots-of-Broccoli is one of her most requested soup recipes… it will warm your heart and your belly! Even though Kelly makes her own chicken broth, a busy working mom like myself, would probably use a prepared organic broth of some sort. Plus, since my son is allergic to cow's milk, almond milk makes a great substitute. You can also choose whether to use butter or ghee.
Since broccoli is a superfood that's packed with vitamins and minerals, and leeks are rich in folate and antioxidants, this soup is a nutritional powerhouse. Whip this up sometime and enjoy!
6. Really Good Tomato Soup | Vegan
If you're still trying to figure out what to do with all your garden tomatoes, you're in luck! This creamy vegan soup from Laura's Blog, The First Mess, is well worth the rest of your tomatoes. You'll be wishing you had more to spare!
The first step is to soak 1/2 cup of raw cashews in water for at least two hours. You will also be roasting your tomatoes in garlic, shallots and olive oil in the oven for an hour.
Tomatoes are off the charts when it comes to their phytonutrients. And they're proven to support bone and heart health. Laura's creamy tomato soup is a tasty way to get those beneficial nutrients.
Not a fan of tomatoes? Read How I Taught Myself to Like Tomatoes & The Benefits of This Superfood
Enjoy your soup! Share with your friends and family and spread the word about healthy eating! Let us know how you like them in the comments below.
Dont' forget to subscribe to our blog free on the top right of the homepage and Like Natural Healthy Concepts on Facebook for more natural health fun!