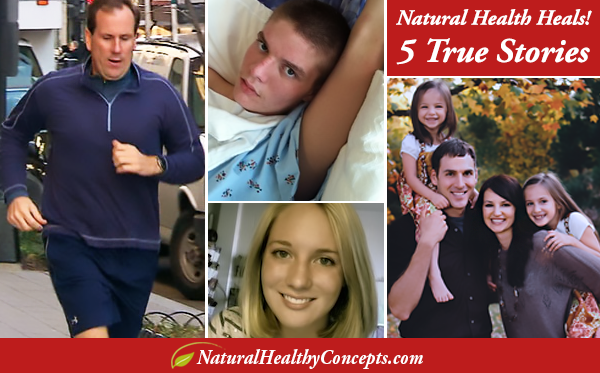 Getting diagnosed with any sort of disease can be devastating. But it can also be a life-changing moment.
You are forced to make major decisions, and you often have to drastically change your lifestyle. What we choose to do with our bodies when we're faced with sickness makes a big difference. More and more people are realizing that typical medications are not the only answer, and that powerful help can be found from natural treatments.
Here are five stories of how natural health and nutrition helped people overcome debilitating and even deadly diseases…
1. Beating Cancer with Better Nutrition
Two weeks before Christmas in 2003, doctors diagnosed Chris Wark with Stage 3 colon cancer that had spread to his lymph nodes. He was just 26 years old.
He had surgery to remove the cancer, along with about a third of his large intestine. After that, doctors recommended Chris undergo months of chemotherapy and radiation treatments.
But something inside Chris told him this wasn't the right approach. He says he didn't feel comfortable with "poisoning" his way to better health.
"The oncologist told me I was 'insane' but I decided against chemotherapy after surgery."
Instead, Chris chose to dramatically change his nutrition while focusing on natural treatments. He started a vegan diet, worked with a naturopath who recommended non-toxic therapies, relied on his faith and did everything else he could to support his immune system and overall health.
It's been more than a decade and Chris Wark is still cancer free. He started a family as well as a website dedicated to helping others on the same journey that he started in 2003. Visit ChrisBeatCancer.com for more.
Watch a Video of Chris Wark's Story
2. Fish Oil Cures Teen's Traumatic Brain Injury
Getting news that your child has been seriously injured is every parent's worst nightmare.
That's what happened to John Virgin when he came across the scene of a hit-and-run accident near his home where blood covered the pavement. After talking with police, John discovered the victim was his 16 year-old son, Grant, who had left home on foot earlier.
Grant had already been airlifted to a hospital with serious life-threatening injuries. He had a torn aorta, multiple skull fractures and bleeding throughout his brain. He was in a coma. Doctors did not have much hope for the teen. This frustrated JJ Virgin, Grant's mother.
In an interview with CNN, she remembered feeling like physicians were ready to give up.
"It's like, how dare you not fight for my son's life? It really took us … getting very aggressive and assertive to save our son's life, because they weren't going to do it. They told us not to. They told us to let him go."
After multiple surgeries, and weeks in the hospital, Grant was still on a ventilator and still in a coma. Doctors told the Virgin family all they could do was wait and hope for the best. That's when Grant's parents started taking matters into their own hands.
One of the natural treatments they tried was high doses of Omega-3 essential fatty acids from fish oil. The Virgins actually began by sneaking fish oil into the bag for Grant's feeding tube even before the high-dose treatments began.
Experts say the idea behind Omega-3 treatments is quite simple. The cell walls of the brain are partly made up of these fatty acids. As one doctor told CNN…"If you have a brick wall and it gets damaged, wouldn't you want to use bricks to repair it?" In addition, Omega-3s may reduce inflammation in the brain.
The results for Grant Virgin have been described as miraculous.
Following just two days of high-dosage fish oil treatments, and a little more than nine weeks after Grant's accident, JJ Virgin got a midnight phone call from her son. When she awoke the next morning she assumed it must have been a dream. But it was real.
Doctors originally told the Virgin family if Grant could recover – he would never be the same.
"We had been told he'd never be able to recognize anybody, he will never be able to focus his eyes." John Virgin told CNN. That turned out to be dead wrong. "We're not expecting Grant to get close to where he was before, he's going to be better than he was before. And he's progressing every day."
Grant's story isn't the only one involving fish oil and brain injuries. Watch the video below for more…
3. Vitamins Help Woman Heal Herself of Lyme Disease
Imagine feeling terribly sick all the time, and doctors keep telling you it's all in your head.
That's what happened to Lindsay Wrinn after being diagnosed with Lyme disease as a freshman in high school. She took antibiotics to treat the disease for three months – even though it was suppose to clear up in a matter of weeks.
When her health didn't improve – doctors said her symptoms were psychosomatic – and she needed a psychiatrist not a physician.
So Lindsay sought advice from a nutritionist and then began eating a much healthier diet. She cut out red meat, sugar and caffeine while reducing her intake of foods that can cause inflammation. She stuck with a diet full of organic greens and herbal teas.
Lindsay also began taking vitamins, and says they were a big help.
"When fighting an autoimmune disease, it is important to arm your body with the necessary tools so that your system is ready for battle. I took multiple vitamins with every meal."
Now Lindsay says she has successfully healed herself and feels better than she has in a long time.
You can read more about Lindsay Wrinn's story and get her advice in the article she wrote for MindBodyGreen.com.
You can also check out the Natural Health Concepts article 10 Things You Should Know About Lyme Disease.
4. Turmeric Helps Alzheimer's Patients
One of the most talked-about natural cures of recent times comes from the spice cupboard – not the medicine cabinet. Turmeric is a common spice that contains a potentially beneficial component called Curcumin.
Curcumin is an anti-inflammatory that is often recommended for pain in place of typical medications. However, new research also suggests it shows promise for patients dealing with dementia – like Alzheimer's disease.
A study published in 2012 detailed how the behavior of three patients with Alzheimer's "significantly improved" following treatment with 100mg of Curcumin per day for 12 weeks.
"All three patients exhibited irritability, agitation, anxiety, and apathy, two patients suffer from urinary incontinence and wonderings. They were prescribed turmeric powder capsules and started recovering from these symptoms without any adverse reaction in the clinical symptom and laboratory data."
GreenMedInfo.com points out that Alzheimer's disease already affects millions of people around the world. It's estimated that by 2050, 1 in 85 people worldwide will struggle with this type of dementia.
What a blessing if a natural remedy like as simple and safe as turmeric can provide help to those who need it!
5. Healthy Lifestyle Reverses Type 2 Diabetes
Few would deny that our poor diets and an epidemic of obesity in America has led to more and more people being diagnosed with Type 2 diabetes.
But instead of treating the symptoms of this condition, what if we directed our efforts towards the cause of Type 2 diabetes?
Jonathan Legg of Maryland found out he was a Type 2 diabetic before he turned 40 years old. While doctors recommended medication, Jonathan chose to change his lifestyle instead. He began a regular exercise routine and cut out unhealthy food from his diet, which also meant watching his carbohydrate intake.
After losing 40 pounds, Jonathan's numbers are no longer within diabetic range. He'll have to make the changes he made to his way of living permanent. But he won't have to take meds for diabetes the rest of his life.
Read more about Jonathan Legg's story and reversing Type 2 diabetes on CNN Health.
Close to 26 million Americans are considered Type 2 diabetics. But this is a preventable disease, and for many it may also be a curable disease. It all depends on whether an individual takes their diagnosis as a wake-up call to change the way they live.
The Bottom Line
It might be a mistake to call any of these stories "miracle cures." That's because, the truth is, they are really more like common-sense solutions than anything else.
Many of the natural treatments and lifestyle changes that helped these people beat what doctors might call "insurmountable odds" were quite simple.
Simple does not necessarily mean easy – changing the way you live never is. But an understanding of natural health and a commitment to healthy living truly can work wonders.
As always, it's important to talk to a healthcare professional about decisions you make regarding any supplements or natural therapies you want to try. But just as Chris Wark and many others have discovered, it may be wise to question recommendations, get some alternative advice, and ultimately take your health into your own hands.